Andrew T. Connor, D.O.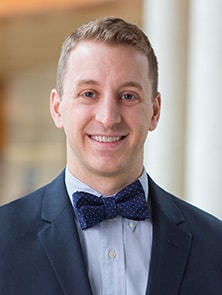 What attracted you to medicine and psychiatry?
My medical career started with a genuine interest in developing relationships with people and hearing their stories. I started out in more of a peripheral role of patient care, working as a lab technician at an organ and tissue procurement organization.
Through my experiences, I became aware that the most rewarding part of my job was in fact when I had the opportunity to be a part of the patient journey and educate patients' families about options. That inspired me to take on a more involved role as a physician.
What made you decide to complete a visiting clerkship at Mayo Clinic?
Mayo Clinic was an obvious choice when I was exploring possible training programs because of its reputation for fulfilling the values of patient care, research and education that represent its shields.
I was also fortunate to have a very supportive alumnus from my medical school who reached out and encouraged me to apply, based on their own positive experience and passion to pay it forward.
What was most beneficial, or what did you enjoy most, about your clerkship experience?
The most beneficial and enjoyable aspect of my visiting clerkship was the opportunity to meet the quality residents of various programs who shared similar interests and were energetic to teach.
They made it clear that I was a valued member of the team, and I left with the impression that they were friends first and colleagues second.
What do you find most inspiring or unique about Mayo Clinic?
I am impressed with the large-scale systematic approach that Mayo Clinic takes to deliver quality care and education. There are teams, resources and experts at every corner that are able and enthusiastic to help solve problems.
What is living in Rochester, Minnesota, like for you?
Rochester is an easy city to live in. Anything you need is a short drive away, the prices match the size, and the people maintain the small-town hospitality. The Twin Cities is a reasonable drive away and offers an amazing food scene.