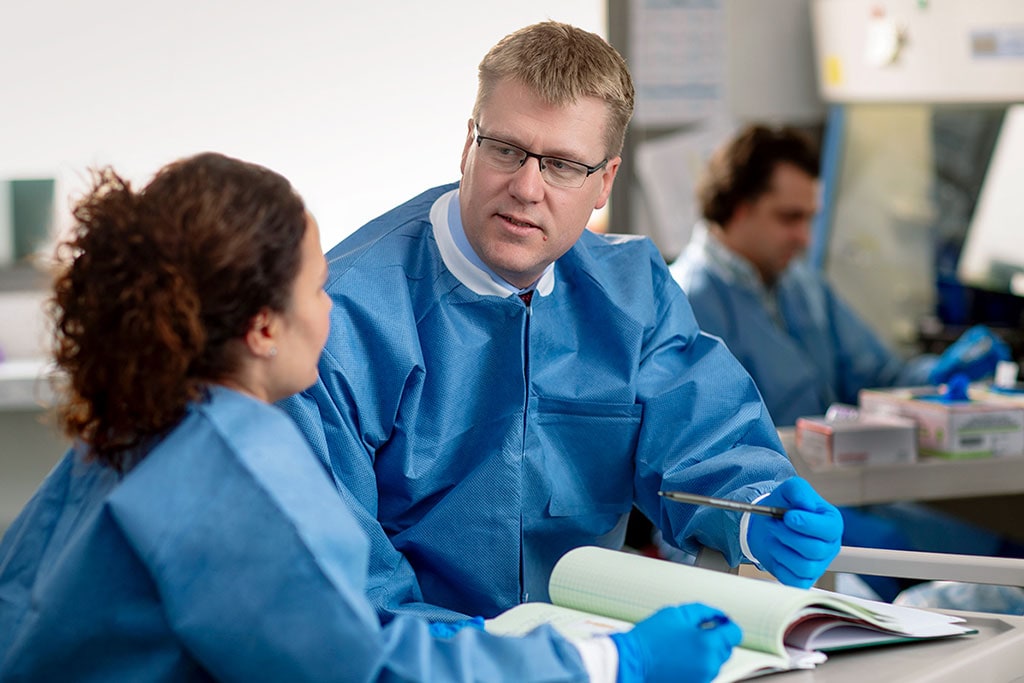 ---
June 18, 2018
---
Undergraduates across the Midwest have the opportunity to participate in Innovative Minds Partnering to Advance Curative Therapies (IMPACT), a program that enables teams of students and a faculty member to form a hypothesis for a single, shared research question posed by a team of researchers at Mayo Clinic.
The question stems from a real issue facing researchers, and the answers submitted by the students potentially have real results.
Timothy Nelson, M.D., Ph.D., and Katherine Campbell, Ph.D., a former graduate student and research fellow in Dr. Nelson's lab, formed the IMPACT Program to infuse research labs with fresh, creative ideas.
"Sometimes [the students] commit to an interpretation of data that is 180 degrees from the way we interpret that data," says Dr. Nelson, the director of the Todd and Karen Wanek Family Program for Hypoplastic Left Heart Syndrome at Mayo Clinic. "When that happens — and that happens every year — as researchers, we get to sit back and say, 'Why did we think that was wrong, and why did we think we were right?'
Research takes place at the students' university, but they gather together to share their hypothesis at an end-of-the-program symposium. This year, the symposium is being hosted in Eau Claire, Wisconsin, where Mayo Clinic Health System and the University of Wisconsin – Eau Claire recently developed a collaborative research agreement.
"This is a chance for students to get involved with a project that definitely has a direct application, in this case to quality of life and improved patient outcomes," said Michael Carney, Ph.D., associate vice chancellor of academic affairs at the University of Wisconsin – Eau Claire.
Students get to present their hypotheses to their peers and faculty members at the symposium. A few select student groups even have the opportunity to conduct their research in a Mayo Clinic laboratory.
The IMPACT program serves not only as a catalyst for idea generation and research creativity, but it also can be considered a talent development program that exposes hundreds of students to Mayo Clinic. Through that experience, many students consider Mayo Clinic as a potential place to either continue their studies or as the place they'd like to start their careers.
A version of this story originally appeared in Mayo Clinic Magazine, which focuses on the many ways philanthropy supports Mayo's mission to provide the best care to each patient every day through integrated clinical practice, medical education, and research.