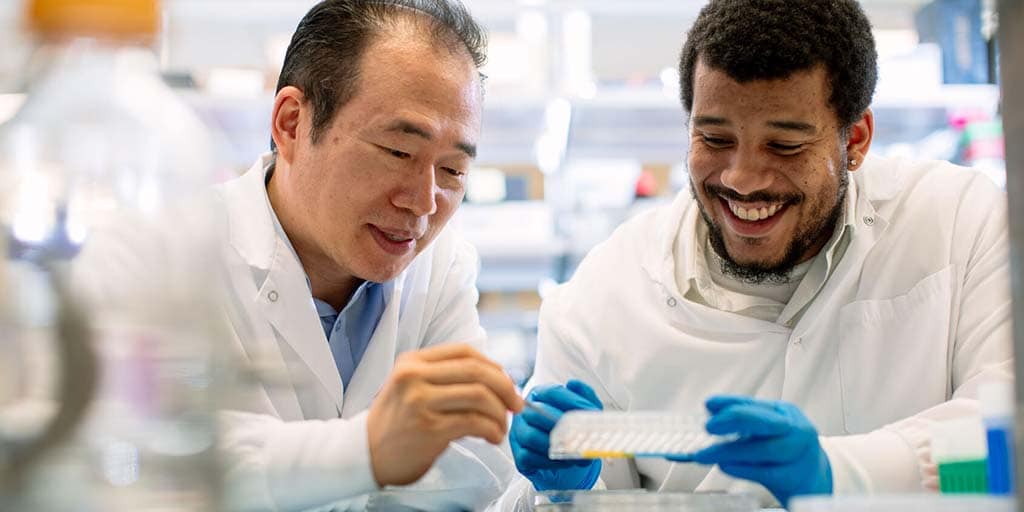 ---
May 17, 2022
---
Lee Peyton, Ph.D., wanted to become a scientist since he was a kid watching Bill Nye the Science Guy conduct experiments on TV. But when he first set foot on a Mayo Clinic campus, fresh from college with a microbiology degree, Dr. Peyton had no vision of the type of research career he wanted. Read his story as he prepares to graduate from Mayo Clinic Graduate School of Biomedical Sciences on Sunday, May 22.
Arriving at Mayo without much research experience, he enrolled in Mayo's Postbaccalaureate Research and Education Program to take higher-level chemistry classes and explore from there. As he began experiments in the lab of Doo-Sup Choi, Ph.D., a Mayo Clinic molecular pharmacologist, Dr. Peyton realized he'd landed in exactly the right place. A year and a half later, he was thrilled to be accepted as a Ph.D. student at Mayo Clinic Graduate School of Biomedical Sciences where he continued under Dr. Choi's mentorship.
"I feel like I really lucked out," Dr. Peyton says of the lab that has guided him.
But it's clear he also found his footing. During his Ph.D. experience, his findings have contributed to drug discovery and investigations of molecular mechanisms that underlie several psychiatric disorders.
Gaining skills to be successful
Dr. Peyton still recalls the steep learning curve he faced entering Dr. Choi's lab, which focuses on the neurobiology of drug addiction, and identifying new therapeutic targets with tools from molecular biology, biochemistry, genetics, neuroimaging, and pharmacology. The studies are important in exploring potential treatments for alcohol use disorder. The Food and Drug Administration has only approved three drugs for this disorder, and the relapse rate is high.
"When I met him in 2016,' says Dr. Choi, "he had no strong background in neuroscience and addiction. However, he's grown steadily and diligently in learning new concepts, knowledge, and experimental skills."
What appealed to Dr. Peyton was the combination of freedom and rigor in Dr. Choi's lab. He explored at his own pace while consistently being pushed to articulate his experimental decisions.
Dr. Peyton's first project, published in Neuroscience Letters, found impulsive behaviors — like those that occur in addiction — are associated with the growth of new neurons in mice. He also learned from other students and postdoctoral researchers in the lab and took part in Mayo's Initiative for Maximizing Student Development Program.
"The program was essential for practicing presentation skills and grant writing, two very important skills for being a successful scientist," Dr. Peyton says.
Another skill that's important for a scientist is continually mastering new skills. Dr. Peyton also has been adventurous trying new technologies that might push his experiments along. Lately, he's exploring new techniques in a type of imaging called light-sheet fluorescent microscopy to examine neural circuits in a mouse brain.
Dr. Peyton has an outstanding ability to analyze and simplify complex biological systems for designing testable experiments. He's not afraid of failure. Science needs courageous minds.
Dr. Choi
Molecular pharmacologist
Aiming for effective treatments
Dr. Peyton's experiments have explored potential compounds to reduce addictive behaviors. Dr. Choi's lab focuses on targeting the brain's adenosine signaling pathway, which regulates several types of neurotransmitters in the brain and is linked to several psychiatric conditions that involve mood and anxiety, including alcohol use disorder.
Dr. Peyton tested a compound, known as N6-(4-hydroxybenzyl) adenine riboside, or NHBA, isolated by a colleague from the Gastrodia elata plant historically used in herbal teas. The NHBA compound is associated with neurological effects, and his study in mice found that NHBA reduced alcohol-drinking and alcohol-seeking behaviors.
Continuing his research at Mayo Clinic as a postdoctoral fellow, Dr. Peyton is expanding his focus to include more mechanistic studies. Already, he's found a link between neuro-inflammation and cognitive processes associated with conditions like schizophrenia. His next projects will explore neural circuits involved in alcohol withdrawal-induced sleep disturbance and the connection to alcohol-seeking behaviors.
Looking back, Dr. Peyton says at the core of his graduate experience was planning his experiments carefully, pouring over the types of research journals he aimed to publish in, and persevering through challenges every day. The journey clarified his career goal — to establish his own pharmacology lab in an academic environment, with the goal of learning more and developing new treatments for disease.
I thoroughly enjoy basic research. I'm really happy to have the opportunity to continue this path and contribute to this field of study.
Dr. Peyton
2022 spring graduate, Mayo Clinic Graduate School of Biomedical Sciences