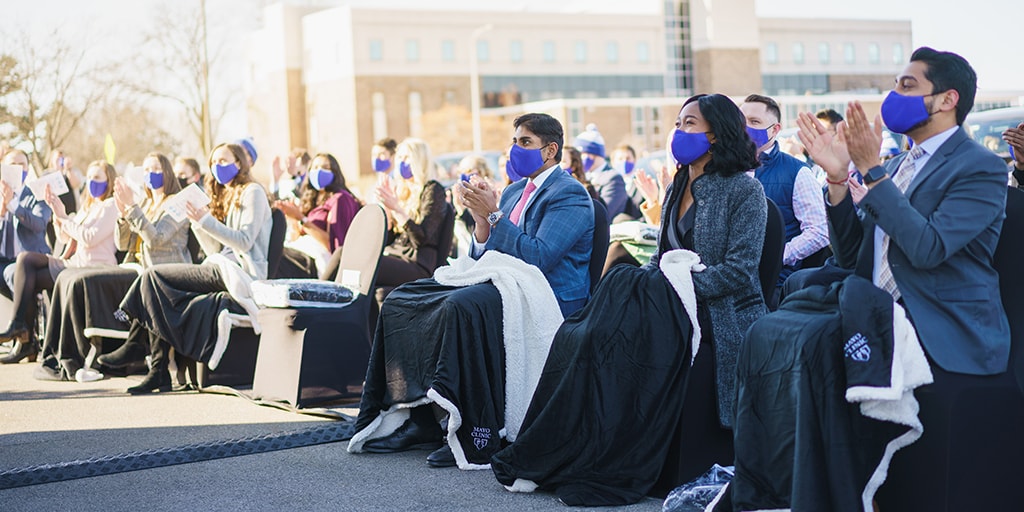 ---
March 24, 2021
---
Match Day pairs medical students and graduate medical education programs, and is administered by the National Resident Matching Program. All graduating medical students across the U.S. participate in Match Day and open their envelopes at the same time. This year, Match Day looked a bit different for Mayo Clinic Alix School of Medicine.
The Match Day experience, COVID-19 style
A first for Mayo Clinic Alix School of Medicine, fourth-year students at all three campuses—Rochester, Minnesota; Jacksonville, Florida; and the inaugural class at Phoenix/Scottsdale, Arizona—celebrated Match Day on Friday, March 19, 2021.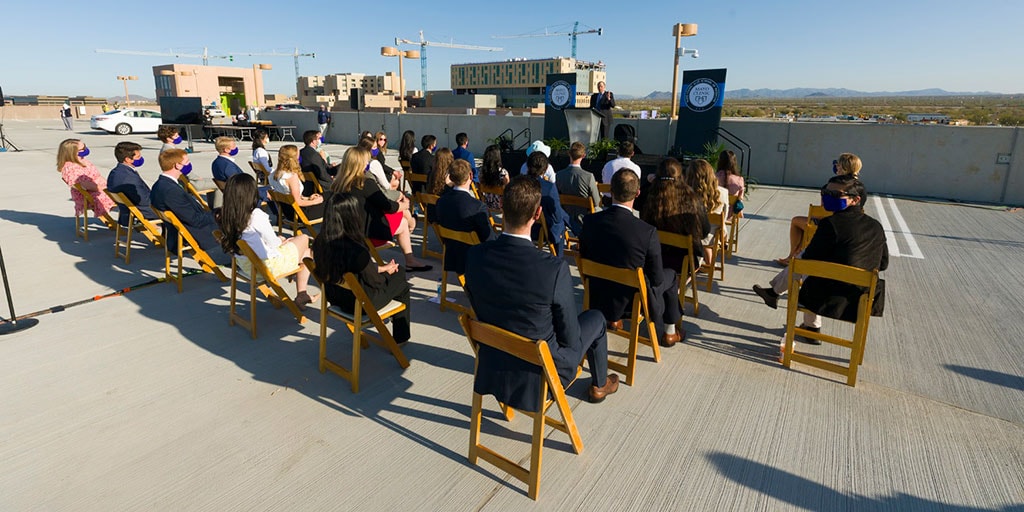 Students in Arizona and Rochester celebrated with classmates and loved ones at a drive-in style ceremony, in keeping with COVID-19 protocols. Students were invited to arrive with loved ones in their vehicles, listen to presentations from Mayo Clinic Alix School of Medicine leaders and distinguished alumni, and sit socially distanced with masks on. The students were called to a stage outdoors to receive their envelopes. Once all the students had their envelopes, they opened them at the same moment and returned to their vehicles to celebrate with their loved ones.
"Incredible opportunities, accomplishments and education waits for you in the next chapter," Fredric Meyer, M.D., Waugh Executive Dean for Education, told the graduating medical students. "Regardless of where you matched, you have the chance to make the most of your residency. Seek out faculty, look for mentors and make sure to bring the Mayo values to the next several years as you practice medicine."
This was the first year Mayo Clinic Alix School of Medicine celebrated Match Day with students in Arizona. The medical school expanded to become a national school with the opening of the school in Arizona in 2017 and in Florida in 2019.
The class of 2021 was the first class to write letters to themselves on the first day of medical school. Those letters were included in gift baskets from the Mayo Clinic Alumni Association, which sponsors the Match Day event. The letters offered the students an opportunity to document their thoughts and feelings as they began their medical school experience and to be able to reflect on them later.
About Match Day
Every year, fourth-year medical students across the country participate in The Match program through the National Resident Matching Program (NRMP).
During this process, students finalize which specialty of medicine they'd like to pursue and participate in residency interviews with a variety of residency programs. They then create a rank order listing of where they'd like to complete their graduate medical education and each residency program does the same with their residency openings. From there, the NRMP combines all the ranked lists and using a highly sophisticated process, "matches" applicants to program openings.
Nationally, the 2021 Main Residency Match was the largest in NRMP history. There were 38,106 total positions offered.
For the students, Match Day is a culmination of the hard work and sacrifices they have made during their four years of medical school.
I can't speak for all medical students, but I'll say that to me Match is a much bigger day than graduation. It's the moment that all the hard work you have been putting in for however many years pays its first dividends (for me, this has been 13 years in the making). Being that I have a wife and 2 school-aged kids who have come on this journey with me, it's also the day that their sacrifices will be validated.
Nick Rubel
Jacksonville, Florida
Congratulations to all of our students!
By the numbers: 2021 Match Day
Arizona
There were a total of 38 matches for the Arizona campus. Of those, 42% matched within Mayo Clinic School of Graduate Medical Education, with 10 students staying at Mayo Clinic in Arizona and six students going to Mayo Clinic in Rochester.
The future physicians will take their knowledge and Mayo values across the country:
48% will be staying in the West.
32% will be going to the Midwest.
18% will be flying to the Northeast.
3% will be going to the Southeast.
Top specialty choices include:
Internal Medicine: 27%
Surgical Specialties: 24%, including:

Ear, Nose and Throat: 8%
Orthopedics: 5%
General Surgery, Ophthalmology, Neurosurgery, Urology: 3% each

Family Medicine: 11%
Psychiatry: 11%
Anesthesia: 8%
Dermatology: 5%
Radiology: 5%
Pediatrics: 3%
Physical Medical and Rehabilitation: 3%
Emergency Medicine: 3%
Rochester
There were a total of 56 matches for the Rochester campus. Of those, 23% matched in total within Mayo Clinic School of Graduate Medical Education, with 21% in Minnesota and 2% in Arizona.
This is break-down of where the students are headed for their residency training programs:
23% will remain in Minnesota.
50% will stay in the Midwest.
20% will be heading to the West.
30% will be flying to the Northeast.
11% will be warming up in the South.
Top specialty choices include:
Surgical Specialties: 29%, including:

Orthopedics: 9%
OB-GYN: 7%
General Surgery, Ear, Nose and Throat, Ophthalmology: 4% each
Neurosurgery, Cardiothoracic Surgery, Plastic Surgery: 2% each

Internal Medicine: 18%
Pediatrics: 7%
Medical Pediatrics: 2%
Anesthesia: 11%
Dermatology: 7%
Radiology and Emergency Medicine: 5%
Neurology and Radiation Oncology: 4%
Pathology, Psychiatry, and Physical Medicine and Rehabilitation: 2%
In the news
Learn more about the process, event, and students that make up Match Day 2021
Drive-in Match Day was memorable for medical students
Rochester Post-Bulletin
Instead of the annual Match Day rite of passage for medical students taking place in the dignified, but crowded dining room of the Mayo Foundation House, 56 aspiring doctors opened their residency envelopes standing in Rochester's former Kmart parking lot with friends and family watching from their cars.
Despite the unusual setting driven by still-present risk of spreading COVID-19, Shyam Kurian said it was a very "special" and "definitely memorable" event for him and his Mayo Clinic Alix School of Medicine classmates.
Kurian said he and the others were all given personalized blankets to keep them warm as they sat in the parking lot waiting for the traditional 11 a.m. opening of the envelopes.
Studying medicine at Mayo Clinic during a pandemic: "We're still coming out very well trained and very ready"
KIMT3
ROCHESTER, Minn. — Studying and training during a global pandemic isn't exactly what Mayo Clinic Alix School of Medicine students had in mind when they enrolled. While the past year has had its challenges, it's also brought new opportunities.
When the pandemic struck roughly a year ago, Mayo medical students had no idea how it would impact their medical training, but they soon learned that with some planning and innovation, they could still meet the strenuous requirements.
"Everything was available, it just required a significant amount of planning," says student Nicolas Rubel.
Coronavirus: Jacksonville medical student says COVID-19 pandemic reaffirmed decision to become a doctor
Action News Jax
Jacksonville, Fla. — The COVID-19 pandemic has highlighted the desperate need for more doctors across the country.
The U.S. is expected to experience a shortage of up to 139,000 physicians by 2033, according to the Association of American Medical Colleges.
To fill the need, future doctors need to start training now.
Medical students facing challenges during pandemic
ABC 6 News
Rochester, Minn. — If you think ahead a few years from now, there will be a small group of people who can say they were in medical school during a pandemic.
"So for us, we were not only in the middle of a pandemic at the end of the third year, but the beginning of the fourth year essentially marks the beginning of this thing that we describe that ends up in Match Day," Tomilona Ifelayo, a medical student at the Mayo Clinic Alix School of Medicine in Rochester.
Match day at Mayo Clinic Alix School of Medicine, Mayo Clinic School of Graduate Medical Education
Mayo Clinic News Network
Friday, March 19, is match day across the U.S., including Mayo Clinic Alix School of Medicine fourth-year students in Arizona, Florida and Minnesota, who will be continuing on to residencies, as well as Mayo Clinic School of Graduate Medical Education, which offers residency positions.
During this national event held every third Friday in March as part of the National Resident Matching program, medical school students, and graduates from the U.S. and around the world, learn which U.S. residency program they will train at for the next three to seven years.
This is the first match for medical students at Mayo Clinic Alix School of Medicine ― Arizona Campus.