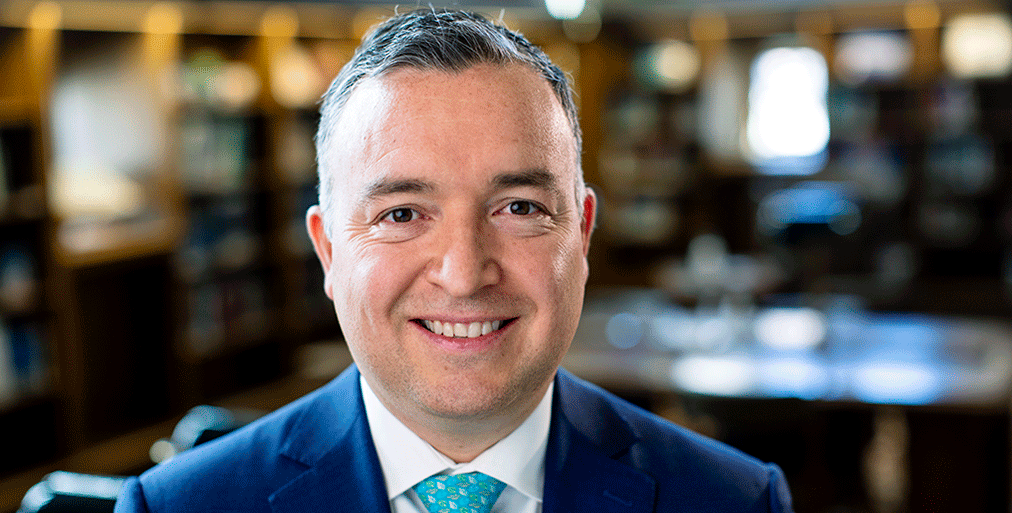 ---
October 23, 2019
---
Dr. Alberto Rubio Tapia was a fellowship-trained gastroenterologist in Mexico when he came to Mayo Clinic in 2006 to gain research experience.
"My institution in Mexico City, National Institute of Medical Sciences and Nutrition (Salvador Zubiran), has a long tradition in clinical and research training collaboration with Mayo Clinic, so I was familiar with Mayo," says Dr. Rubio Tapia.
"I fully intended to return to Mexico to practice. However, I was offered a research staff position within my first year at Mayo and began to see what career opportunities in the U.S. could be like. So I stayed longer.
"Thirteen years later, I'm certain my career is in academic medicine in the U.S."
But to practice in the U.S., Dr. Rubio Tapia, who was fully trained, had to complete another residency and fellowship.
While completing those requirements, he continued his research and mentored his co-residents and co-fellows with their research, helping several of them get their first articles published and secure their first presentations at national meetings. Dr. Rubio Tapia describes this work as one of the Mayo Clinic opportunities he has enjoyed the most.
"My education and training have been extensive, but I've enjoyed every single step and love what I do," says Dr. Rubio Tapia. "My residency and fellowship at Mayo were easy because I'd had strong training in Mexico at the best institution in the country for internal medicine and gastroenterology. My commitment to my profession and research is very high."
Dr. Rubio Tapia's commitment has led him to become an internationally recognized authority on celiac disease. He has been lead author for celiac disease guidelines for the American College of Gastroenterology and has published 81 peer-reviewed manuscripts in all of the major journals of gastroenterology as well as 16 book chapters. His work has thousands of citations.
Some of Dr. Rubio Tapia's high-impact first-author studies include demonstration of an increased mortality in patients with undiagnosed celiac disease, the increasing prevalence of celiac disease in the U.S., the first description of olmesartan-induced celiac-like disease, and a new classification score for refractory celiac disease.
For these and more efforts, Dr. Rubio Tapia received the Mayo Clinic Alumni Association Donald C. Balfour Award for Meritorious Research.
Laura Raffals, M.D., program director for the Mayo Clinic fellowship in gastroenterology and hepatology, says Dr. Rubio Tapia has more than earned his place as first author on the American College of Gastroenterology celiac disease guidelines.
"For most of us, it takes a long time to achieve a milestone such as this," Dr. Raffals says. "Dr. Rubio Tapia did it even before finishing his fellowship. He is routinely invited to moderate sessions and lecture on celiac disease at meetings of the leading societies in gastroenterology. We are fortunate in our division to train many fellows who go on to achieve international success in this field. We are not sure if we have ever had a better candidate for the Balfour Award."
Dr. Joseph Murray says with Dr. Rubio Tapia on board, Mayo Clinic's celiac disease research program has had its most productive years and Mayo has been cemented as a center of excellence for treatment of celiac disease.
"His energy, enthusiasm, maturity, curiosity, insight, critical thinking, and ability to persevere despite challenges and limitations are part of the secret sauce of Dr. Rubio Tapia's success," says Dr. Murray, who earns Dr. Rubio Tapia's praise as his mentor. "He developed a predictive tool for survival in refractory celiac disease and wrote the guidelines for celiac disease in Mexico.
"His work in the natural history of the disease is groundbreaking. There's been a sea of change around the world in regard to celiac in the last decade, and Dr. Rubio Tapia's contributions have been central to that progress. We no longer think of celiac disease as rare. Today most physicians know it's a common chronic disease they can test for."
Bringing it all back home, Dr. Rubio Tapia says he's especially proud of being inducted into the National Academy of Mexico in 2016. "This peer-review induction is the most important distinction for doctors in Mexico. Most people achieve that at the end of their careers. It's very difficult to achieve before age 40. It feels good to be recognized for my hard work in research and the clinic by my home country."
As Dr. Rubio Tapia prepares to complete his fellowship and continue his academic career, Dr. Murray reflects: "When our best people, such as Dr. Rubio Tapia, finish training, the larger medical community benefits. As a Mayo Clinic-trained clinician-investigator, he will expand the field of celiac disease across the nation and world. Dr. Rubio Tapia will continue to be a valued colleague and peer. His success is our success."
This article was originally published in Mayo Clinic's Alumni Magazine, Issue 2, 2019. It was reprinted on "Advancing the Science," the Mayo Clinic Medical Science blog.