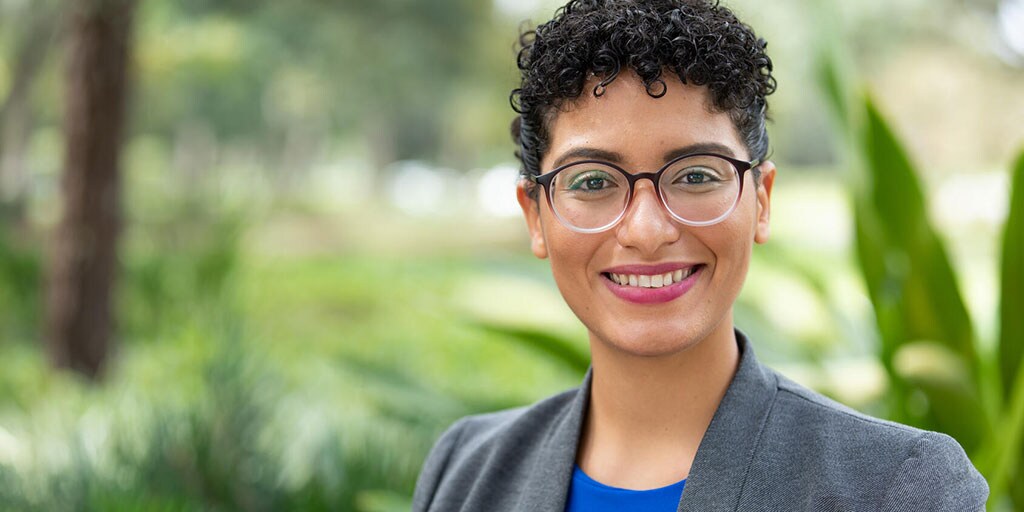 ---
October 27, 2021
---
Growing up in the Dominican Republic, third year medical student Johanny Lopez Dominguez remembers her grandfather's health struggle. He lived in a remote part of the country, and it was challenging to get the care he needed for his diabetes and cardiovascular disease. A spot of hope was a physician who periodically traveled several miles to care for her grandfather. That's how she became inspired to become a physician.
"Seeing that really left a mark on me," says Johanny. "It inspired me to alleviate suffering and improve access to care to people who are in similar unfortunate situations as my grandfather."
Discouraged but undeterred
Despite her motivation, Johanny was often discouraged by the financial investment required for medical school. "When I was in college, my mother was making about $15,000 a year, and I was working multiple jobs while attending school full time to help," she says. "With the expense of applying to medical school and tuition, I didn't see a way that medical school could work."
However, Johanny could not let go of her dream to practice medicine and started looking for someone who could help her find a path to medical school. She reached out to a friend who had recently started medical school. That friend connected her with Suliman El-Amin, M.D., a resident at Mayo Clinic School of Graduate Medical Education at the time.
Dr. El-Amin agreed to mentor Johanny. He gave her advice on study strategies for entrance exams, provided feedback on her application essays and helped her plot out a plan for applying, and even helped her explore ways to make applying to and attending medical school affordable.
Dr. El-Amin directed her to financial assistance resources to help with study resources, application fees and test fees, which can add up to thousands of dollars. Johanny also delivered restaurant orders and groceries in addition to her full-time job to help cover expenses.
Within six months of meeting Dr. El-Amin, Johanny was applying to medical schools, including Mayo Clinic Alix School of Medicine.
Scholarship gives the gift of exploration
Dr. El-Amin introduced Johanny to Mayo Clinic. "I saw in him that Mayo Clinic places a very high value on mentorship," she says. "And as I learned more about Mayo Clinic, I found that Mayo Clinic's values reflected a lot of my own values."
However, training at Mayo Clinic Alix School of Medicine would not have been possible without a full-tuition scholarship funded by generous benefactors.
Johanny's scholarship not only gave her the opportunity to train at the school but also made it possible to explore her passions in medicine. "One of the biggest gifts that comes with [a scholarship] is the freedom to really explore everything in medicine and think about what I value most and where I can serve patients the best instead of just thinking about how am I going to pay for the loans that I accrue in medical school," she says.
1:02
Johanny Lopez Dominguez: Future aspirations
I look to continue the work of making medicine more accessible to everyone, and also to make sure that people of all different walks of life have access to a medical education like I have been fortunate to access.
Johanny Lopez Dominguez
student, Mayo Clinic Alix School of Medicine
A future grounded in compassion and respect
For Johanny, her priority is making high-quality care more accessible. She wants to serve people from all walks of life, especially Spanish-speaking patients, immigrants, and people from low-resource settings like her grandfather.
Johanny is already taking advantage of opportunities to serve these patients. She volunteered with primary care providers in Mexico and completed a course in the Dominican Republic to learn more about providing care in low-resource settings. She also has published articles on care for immigrants and presented to community groups about health care advocacy.
She hopes her future also includes starting a nonprofit to help underrepresented and economically disadvantaged students apply to medical school. "Access to medical education for these students is essential," she says. "They understand the experience of patients with similar backgrounds and are more likely to practice in settings with patients who don't always have access to the care they need."
However, for many of these students, the expense of medical school is prohibitive, and they have very limited resources to guide them through the application process when applying to medical school. Johanny wants to connect students with mentors like Dr. El-Amin.
Again, she's already working on these aspirations. She helped start Student National Medical Association and Latino Medical Student Association chapters at Mayo Clinic. Both focus on supporting minority medical students.
Regardless of what her future holds, Johanny wants to practice medicine with the compassion she has witnessed at Mayo Clinic. "The first experience I had while at Mayo Clinic was seeing a physician in the hospital taking care of her patient, and one thing that amazed me, and something that I seek to emulate wherever I go, is the compassion she had," Johanny says. "No matter where other people come from, no matter what their journey has been, they always deserve to be treated with love, respect, and dignity."
This story originally appeared in Mayo Clinic Magazine.