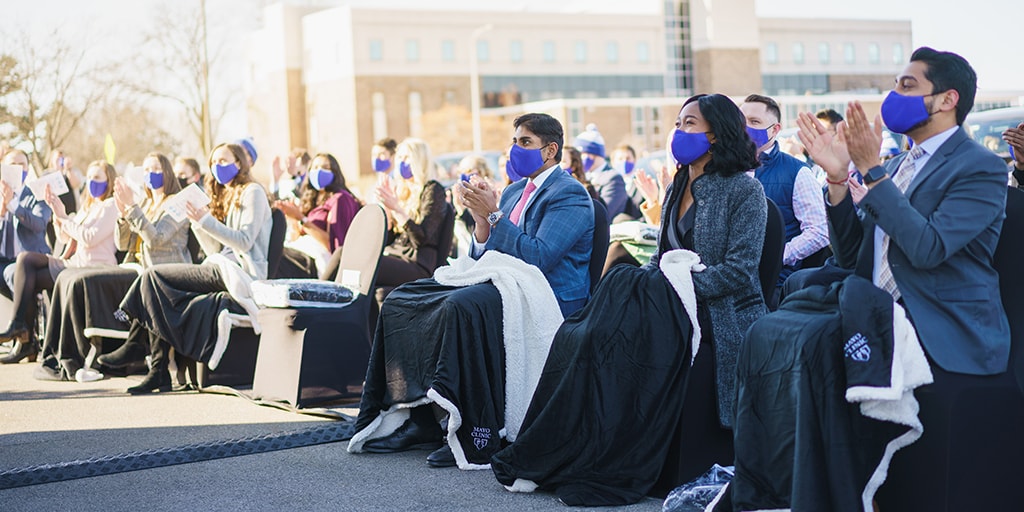 ---
March 11, 2022
---
In exactly one week from this very moment (11 a.m. CT), fourth year medical students will celebrate Match Day 2022, rip open their envelopes, and learn where they are headed for their residency. As students in Mayo Clinic Alix School of Medicine eagerly await next Friday, March 18, we share some of their thoughts on the significance of the day for themselves and for all medical students.
Anthony Kilgore, Jr.
Arizona campus
It's so significant that my family and I have dreamed about it for years. So significant I have spent countless hours watching YouTube videos of previous Match Day celebrations, simply so I could begin to feel the emotions vicariously through others.
Match Day is the culmination of many years of hard work, sacrifice, and delayed gratification. It's easy to focus on the dedication of the future doctors who match into residency training, but I am sure to acknowledge I had several individuals (shout-out to my mom and fiance, Hailey) in my corner from the start, and they too deserve the thrill of this accomplishment. Being accepted to medical school a few short years ago was a huge deal, however, it's amazing how quickly the next big thing can be right around the corner.
Jennifer Talbott
Arizona campus
Match Day is probably the most terrifying and exciting day in a medical student's life. Most med students (myself included!) like to have a lot of control and organization, but Match Day is about giving up control. It's about trusting in your training, in your hard work, in the process, and believing you will truly end up where you are meant to be.
Match Day represents the end of your medical training, and the beginning of your career as a physician. It's also bittersweet because Match Day means saying goodbye to your med school family, but hello to your new residency family.
Joshua Spegman
Arizona campus
The residency match is a period of transition, a state of flux. And as with any change it brings with it a series of unknowns. Where will I spend the next 3-5 years of training? Will any of my classmates be at the same institution? Did I make a good rank list? Am I ready to be a physician?
On the one hand it represents the acknowledgement of our skill and ability as medical students to progress to the next level of training, but on the other hand it can leave medical students feeling unmoored, out at sea, prey to the whims of an algorithm that will decide the next few years of their life.
So yes, Match Day is a highly significant event, but as I head into it, I approach it with a mixed sense of excitement and trepidation. I look forward to Match Day and to the closing of this period of liminal space, and I am excited to celebrate where my classmates and I end up.
Adrian Beyde
Minnesota campus
Match Day is one of the most significant and exciting milestones on the road to become a doctor. Not only because you finally find out where you are going for residency, but because it is a time to celebrate the journey.
For every moment like this, there are years of hard work, long days, long nights, and sacrifices that often go unnoticed.
Match Day is not only a celebration of where you are going next but also a celebration of how far you have already come and what it took to get here.
Timothy Lee
Florida campus
Match Day is one of the most exciting and anxiety-provoking moments of our lives as medical students, a moment full of peril and promise. Match Day is when we find out where we'll be working and living and putting down roots for the next 3 to 7 years, and in some cases what specialty we'll be in and what our future career options will be.
We go through the whole residency interview process at such a disadvantage in terms of knowledge, having to make decisions about how to rank programs based mostly on a half-day virtual interview and whatever information we can find online. It's kind of like a dating show, such as the Bachelor or something. We have to sort through a list of people (programs) we know next to nothing about and pick a few we'd like to marry (match at) and pursue them only to find out the night before the wedding whom we'll be marrying! It's terrifying but thrilling at the same time.
Jordan Dutcher
Florida campus
Many people think that graduation is the most important day for a medical student, but truthfully, for most of us it is our Match Day. Where graduation is the ceremonious closing of one chapter, Match Day is the promising opening of a new one.
Match Day 2022
For the first time in Mayo Clinic history, Match Day will be held simultaneously at all three Mayo Clinic Alix School of Medicine campus locations — Arizona, Florida, and Minnesota. The ceremonies will be socially-distanced and in-person while adhering to all local and Mayo Clinic COVID-19 precautions.