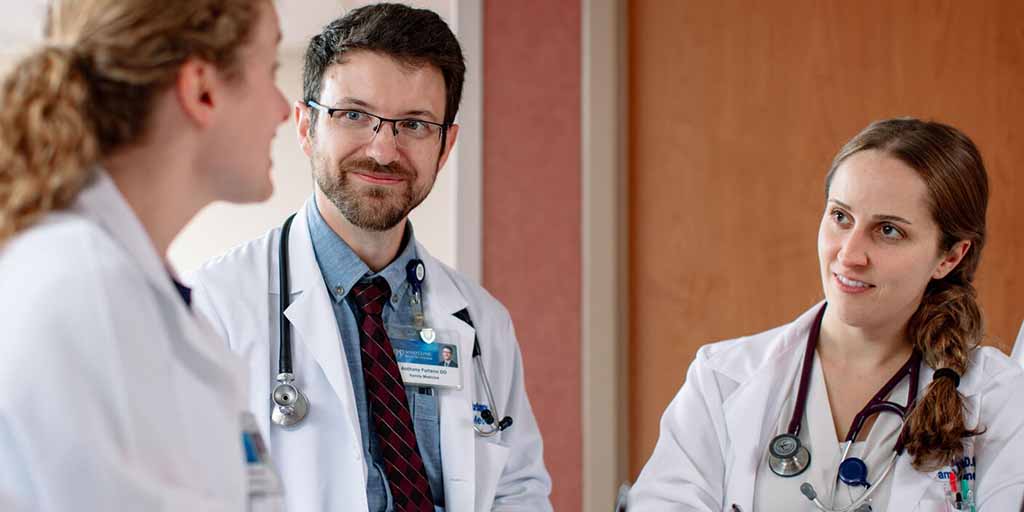 ---
June 2, 2022
---
Mayo Clinic residents and fellows frequently rotate to other campuses for specialized training. From July 2020 to June 2021, 72 Mayo Clinic medical trainees rotated to other Mayo Clinic campuses. Five recent participants talked about their experiences.
Mayo Clinic School of Graduate Medical Education has a rotation policy that allows residents and fellows to go to different Mayo Clinic campuses, including Mayo Clinic Health System locations, for four to six weeks. Travel expenses and housing are covered for some approved rotations.
"We're able to do this because our graduate medical education is organized as a single school with multiple campuses rather than governed through individual clinical departments," says Cheryll Albold, Ph.D., Designated Institutional Administrator, Mayo Clinic School of Graduate Medical Education. "MCSGME offers these rotations so learners can gain experience with different patient populations, unique cases, community-based hospitals, rural settings, and specialties and techniques not represented at their primary site. We're among the more generous institutions in supporting the external learning our trainees need and want."
Arizona to Florida for Neurocritical Care
Amir Mbonde, M.B., Ch.B., Department of Neurology at Mayo Clinic in Arizona, rotated to Mayo Clinic in Florida in neurocritical care during his second year of residency. He was considering a neurocritical care fellowship and wanted exposure to the field to help him decide.
"It's great to get experience practicing in a different setting and get to know the physicians at another Mayo Clinic location," says Dr. Mbonde. "Ultimately, I decided not to pursue neurocritical care. Instead, I'll do a stroke fellowship at Massachusetts General Hospital–Harvard Medical School beginning this summer and will then return to Mayo Clinic in Arizona for an EEG fellowship. I could see myself returning to the Florida campus to work one day. I really liked it there."
Arizona to Rochester for Neuro-Oncology
Shannon Fortin Ensign, M.D., Ph.D., a fellow in the Division of Hematology and Medical Oncology at Mayo Clinic in Arizona, rotated to the Rochester campus last summer to spend time in a different neuro-oncology environment.
"Neuro-oncology on the Arizona campus is a smaller practice with two physicians who have a neurology training background," she says. "On the Rochester campus, there are seven or eight physicians in neuro-oncology, and two of them share my path — medical oncology training with an additional focus in translational research or early phase clinical trials."
Dr. Fortin Ensign experienced the shared clinic approach in Rochester, where all of the physicians in the practice share the patients, compared to Arizona, where patients are assigned to a specific physician. She also joined the didactics of the hematology-oncology fellows, including a timely session on grant writing for the American Society of Clinical Oncology's Young Investigator Award program. "I did not know anyone who had recently been awarded this ASCO early-career grant and I intended to apply, so it was a valuable learning opportunity," she says. "I was subsequently offered a Mayo Clinic Rochester faculty panel review of my grant proposal prior to submission, which helped me strengthen it and led to a new research collaboration."
Because Dr. Fortin Ensign is interested in a robust research aspect to her career, she spent time with Sani Kizilbash, M.D., Division of Medical Oncology, who specializes in early-phase clinical trials and rotates in a phase I clinical trial clinic. "We don't yet have a similar clinic in Arizona," says Dr. Fortin Ensign. "I'm interested in early-phase clinical trials and got to be in the clinic and see how it's run."
She also spent time with Evanthia Galanis, M.D., Division of Medical Oncology and the Sandra J. Schulze Professor. "Dr. Galanis is more senior in her career and a leader in the Alliance Clinical Trials group, and I learned from her about what my career path could look like," says Dr. Fortin Ensign.
Dr. Fortin Ensign is on the right path. She recently accepted an offer to remain at Mayo Clinic in Arizona at the conclusion of her fellowship this summer. She'll be the third neuro-oncologist there.
Rochester to Florida for Orthopedic Surgery
Sarah Townsley, M.D., Department of Orthopedic Surgery at Mayo Clinic in Rochester, rotated to Mayo Clinic in Florida last summer to focus on learning the direct anterior approach to the hip.
"The surgeons at Mayo Clinic in Florida most commonly use the direct anterior approach to total hip arthroplasty, and I spent the summer learning from multiple surgeons who use this approach," says Dr. Townsley. "Doing the rotation early in my training helped me understand joint arthroplasty, which has benefited me during my subsequent trauma training. I also really enjoyed working closely with Courtney Sherman, M.D. There aren't many women joint arthroplasty surgeons nationally, so she was inspirational to me."
Florida to Rochester for Colorectal Surgery
Sacha Broccard, M.D., grew up in the Twin Cities with a father (Alain Broccard, M.D., professor of medicine, University of Minnesota) who completed a critical care fellowship at Mayo Clinic in Rochester. The son wanted to experience residency in a smaller program. He's a fourth-year surgical resident at Mayo Clinic in Florida.
"The Florida campus has three new surgical residents each year compared to 10 on the Rochester campus, and I wanted the opportunity to become more familiar to my attendings," says Dr. Broccard.
When Dr. Broccard's interest focused on colon and rectal surgery, his sights turned to Rochester. "Three of the four colorectal surgeons at Mayo Clinic in Florida completed residency and fellowship at Mayo Clinic in Rochester," he says. "They helped get me set up in a monthlong rotation with Dr. Scott Kelley (Division of Colon and Rectal Surgery). Learning from the longstanding experts on the Rochester campus — where my mentors trained — on complex cases has been invaluable. In that division with 11 colorectal surgeons, I trained on a high volume of recurrent rectal cancer and locally advanced rectal cancer."
Dr. Broccard says he's grateful for the ease of getting the rotation and the hospitality of his host division in Rochester. "Your home program loses a resident for a rotation, and the visiting program has to be flexible enough to accommodate your rotation. It was a very collegial exchange. The rotation was a valuable experience as I look toward fellowship. I'd be fortunate to be able to do more training in Rochester."
Rochester to Mankato for Obstetrics and Gynecology
Claire Dorcent, D.O., a first-year resident in obstetrics and gynecology based on the Rochester campus, rotated to Mayo Clinic Health System in Mankato, Minnesota. "I plan to be a general obstetrician/gynecologist and wanted experience in a smaller community setting, doing it all," she says. "Mayo Clinic Health System campuses have great support from Mayo Clinic in Rochester but don't have all of the same resources or manpower. I learned early on in residency how to adapt, work with what's available and look at health care through a different lens, outside of my comfort zone."
Dr. Dorcent will return to Mankato during her second year of residency. "I felt welcomed and supported and thoroughly enjoyed the rotation and working with different providers," she says. "Working in this environment helped to confirm my intention to practice general obstetrics and gynecology."
A version of this story was featured in Mayo Clinic Alumni Magazine.