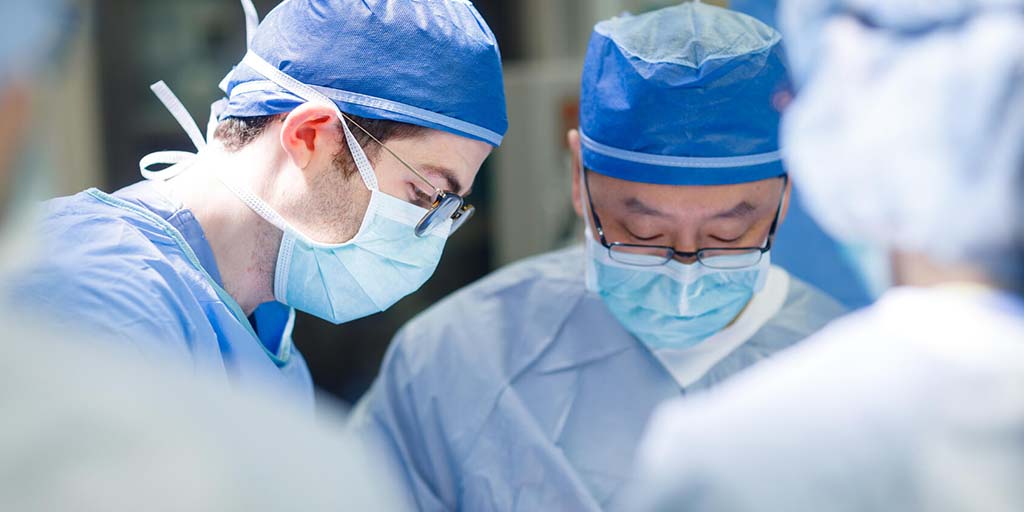 ---
May 12, 2022
---
The month of May recognizes the heritages of Asian Americans and Pacific Islanders (AAPI), and Jewish Americans. Throughout the month, the Office for Education Diversity, Equity, and Inclusion at Mayo Clinic will share facts, articles, and featured profiles to demonstrate the richness of AAPI and Jewish American cultures.
The following are some of the featured profiles of Asian American, Pacific Islander, and Jewish American individuals who work or learn at Mayo Clinic.
Yeng (Fransoua) Her, M.D. Ph.D.
Dr. Her is a resident physician at Mayo Clinic in Rochester. He is the first Hmong American to receive M.D.-Ph.D. degrees in biochemistry and molecular biology. He started his research career in the Postbaccalaureate Research Education Program (PREP) at Mayo Clinic Graduate School of Biomedical Sciences under the mentorship of Dr. Jim Maher, Ph.D., where he stayed for his graduate work. During his Ph.D. program, he was also trained in the Initiative for Maximizing Student Development (IMSD) program.
"I am Hmong," shares Dr. Her about his ethnic origin. "The Hmong are from Southern China. However, my father was born in Vietnam, and my mother was born in Laos. Because of the Vietnam War, I was born in a refugee camp in Thailand."
"The proudest achievement in my professional career is graduating with my M.D.-Ph.D." says Dr. Her. "Never in my wildest dreams as a child growing up in the refugee camps in Thailand would I have thought that I would have this opportunity to go to medical school and graduate school, get advanced training, and help people at the specialty level that I get to today."
Satsuki Yamada, M.D. Ph.D.
Dr. Yamada is a physician-scientist in the Division of Cardiovascular Diseases. She is also an assistant professor of medicine at the Mayo Clinic's campus in Rochester, Minnesota. Her ethnic background is Japanese.
"My mother's ancestors had been farmers dating back to the early 17th century in Fukushima, in the north part of Japan," shares Dr. Yamada. "My interests in pursuing a career in medical science were inspired by Dr. Hideyo Noguchi, a native of Fukushima, a bacteriologist at the Rockefeller Institute in New York in the early 20th century. He ended his life in Africa on a research mission. My grandparents highly respected Dr. Noguchi. There was a bust statue of Dr. Noguchi in their living room, and I can't count how many times we visited the Hideyo Noguchi Memorial Hall. My grandparents passed away before I became a physician/scientist. If they could visit me and Mayo Clinic, I hope my grandparents would be proud of me and smile when they see Dr. Noguchi's portrait in my office."
Thinking of her biggest challenge, she says "like many young physicians/scientists, I started my professional career with unrealistic big ambitions and soon found out that discovering something meaningful is not easy. I felt, especially when I was a Ph.D. student, that I was wandering dark woods where there were harsh judges at every exit and never let me out. My mentors and colleagues have guided me to accept failures, listen to constructive critics, and keep pressing on."
Kendall Lee, M.D., Ph.D.
Dr. Lee is a professor of neurosurgery and biomedical engineering at the Mayo Clinic in Rochester. He is also president and chairman of the board and chief medical officer for NaviNetics Inc. Dr. Lee was from a small fishing village called Sokcho, South Korea.
"I studied philosophy as an undergrad. It grew my interest in the mind and brain, how we think, and the human experience," shares Dr. Lee. "Because of that, I worked in the neurobiology lab of Dr. Antonia Vernadakis, one of the first female professors at the University of Colorado. She inspired me to research and encouraged me to apply for the M.D./Ph.D. program."
Dr. Lee started out in neurology and then realized that his true passion was neurosurgery. His biggest challenge so far in medicine was starting over in neurosurgery. He recognizes that while it was one of the hardest decisions in his life, it was also the best decision because he loves being a neurosurgeon.
Looking back on his proudest achievement in his professional career is his research on deep brain stimulation (DBS) and his contributions to that field of study.
"What I feel so proud of are the inventions that have come out of the research," explains Dr. Lee. "For example, we have invented a brain surgery stereotactic device, called NaviNetics D1 system, that makes the brain surgery easier on the patient and more efficient for the surgeon. Another device called WINC MAVEN can now measure brain dopamine and serotonin levels in real time, a fascinating new technology that we invented in the lab. I am also proud of the translational work we are doing. Under the Mayo Clinic Employee Entrepreneurial Program, we started a new company called NaviNetics. We believe that it is not enough to only publish scientific work. We must get it to the patient. Thus, we have worked very hard to take the knowledge and technology we generate at our Mayo Clinic Neural Engineering Laboratories to the patient. I'm so proud of the team of scientists, physicians, engineers, and students in Mayo Clinic Division of Engineering, Neural Engineering Laboratories, and NaviNetics that makes this possible."
About the Office for Education Diversity, Equity, and Inclusion
At Mayo Clinic, the Office for Education Diversity, Equity, and Inclusion recognizes that the contributions of every individual is essential to success in patient care, education, and research. The office strives to maintain and further develop a learning environment in which individual differences are valued, allowing all staff and students to achieve their fullest potential.
To read and learn more about recognizing Asian American and Pacific Islander Heritage Month and Jewish American Heritage Month at Mayo Clinic, visit the Office for Education Diversity, Equity, and Inclusion's social media channels — Facebook, LinkedIn, and Instagram.