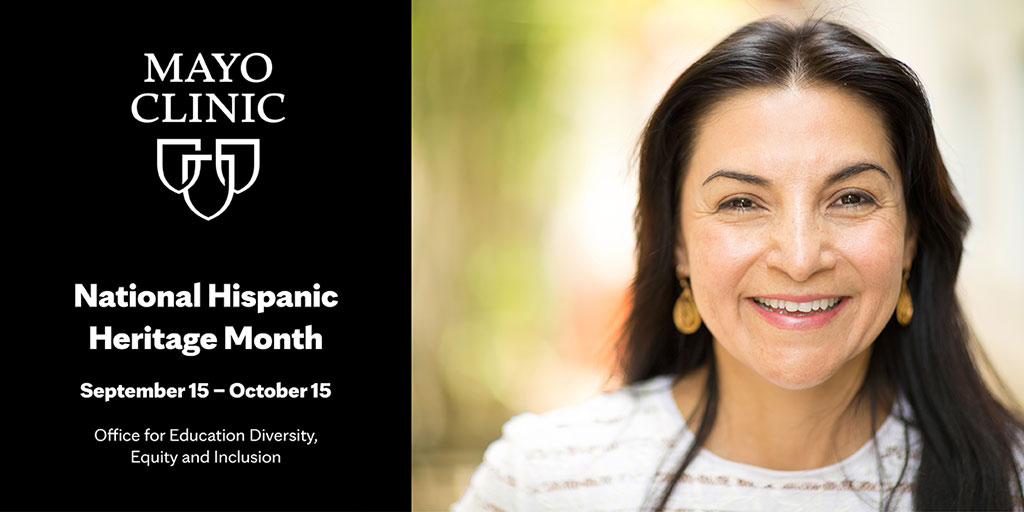 ---
October 15, 2021
---
Mayo Clinic Office for Education Diversity, Equity and Inclusion is excited to kick off this year's celebration of Hispanic Heritage Month, recognizing the rich history, culture, and achievements of Hispanic and Latinx communities in our nation.
The celebration begins September 15th, and coincides with several Latin American countries' national independence days including Guatemala, El Salvador, Honduras, Nicaragua, and Costa Rica. Now through October 15, OEDEI will feature Latinx/Hispanic Mayo Clinic faculty and students, and will share educational material about the history and significance of Hispanic Heritage Month throughout their social media.
This article highlights some of the faculty and students recognized. More inidividuals will be added throughout the month as they are featured on social media.
Gerardo Colon-Otero, M.D.
Dr. Colon-Otero, whose ethnic origin is Puerto Rican, grew up in a low-income neighborhood in San Juan. He was the first member of his immediate family to attend college. Dr. Colon-Otero is a professor of medicine and consultant at the Division of Hematology/Oncology, Department of Internal Medicine at Mayo Clinic.
"I encountered multiple challenges on my way to being a physician," shares Dr. Colon-Otero. "My transition from a medical student in Puerto Rico to an internship in medicine at Mayo Rochester was difficult for me. I was blessed to have incredibly kind mentors at Mayo Clinic who helped me and guided me. I owe my career to them."
Dr. Colon-Otero has great pride in seeing his previous fellows succeed, and is blessed to be a small part of the development of the Mayo Clinic in Florida into a top-notch academic medical center.
For future physicians, particularly those of Latinx heritage, his message is "to seize the opportunities that come your way and live one day at a time. You are surrounded by amazing colleagues, and you need to build those relationships for your own benefit and, most importantly, for the benefit of your future patients."
Jorys Martinez-Jorge, M.D.
Dr. Martinez-Jorge, whose ethnic origin is in the Dominican Republic, is an assistant professor of surgery and a consultant of plastic/reconstruction surgery.
"I was influenced to be a physician by my mother, who is also a physician," reflects Dr. Martinez-Jorge. "She has always been my biggest role model. As I grew up, I was always intrigued by her approach and dedication to patient care and was fascinated to see how rewarding it was for her to be able to influence people's lives in a positive manner."
"I enjoy very much working with trainees at Mayo Clinic, and they bring a diversity of ideas that always keeps us motivated.," says Dr. Martinez-Jorge. "I believe that we can learn from each other. It is very rewarding to see someone you trained do great things in the community and thrive in their career."
Jesus (Jesse) Bracamonte, D.O.
Dr. Bracamonte, whose ethnic origin is in Hermosillo, Mexico, is an assistant professor and consultant of family medicine on the Arizona Campus.
Prior to attending medical school, Dr. Bracamonte was a high school teacher and basketball coach. He then chose to become a physician because he enjoyed learning about the human body and loved being able to help others.
"The ultimate reward working with Mayo Clinic trainees," he shares, "is when a student states that they were inspired by how I take care of patients and how the physician/patient relationship really impacts care."

For future physicians, particularly those of Latinx heritage, he encourages them, "not to forget where you come from. Relate to your patients. It is powerful, can break down barriers, and be the difference to someone seeking care."
Michael Romero, Ph.D.
Dr. Romero is a professor of physiology and consultant for the Department of Physiology and Biomedical Engineering at Mayo Clinic.

His family originally came from Spain in the late 1700s/early 1800s. The settled in Northern Mexico and then migrated to rural New Mexico while still a U.S. territory. The family had the distinction of being part of the original Spanish land grants that were designated by President Theodore Roosevelt. In fact, he still possesses one of the original documents. It was only when he became an adult that he realized the significance of his family's migratory movements.

"Though no one in my family has pursued science, I was very drawn to science as a child," shares Dr. Romero. "Naming dinosaurs, exploring the outdoors, finding salamanders and crayfish in local creeks, and doing 'experiments' with my chemistry set were my childhood pastimes."

The most rewarding part of working with Mayo Clinic learners and trainees is making a difference in their knowledge and approaches to science, and sometimes to life!

"Approaching discussions and interactions with learners and trainees similar to how I talk with and discuss topics with my kids and seeing the 'ah-ha' moments are wonderful," says Dr. Romero. "Sometimes, this is a more straightforward discussion of facts. On a few occasions, I have had the joy of seeing someone's scientific passion ignited. As wonderful as these moments are, out of the blue 'thank-you's' are even better. In several cases, unbeknownst to me, my discussions, teaching, or experimental approach, impacted Mayo learners and trainees in a career or life-changing way."

He encourages future scientists to follow their scientific passion which may sometimes mean trial and error, outright failure, and, almost always, learning new things.
Autumn Schulze, Ph.D.
Dr. Schulze is an assistant professor and associate consultant of molecular medicine at Mayo Clinic.
"My upbringing instilled values of family, support, service, and tradition," reflects Dr. Schulze, "It was never a question that I wanted my career to be oriented around helping others in a collaborative setting. Science was naturally a draw for me. I developed a passion for viruses at an early age. Like many others, I witnessed the devastation of cancer, including the passing of my father due to complications with lymphoma. Thus, oncolytic virotherapy, the use of viruses to treat cancer, immediately caught my attention and has become the primary focus of my research."
"One of the major challenges in science is imposter syndrome, and I was not immune to this." Dr. Schulze explains, "My experience is that imposter syndrome that stems from non-constructive, negative, and biased feedback is more difficult to overcome. Science is set up to be questioning. We are trained to be critical of the science so we can come up with the correct answers and continually improve treatments. We will always be faced with rejection and criticism that we have to utilize to get better. This was not something I struggled with because it is often constructive and without malicious intent. But there are always those that seek to keep others down or criticize based on unnecessary or unfounded factors. And those negative comments always seem to ring louder than the rest. I've had to hear a lot of negative commentaries both about myself and about others that offered nothing but harm and is absolutely counterproductive to the development of exceptional scientists, and it can have a significant and lasting effect. So being able to separate those types of comments from my personal worth was something I had to overcome early in my career."

"Mayo Clinic was a staple of my childhood," shares Dr. Schulze. "My father received a kidney transplant here and made frequent visits for routine appointments and treatment. I have always held Mayo Clinic in high regard and know first-hand how it can change the lives of its patients and their families. The day I started working here as a post-doctoral fellow was one of the proudest moments of my life. I have trained with so many extraordinary people and have been able to move to an Associate Consultant position. I am beyond proud to work at Mayo Clinic and will always strive to be part of the change Mayo Clinic brings to so many people just like me."
Daniella Vasquez Rico, PREP student
New PREP student, Daniella Vasquez Rico, works with Dr. Lewis Roberts, M.B., Ch.B., Ph.D., at Mayo Clinic's campus in Rochester. Her hometown is Coon Rapids, Minnesota.
Her ethnic origin is half Mexican and half Guatemalan; her mom is from Mexico, and her dad is from Guatemala.
"I chose Mayo Clinic PREP because of the opportunities they offer through the program," shares Daniella. "I wanted to further explore the research being done and for the welcoming and warm community to help me enhance my skills as a developing scientist." Her research interests are primarily in microbiology with some cancer biology.
Genesis Hernandez-Vizcarrondo, PREP student
PREP student, Genesis Hernandez-Vizcarrondo, works with Dr. Gary Sieck, Ph.D., at Mayo Clinic's campus in Rochester.
She was born in San Juan, Puerto Rico, and also lived in Maryland, Texas, and Barcelona, Spain. Growing up, her family emphasized the importance of appreciating my Hispanic heritage and culture.
"I chose the PREP program at Mayo Clinic," says Genesis, "because I wanted to work in an environment where I could witness how laboratory-based clinical research translates into bedside treatment and better patient care. I knew the program would provide me with the training to become the best physician-scientist I could be one day. The PREP program has a long history of training incredibly successful students."
She is currently working in Dr. Sieck's research lab that focuses on neuromuscular physiology in the control of breathing. Her research project explores diaphragm respiratory potential by measuring diaphragm power of fatigue after imposed inactivity and aging.
Carmen Reynolds, Ph.D.
Dr. Reynolds, whose ethnic origin is in Mexico, is a research fellow at Dr. Michael Romero's lab. She is a recent recipient of a Ruth L. Kirschstein National Research Service Award from the NIH/NIDDK.
"My decision to become a scientist was rather complicated," shares Dr. Reynolds. "In my youth, I had no idea what a career in science would be like, aside from being a schoolteacher. Later, as a college music student, I found myself inspired by biochemistry and the intricate pathways of metabolism. I happened to graduate during an economic crash and had little opportunity to pursue my music career, so I worked as a firefighter and emergency medical technician like I had as an undergraduate student. While I enjoyed the career in emergency service, I did not find it intellectually fulfilling, and, truthfully, I missed studying metabolism! I read my old biochemistry textbooks again to pass time when working shifts at the fire department. Soon, I re-enrolled in college to begin my scientific career."
"Working at the Mayo Clinic has been a motivating experience. I have particularly enjoyed the collaborative and supportive nature of our colleagues. I hope to carry these positive teamwork attitudes on to the next phase of my career."
To future scientists, she encourages them to enjoy both the triumphs and tribulations of science, and to especially find joy in the troubleshooting opportunities. After all, those little achievements on a daily basis are part of what makes science fun.
Talia Fernandez Carrasco, PREP student
Talia works with Dr. Stephen Russell, Ph.D., at Mayo Clinic in Rochester as part of the PREP program.
She was born in Chihuahua City, the capital of Chihuahua state, in the north of Mexico. Both of her parents are Mexican, born and raised in Chihuahua, Mexico.
She chose to come to Mayo Clinic for the PREP program because she recognized Mayo Clinic as a worldwide-known health and research institute.
"Sometimes, when I was studying or doing research, the information published by Mayo showed up," she remembers. "I used to imagine how it would be to work at Mayo and how great it would be to have the ability to do such extraordinary things. As soon as I knew about the PREP program, I knew that I should try to get in and gain all the experience and knowledge possible from an institution as prestigious as this one."
Cancer research has been a major area of interest to her, especially one that is oriented to the therapeutic side, and she hopes to continue her career in this area of research.
About the Office for Education Diversity, Equity, and Inclusion
At Mayo Clinic, the Office for Education Diversity, Equity, and Inclusion recognizes that the contributions of every individual is essential to success in patient care, education, and research. The office strives to maintain and further develop a learning environment in which individual differences are valued, allowing all staff and students to achieve their fullest potential.
To read and learn more about Hispanic Heritage Month at Mayo Clinic, visit the Office for Education Diversity, Equity, and Inclusion's social media channels — Facebook, LinkedIn, and Instagram.