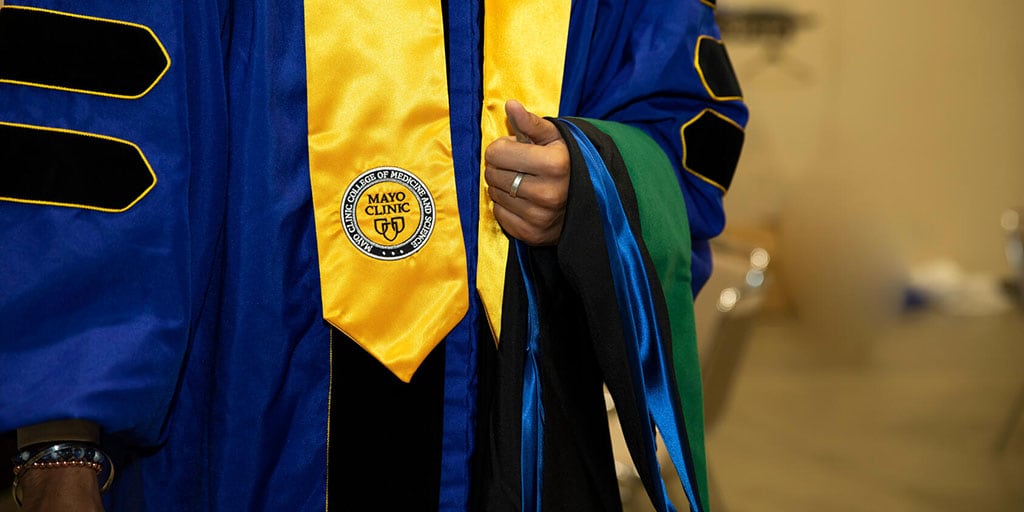 ---
May 8, 2023
---
Commencement 2023 at Mayo Clinic celebrates graduating medical students from Mayo Clinic Alix School of Medicine (Arizona, Florida, and Minnesota) and graduating Ph.D. students from Mayo Clinic Graduate School of Biomedical Sciences (Minnesota). Learn more about ceremony details, speakers, and how you can tune in live.
Commencement is the culmination of years of hard work and dedication. Our M.D. and Ph.D. students will see their dreams achieved and move forward in their medical careers to achieve great things in patient care, research, and beyond. The ceremonies will take place at each of Mayo Clinic's three campus locations — Arizona on Wednesday, May 17, Florida on Saturday, May 13, and Minnesota on Friday, May 19.
Download the ceremony program to view photos and information about our graduates, ceremony agendas, award announcements, and more.
Use our social media toolkit with downloadable graphics, Facebook header photos, and social posts to join in the online conversation and share your personal congratulations with our graduates. Add #MayoClinicGrad to your post and tag @MayoClinicCollege to be featured on our page.
Commencement speaker
Dawn Mussallem, D.O., Assistant Professor of Medicine at Mayo Clinic College of Medicine and Science, is the 2023 commencement speaker at all three campuses.
Dr. Mussallem is a consultant in the Division of Hematology Oncology at Mayo Clinic and an Assistant Professor of Medicine. She is a lifestyle medicine breast specialist at The Robert and Monica Jacoby Center for Breast Health and serves as Medical Director for Mayo Clinic Florida Humanities in Medicine. She is double-board certified, including a board certification in lifestyle medicine, and has over 25 years of patientcentered clinical wellness experience. She has international recognition in the field of breast medicine, lifestyle medicine, integrative oncology and cancer survivorship. Furthermore, she has a unique personal experience as a stage IV cancer patient diagnosed just three months into medical school and then, in 2021, as a heart transplant recipient. She states that her journey as a patient has cultivated her boundless energy and deep motivation to help patients flourish during and after adversity.
In 2015, Dr. Mussallem founded the Integrative Medicine and Breast Health Program at Mayo Clinic Florida, a patient-centered program that works with breast cancer patients during and after a breast cancer diagnosis. The program provides patients with an early introduction to the importance of lifestyle optimization alongside conventional cancer treatments, leading patients to discover renewed vitality through healthier living and reframing cancer as a "teacher of life." She is frequently invited to give keynote presentations and podcasts to international audiences, appear on radio and television shows, and author journal articles, abstracts and other written publications. Her research focus includes the impact of whole-food, plant-based nutrition and weight management on breast cancer outcomes, awareness of alcohol-related breast cancer risk and breast cancer survivorship quality of life.
In addition to her clinical and research activities, Dr. Mussallem is active in medical education, which includes serving as director of the Lifestyle Medicine Residency Curriculum for the Mayo Clinic enterprise and co-director for the International Medical Breast Training Program. She is Chief Executive Editor for the National Consortium of Breast Centers and Breast Wellness Magazine. She serves as a physician on the Blue Zones Jacksonville Steering Committee.
In recognition of her work, Dr. Mussallem has received many awards and honors, including the 2022 Florida John G. Langdon Volunteerism in Medicine Award from the American College of Physicians, the 2020 and 2021 Marquis Who's Who in America Top Doctor, the Mayo Clinic Patient Experience Award, and the Mayo Clinic Florida Hospital Instructor of the Year. On February 6, 2022, she became the first person in the world to run a full marathon just one year from a heart transplant.
About Mayo Clinic Alix School of Medicine
Mayo Clinic Alix School of Medicine matriculated its first class in 1972. For 50 years, a world-class faculty has educated aspiring physicians in Mayo Clinic's unsurpassed model of team-based, patient-centered care. Our faculty members work with students to develop the skills to be highly successful care providers as well as the compassionate hearts and inquisitive minds that change lives and innovate health care for generations to come. Selected from 6,021 applicants, Mayo Clinic Alix School of Medicine Class of 2023 consists of 102 graduates.
About Mayo Clinic Graduate School of Biomedical Sciences
The mission of Mayo Clinic Graduate School of Biomedical Sciences is to develop the next generation of leaders in biomedical science and education. First established in 1915, Mayo's graduate degrees were initially awarded in partnership with the University of Minnesota. Mayo Clinic Graduate School of Biomedical Sciences became an independent, degree-granting institution in 1983. For the past quarter century, our world-renowned faculty have worked within Mayo Clinic's unique three-shield environment of the clinic, research, and education to recruit, empower, and nurture future scientists (M.S. and Ph.D.) and physician scientists (M.S./M.D. and M.D./Ph.D.) to explore the world and innovate.
About Mayo Clinic Alumni Association
The officers and Board of Directors of the Mayo Clinic Alumni Association will soon welcome graduates as the newest members of the alumni association. The association's mission, "Connecting our alumni and bringing Mayo Clinic values to the world" is central to their purpose, nurturing mutually beneficial relationships between Mayo Clinic and the remarkable individuals who participate in its education programs. Formed in 1915 by alumni who wished to maintain scientific and social contacts with the people and programs of Mayo Clinic, the class of 2023 will soon join the ranks of esteemed Mayo Clinic alumni and alumnae. Mayo Clinic alumni are found in more than 80 countries, on the faculty of the world's leading medical schools and in leadership positions of national and international scientific organizations.