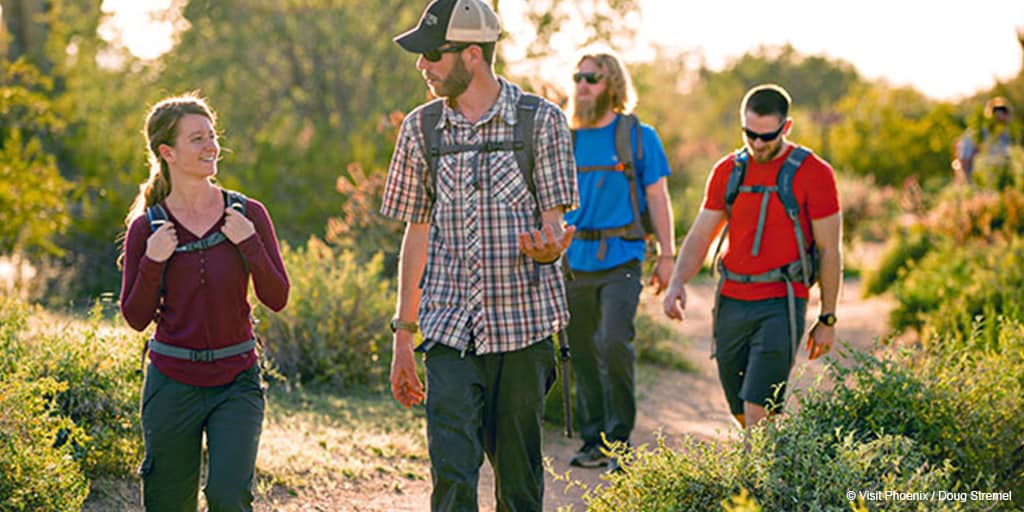 ---
May 1, 2019
---
Hiking is a great way to get exercise as well as explore the best sights and sounds of your community. From quick, easy hikes for the whole family to advanced hikes for an intense workout, read on for some of our favorites near each Mayo Clinic campus.
There are several popular hiking options and trail systems in each city Mayo Clinic calls home. The trail and park systems in the Rochester area are rich in beauty and local history; Jacksonville is home to the largest urban park system in the U.S.; and Phoenix was even named one of the best U.S. cities for hiking.
Hiking, biking, and walking around Rochester, Minnesota
The Rochester city trail system offers a convenient way to add physical activity into your daily routine, whether you take advantage of the many miles of paved trails to walk to work, or if you simply go for a short jog on your lunch break.
The Silver Lake trail is only a mile away from the Mayo Clinic campus, and has a little of something for everyone: hiking trails, playgrounds, sports fields, a pool, and a skate park. This trail system has full, mature trees and winds around Silver Lake where you'll find a spot to rent bikes, canoes, kayaks, and paddleboats.
Centrally located and connected to the city-wide trail system, Cascade Creek Trail is popular among runners and bikers. This trail is a 3.5-mile paved path which meets up with the 12.5-mile Douglas State Trail. The Douglas State Trail follows an abandoned railroad track through forest, rolling fields, and pastures.
Another local favorite for hiking is Quarry Hill Park. Quarry Hill offers eight miles of both paved and rugged terrain, perfect for a trail run or a relaxing stroll with the family. Located on the historic grounds of Rochester's State Hospital and an old quarry mine, you can see remnants of the old hospital and the limestone quarry pits as you explore the trails, park, and nature center at Quarry Hill Park.
A short, 40-minute drive will take you to Whitewater State Park in Altura, Minnesota. If the 10 miles of rugged hiking in the park aren't enough of an adventure, climb the 110-foot historic Elba Fire Tower to get even more of a thrill (the tower is just a few minutes from the park). The view is amazing!
Beachside hiking in Jacksonville, Florida
The Julington Durbin Preserve is a family favorite with stroller-friendly trails and free entry. Maintained by prescribed fire, you can find rare wildflowers that require fire or smoke to bloom. Wildlife is abundant in this urban park, and you may even be able to spot Manatees swimming in the creeks depending on the season.
Big Talbot Island State Park offers hiking along the shoreline, and biking and roller blading on the paved path. While you're there, be sure to check out the unique Boneyard Beach which features 30-foot bluffs and bleached, bone-like dead trees.
A half-hour drive to Atlantic Beach, Florida, will allow you to enjoy a more strenuous trail, the Z Trail in Hanna Park. Whether you choose to hike or bike, you'll test your skills with quick climbs and descents, and an exciting, twisty trail.
Enjoy desert terrain at any skill level in Scottsdale/Phoenix, Arizona
Papago Park offers several easy trails the whole family can enjoy, including the popular Hole-in-the-Rock Trail. This short, natural trail wraps around a butte with a large hole eroded by the wind that offers a great view of the Phoenix metropolitan area.
The 30,000+ acre McDowell Sonoran Preserve in Scottsdale, Arizona, has more than 215 trails.
Don't miss one of the more popular sites in the preserve, Tom's Thumb, an interesting thumb-shaped rock formation. You have multiple options to reach Tom's Thumb depending on if you want an easy hike or more of an adventure.
Take the Marcus Landslide if you're looking to enjoy a short hike with the family, or the steep and rocky Lookout Viewpoint trail can be a fun, challenging, but extremely rewarding hike for more experienced hikers. However, if you're looking for an adventure, Tom's Thumb East End Loop will not disappoint. Whichever route you take, don't forget to bring water – you won't find any past the trail head!
The most challenging hike on our list, Superstition Ridgeline Trail, is only recommended for experienced hikers. Faced with a near-constant uphill climb, loose and crumbly rocks, and a steep descend at the end, this trail is not for the faint of heart and may take more than 10 hours to complete.
With so many trails to choose from, there is something for people of all ability levels to enjoy.
Have you hit the trails recently? Which one is your favorite?