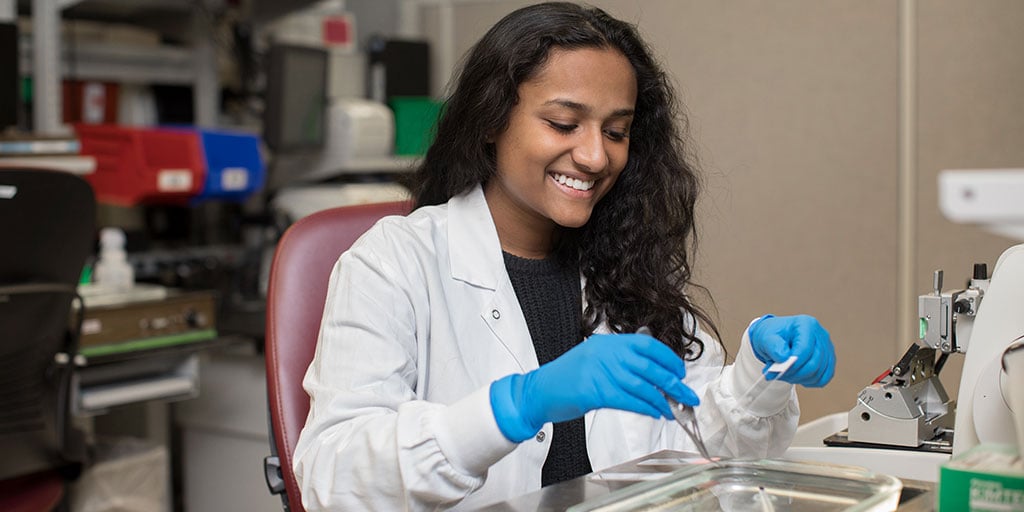 ---
March 19, 2020
---
Mayo Clinic Graduate School of Biomedical Sciences (MCGSBS) announced this month that the competitive grant renewal proposal for its Post-baccalaureate Research Education Program (PREP) will receive five years of funding through $1.4M from the National Institute of Health (NIH).
PREP, along with Mayo's Initiative for Maximizing Student Development (IMSD) program, is an NIH-funded program designed to help MCGSBS create a biomedical research workforce with the many dimensions of diversity.
"The NIH funding of our PREP and IMSD programs is a tremendous independent endorsement of Mayo Clinic Graduate School of Biomedical Sciences' creative approaches to enriching students to succeed in biomedical research careers," said Jim Maher, Ph.D., co-director of the PREP and IMSD programs.
"We are particularly proud of the PREP grant renewal to support post-baccalaureate student training because this program was originally conceived and piloted at our graduate school."
PREP and IMSD are led by Mayo faculty consisting of individual research mentors who host student apprentices. The goal of these programs is to guide post-baccalaureate, Ph.D., and M.D.-Ph.D. students from underrepresented backgrounds into career success through enriched training in lab research, scientific thinking, communication, soft skills, and social networking.
These efforts sustain and advance the momentum of founding Mayo Clinic faculty member Rick McGee (now at Northwestern University), who envisioned Mayo Clinic as a national destination for the biomedical research training of students from groups underrepresented in science.
"PREP has mentored over 140 students since its inception," said Luis Lujan, Ph.D., M.S., co-director of the PREP and IMSD programs. "This year, we have nine students supported by the training grant."
More than 15 additional students are supported either by diversity supplements, the regenerative sciences training program, or directly by their mentors.
"IMSD has mentored over 60 students since its inception," Dr. Lujan added. "This year, eight students are appointed to the training grant, with approximately 20 additional students associated with the program supported by a Dean's Fellowship," which was first instituted by Dr. Maher during his time as dean of MCGSBS.
At Mayo, IMSD, PREP, and other partner programs thrive. Mayo's IMSD has been funded by NIH for 23 years, and Mayo conceived and piloted the national PREP concept, now funded for 13 years.