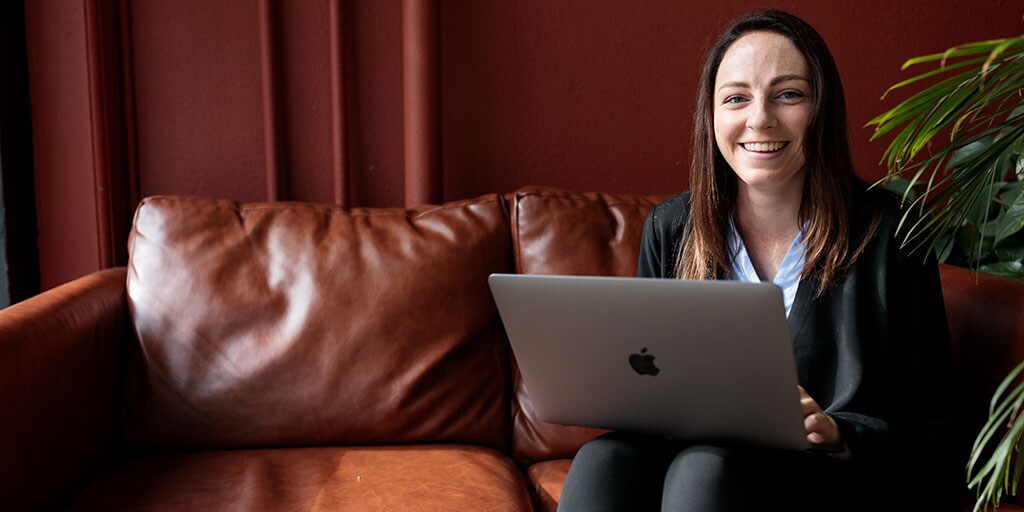 ---
March 3, 2020
---
"Happy" isn't a word quickly associated with students pursuing a top degree in biomedical science due to the pressure felt by those enrolled in rigorous Ph.D. programs.
However, Emma Goddery noted that the students who were part of her interview at Mayo Clinic Graduate School of Biomedical Sciences were happy and smiling.
"I knew the stresses of obtaining a Ph.D. would happen anywhere, but the fact that everyone at Mayo was so friendly and happy really made an impression," Emma says. She started in the graduate school in July 2016 and will graduate in 2021 with a Ph.D. in biomedical sciences, specializing in neuroimmunology and regenerative medicine science.
A close friend of Emma's experienced a traumatic brain injury in high school and went from being in a coma to making a complete recovery, triggering Emma's interest in medicine, and specifically the brain. She attended Arizona State University as a pre-med student, worked on research as a sophomore and loved it. Finding a graduate school that provided a strong research component was important, and Mayo Clinic fit the bill with its Regenerative Sciences Training Program.
"There is such strong science here, and the environment is collaborative rather than competitive. We share and work together," she says. In the graduate school, students receive most of their education as apprentices and scientific team members in research labs. Another aspect of the school that has made a difference to Emma is the faculty and her mentor, inspiring her to grow.
"They encourage me and talk to me as a peer. We can exchange ideas as fellow researchers and scientists," she says. Mayo classifies students as trainees rather than employees, allowing them to work together on the same level.
Part of the process
Emma's research focuses on neurodegeneration and regeneration. She wants to understand how the immune system responds to neurological events in the brain. To do this, she is studying viral infections in the brain and how the immune system responds. "If we can figure out why degeneration is happening on the front end, we can prevent or lessen it," she says. "Then regeneration can begin to mend what was previously injured or lost completely."
Regenerative medicine is redefining clinical care — going beyond disease symptom management to addressing the underlying cause of disease to restore health. Regenerative care is expected to represent 10% of all health care in the next decade.
Emma now participates in the interview process for Ph.D. candidates. She has come full circle, becoming one of the students who made such an impact on her three years ago.
"It makes me reflect on my journey, scientific knowledge, and personal growth. I understand why the students were so happy when I was here for my interview," Emma says.
She sees herself as a mentor now for the younger students and is co-president of the Graduate Student Association.
"Anyone can be a scientist," Emma says. "My advice is to follow your passion, practice rigorous science, maintain a healthy work-life balance, and be happy doing it."
This article originally appeared in the Fall 2019 issue of Mayo Clinic Magazine.