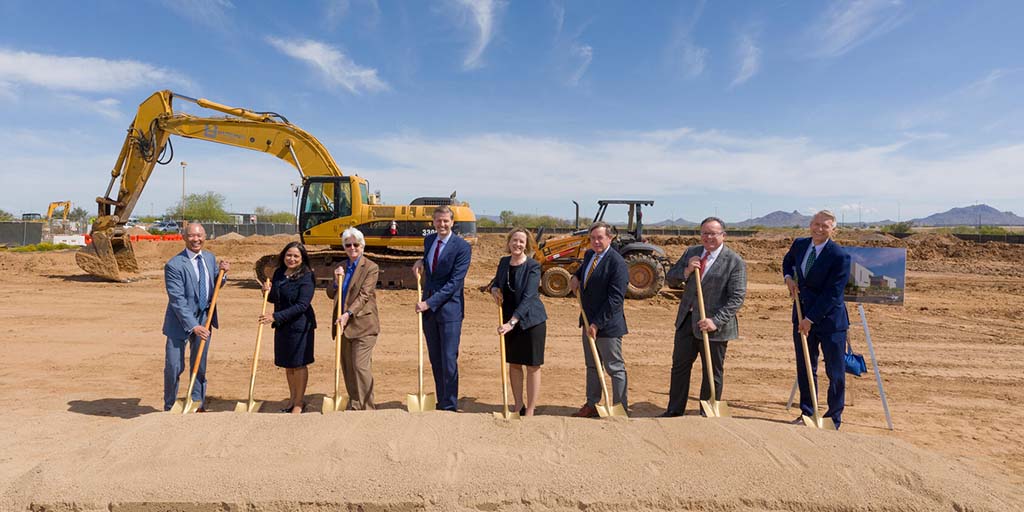 ---
April 1, 2022
---
On March 31, another milestone was met as education leaders in Arizona ceremoniously turned dirt to signify the beginning of construction of the Integrated Education and Research building as part of the Phoenix campus capital expansion plan. The new building will further expand Mayo's education and research collaboration with the practice to better serve the complex unmet needs of our patients.
The new building, which is expected to be completed in 2024, will be home to Mayo Clinic College of Medicine and Science and its five schools (Mayo Clinic Alix School of Medicine; Mayo Clinic School of Graduate Medical Education; Mayo Clinic School of Health Sciences; Mayo Clinic School of Biomedical Sciences; Mayo Clinic School of Continuous Professional Development), and more than 20 biomedical and translational research labs. Mayo Clinic Alix School of Medicine also will retain space at the Scottsdale campus, as will Mayo's research programs at the Mayo Clinic Collaborative Research Building and the Samuel C. Johnson Medical Research Building.
The following is a digital rendering of the Integrated Education and Research building.
While addressing current space limitations is important, the planning behind the building expects the greatest value of the Integrated Education and Research Building to lies in its synergies. The creation of workspaces, in which clinicians and scientists work and learn side by side, will lead to the development of transformative technologies and solutions to heal patients. This mixed environment will provide a daily reminder to students and learners of the importance of research and biomedical education.
The neighboring building will be the Health Futures Building of Arizona State University. Being on the hospital campus and between these two new buildings, scientists, learners, educators, and physicians will all intermingle, which will, most importantly, increase intentional collisions and create a richer environment.
Education is the foundational pillar of our three Mayo Clinic shields. Mayo Clinic's strategy to cure, connect and transform are bold and aspirational — but at Mayo Clinic — achievable. By leveraging the talent and potential of every member of our workforce, by investing in ourselves, and by creating and developing the skillsets that we need to serve our mission.
Devyani Lal, M.D.
Chair of Education in Arizona and speaker at the groundbreaking event