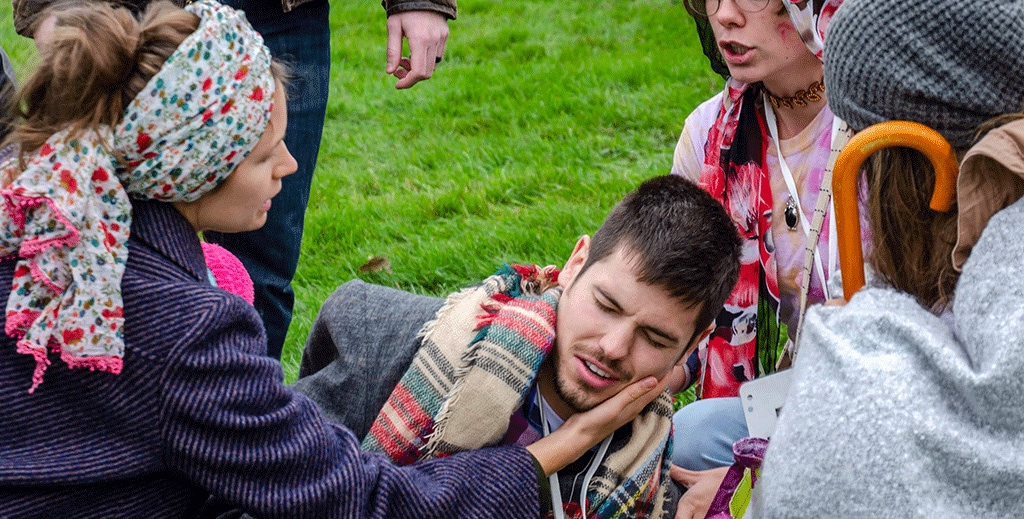 ---
October 14, 2019
---
It was a zombie apocalypse! Well, not really. It was Bounce Day, whose goal is to allow local professionals to apply their emergency response skills and learn how to bounce back quickly from a large-scale disaster.
Mayo Clinic first created the event as a way to train its medical students in triage, and medical students were a big part of the group of around 250 who took part in Bounce Day 2019 on Oct. 6 in Rochester, Minnesota.
It has since evolved into an annual community partnership event. This year's participants ranged from ages 11 to 68 and included health care professionals, high school students, emergency responders, and military members as well as medical students.
The mass casualty simulation is a collaboration between Mayo Clinic, Zumbro Valley Medical Society, Olmsted County disaster preparedness experts, local businesses, and other organizations.
Some of the high school students acted as journalists, bringing the latest information from the staged scene.
It was a great drill to practice and improve the skills needed to respond to an emergency.
But why a zombie apocalypse for Bounce Day?
"We've created an illness that's infectious that causes symptoms like zombiesma. But we've created it in a way that we can intervene with immunizations and antibiotics," said Robin Molella, M.D., M.P.H., a Mayo Clinic preventive medicine physician and a medical consultant for Olmsted County Public Health.
"If we used a real disease, we'd have to follow reality. We've made up this disease because zombies are fun, but also because we can change reality. We can decide if the immunizations are going to work or the immunizations are not going to work."