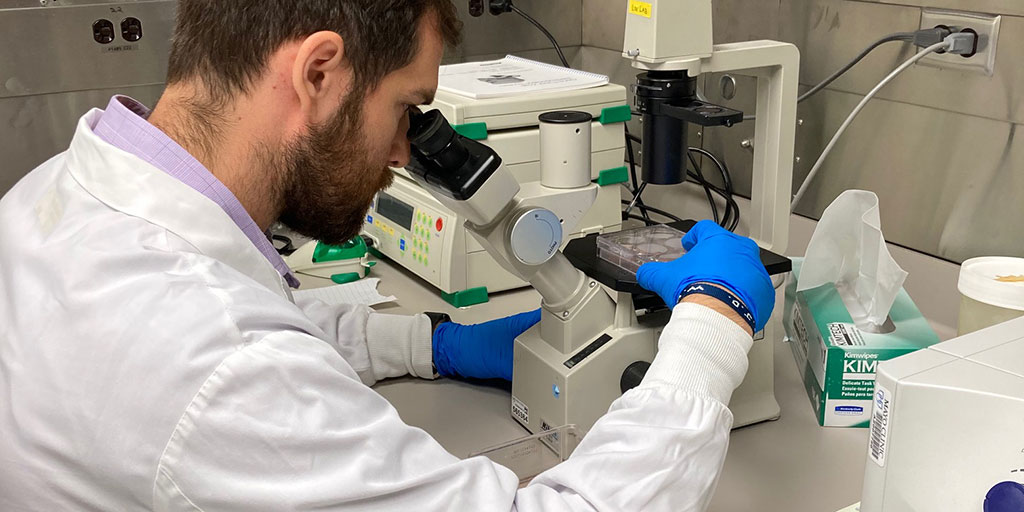 ---
September 16, 2021
---
Destiny Schultz earned her undergraduate degree in biochemistry at the University of Minnesota. Scott Johnson earned his in biology and chemistry at Concordia University in Nebraska. Now, as students in Mayo Clinic Graduate School of Biomedical Sciences both are benefiting from a training grant that directly links research to patient care.
The grant offers graduate students the opportunity to develop research experience in diabetes and metabolic disease, digestive diseases and gastroenterology, and kidney disease and hypertension. Currently just supporting Schultz and Johnson, the grant will expand to five additional students in the future.
Destiny Schultz: Obesity research
Schultz's work centers on obesity and how cells package and share biochemical information. Using an analogy, as goods and materials move via trucks around a city, in a cell those cargo trucks are called endosomes. They take protein collected from the cell membrane to sites in the cell where it can be sorted for recycling or disposal. This system of cellular shipping helps the cells stay healthy. It is one of the ways cells communicate and process proteins linked to the use of sensors of nutrients, such as glucose or fat.
Since type 2 diabetes and non-alcoholic fatty liver disease are associated with metabolism, understanding the mechanisms that drive these cellular cargo trucks and the endosomal system, in general, could be important in disease development or progression. Schultz is working as part of a research team to investigate endosomes to potentially identify how those materials contribute to obesity.
My project appeared to tick all the boxes of this grant. Being an immunologist in a basic science lab, I thought this was a unique opportunity to showcase my research.
Destiny Schultz
student, Mayo Clinic Graduate School of Biomedical Sciences
Schultz was able to design the project and incorporate her interests. She is particularly drawn to investigating the cells that protect the body from harmful organisms, called macrophages; the ability of cells to signal within itself and the body; and metabolism in general.
"The fact that my project gets to encompass all of those things is amazing and where I get my motivation from," says Schultz.
Schultz's work is one example of the high-quality research Mayo Clinic aims to have students focus on in alignment with NIH/NIDDK priorities, according to Mark A. McNiven, Ph.D., a gastroenterology researcher. He is the co-director of this award along with Dan Billadeau Ph.D., chair of the Department of Immunology at Mayo Clinic. Dr. McNiven is most excited about the T32 grantee's potential to not only make an impact in the research space but insights into the cellular basis of disease as well.
"We have strong, broad faculty to support research initiatives pertinent to the NIDDK's efforts," says Dr. McNiven. "Our division leaders in gastroenterology, kidney disease, and endocrinology offer a strong base from which our students can pursue their research interests."
Scott Johnson: Fatty liver disease research
Another example of research at Mayo Clinic in alignment with NIH/NIDDK priorities is Scott Johnson's research on fatty liver disease. Fatty liver disease is increasingly common around the world, especially in Western nations. In the United States, it is the most common form of chronic liver disease, affecting about one-quarter of the population. Scott's research could lead to new, more personalized treatments for this disease.
We're primarily interested in why this is happening. My project is investigating a genetic mutation in humans that leads to an increased prevalence of fatty liver disease. The course of my research could affect the way we end up approaching therapeutics to disease.
Scott Johnson
student, Mayo Clinic Graduate School of Biomedical Sciences
Scott echoed Destiny's sentiment regarding the freedom he was afforded when choosing his research topic.
"I stumbled upon this project after reading an interesting finding during a lab journal club presentation," he says, "so in a sense I've built this project from the ground up, which is both rewarding and challenging."
Future of the grant
Dr. McNiven is looking forward to where this grant could take Mayo Clinic Graduate School of Biomedical Sciences students in the future.
"It's an accomplishment to have a program like this that focuses on a broad discipline of multi-organ disease states. It casts a wide net and takes advantage of the many strengths of our faculty here," Dr. McNiven explains. His long-term goal with opportunities like the T32 grant is to continue supporting the efforts of more graduate students every year.
"In five years, we hope to have trained a half dozen or so smart and motivated young Ph.D. scientists with careers dedicated toward the gastrointestinal, nephrology, or endocrine areas of research."