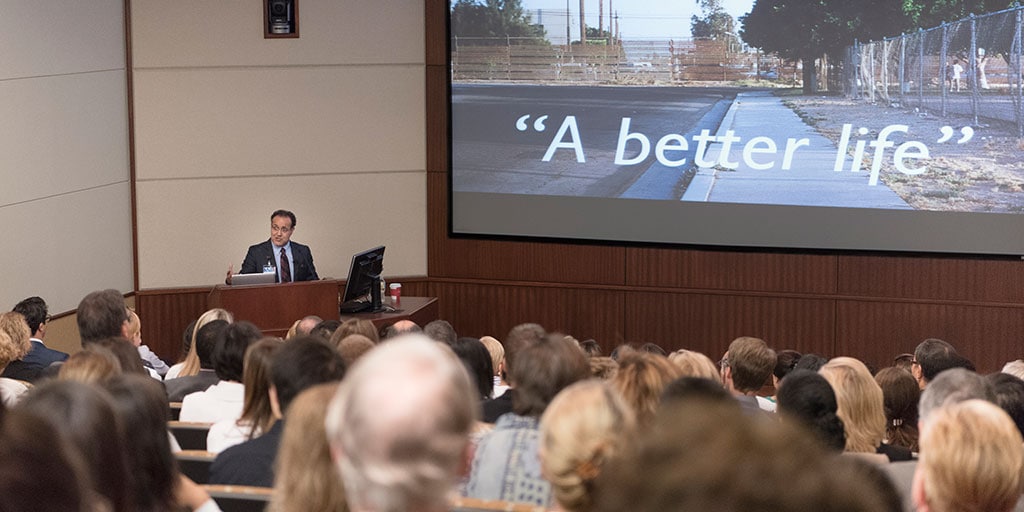 ---
February 10, 2020
---
Alfredo Quinones-Hinojosa, M.D., has a simple message to physicians who are in the early stages of their career: Consider sharing your skills in medical missions, but don't be intimidated by the idea.
"Think big. Pace yourselves. Have a vision," he said. "That message has become clearer over the years."
Dr. Quinones-Hinojosa — chair of neurologic surgery at Mayo Clinic in Jacksonville, Florida — has been doing medical missions since 2006. Six countries, 80 surgeries, including "some of the most complex brain surgeries you can imagine" in tandem with "some of the best brain surgeons in the world," in situations where "some of the patients are the poorest people you can imagine."
Want to help? Don't feel like you have to be in a front-and-center role immediately.
"Sometimes I will take residents on a trip and they say 'I can't possibly do that,' " said Dr. Quinones-Hinojosa, who is comfortable being called "Dr. Q."
"I tell them, 'It's a marathon, not a sprint. Don't lose sight of the long run. Relax. Start slow.'"
He had those words of advice and more for a panel on the topic in Jacksonville.
"All I wanted them to know is that sometimes it's the little things. Even the smallest contribution can make a big difference," he said. "Who would have thought that going with a group of friends to have a good time could have such an impact?"
He knows because he remembers his own start in medical missions.
"So many times someone wants to change the world right away. They need to prepare," he said. "It's like trying to fight a dragon with a stick. I didn't do my first until I was a fully licensed surgeon.
"My first mission was all about education. I made connections and built a cadre of people."
Dr. Quinones-Hinojosa started doing missions as a way to give back, in gratitude to the medical field that transformed his life.
His personal story is inspiring and has been told in media via outlets like the BBC, CNN, C-Span and National Public Radio. In a nutshell: He came to the U.S. undocumented as a teenager and — after overcoming a brush with death in a fall at a laborer job — eventually learned English, got into Berkeley and then Harvard Medical School, became a citizen, and earned a reputation as one of the top brain surgeons in the nation (he has penned an autobiography).
If that sounds like something out of a movie, you're not alone. Brad Pitt's movie production company Plan B has been exploring making a feature film based on Dr. Quinones-Hinojosa's life story.
To coordinate the medical missions, he formed a foundation Mission: BRAIN (which stands for Bridging Resources and Advancing International Neurosurgery).
"I involve everybody, it goes beyond medicine," he said. "One of the things is to make governments realize what it means to the people. Many times they have forgotten what it's like to be poor.
"My foundation raises funds. When I am at speaking engagements, (attendees) want to donate and don't know how. We try to empower people. Eventually a lot of places become self-sufficient (after Mission:BRAIN shares knowledge with counterparts in developing countries)."
Current and future physicians can help Dr. Quinones-Hinojosa change the world. Just remember: It's a marathon, not a sprint.