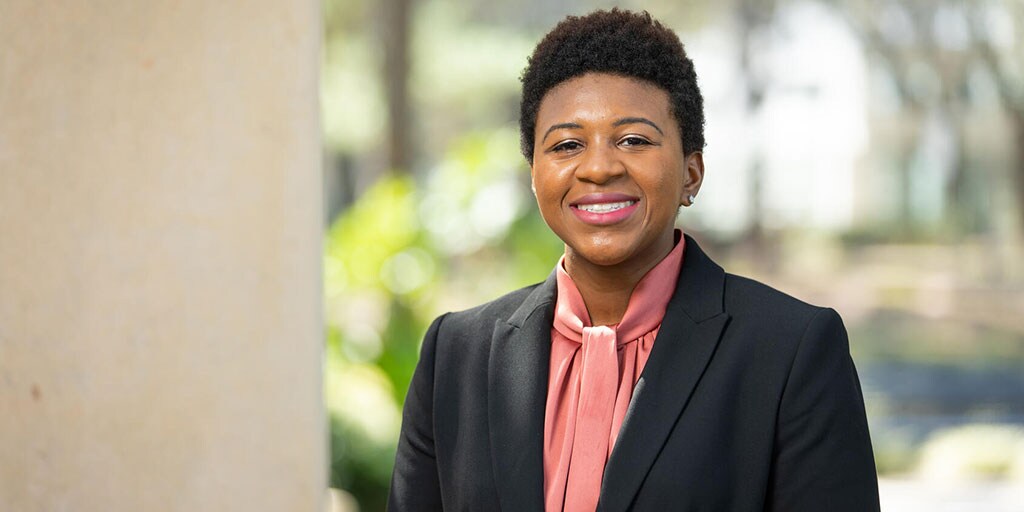 ---
August 16, 2021
---
After arriving at Mayo Clinic Alix School of Medicine in Arizona, Shannon Coombs wondered if she belonged. She found a connection with Alyx Porter, M.D., Neurology, who shared similar experiences and made time to mentor Coombs.
Like many women of color in medicine, Shannon Coombs, a third-year student at Mayo Clinic Alix School of Medicine — Florida campus, has experienced imposter syndrome. At times, she's wondered, "Do I belong here?" At other times, she's been underestimated.
Shannon is Jamaican-American. Her parents moved to the U.S. in search of a better life for their children. She was valedictorian of her high school class but was discouraged from applying to Ivy League schools. During college at Howard University in Washington, D.C., she decided to pursue medicine, figuring out the steps needed to apply on her own.
After a two-year stint teaching English in South Korea on a Fulbright grant, she was accepted to Mayo Clinic Alix School of Medicine — Arizona Campus.
"During the first week of medical school, my classmates talked about STEP scores and research they planned to do, and I felt out of place," says Shannon. "I hadn't looked further than getting into medical school. Everyone seemed to have a playbook for their career in medicine. Many of them already had social networks and social capital to help them figure things out." She was intimidated and felt lost.
She also was assisted in finding her comfort zone by Alyx Porter, M.D., who works in the Department of Neurology at Mayo Clinic in Arizona. There's a story there.
'She made time for me'
Dr. Porter teaches a medical school course on cultural humility and communication. The two women also interacted when Dr. Porter spoke to the Student National Medical Association, which focuses on the needs and concerns of Black medical students and where Shannon is secretary.
"I thought Dr. Porter was phenomenal — a neuro-oncologist at the top of her field, being authentic and working on her vision," says Shannon. "And she made time for me."
In 2019, Dr. Porter and her husband, Gregory Umphrey, M.D., a specialist at Barrow Brain and Spine in Phoenix, created ElevateMeD, a nonprofit that focuses on elevating medicine to an ideal where the physician workforce racially and ethnically represents the community served.
The organization provides scholarship support for medical school, mentorship, leadership development, and financial wellness education for underrepresented students. Shannon received one of those scholarships in 2020.
"I knew Shannon already, so I recused myself from voting on her nomination for a scholarship," says Dr. Porter. "But it was evident she has a desire to be the very best she can, learn all she can, and do all she can."
Scholarship criteria include demonstrating resiliency and leadership in adversity. Shannon describes her family as living paycheck to paycheck due in large part to her brother's struggles with substances and the justice system, and her father's chronic illness. "No matter what happened at home, I had to power through it," she says.
Shannon says she was shocked to be nominated for an ElevateMeD scholarship. "Everyone in my medical school is amazing," she says. "I couldn't believe someone saw something special in me."
Making the most of her opportunity
After receiving the scholarship, Shannon says she and Dr. Porter became closer. Shannon describes it as a big sister-little sister relationship.
"When I was studying for the STEP1 exam during the pandemic shutdown, Dr. Porter was one of few people to reach out to see if I needed anything. She taught me about positive affirmations to help combat imposter syndrome. It's reassuring to know that she feels that way sometimes, too. Dr. Porter speaks frankly about what it's like to be a woman of color in medicine — how people don't expect much from you and are surprised by your capabilities.
Shannon Coombs
third year student, Mayo Clinic Alix School of Medicine
Dr. Porter says she identifies with Shannon's fire and passion and has counseled her on refining her fire and expressing it in a way that can be used for influence.
"It's a journey to find your voice and learn how to express it in a way others can hear," Dr. Porter says.
Confident in using her voice for influence, Shannon led the way in organizing a memorial and reflection vigil for medical students and residents on Mayo Clinic's Arizona campus after the murder of George Floyd. Dr. Porter spoke at the event.
"Shannon's an incredible person. I'm happy to help her find her way, but she's well on the way to finding it herself," Dr. Porter says. "I wouldn't underestimate Shannon."
This story originally appeared in Mayo Clinic Alumni magazine.