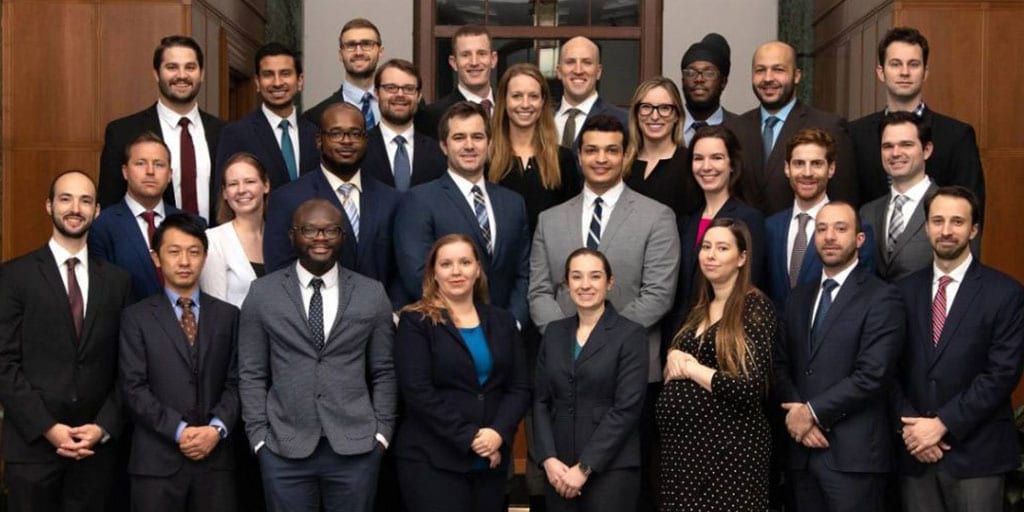 ---
July 23, 2020
---
Celebrating graduates during a pandemic presents challenges. The Neurosurgery Residency found a way to honor the accomplishment with ample celebration but minimal contact.
When seven years of your life are spent in neurosurgery residency, you earn the right to celebrate your accomplishments in a big way. In Rochester, this celebration typically includes many pictures, lots of speeches, distinguished awards, and a delicious dinner with co-workers, mentors, family, and close friends.
When COVID-19 hit, Jamie Van Gompel, M.D., the Rochester neurosurgery program director, began to wonder how the graduating residents would be celebrated in a way that involved prominent recognition but minimal contact. Dr. Van Gompel began reaching out to colleagues, residents, fellows, and mentors to gather ideas for an alternative graduation celebration plan.
Along the way, he learned one key component — people wanted to celebrate the graduates as much as possible.
With overwhelming support from the enterprise neurosurgery department, a neurosurgery graduation intranet page was built to provide an opportunity to anyone who wanted to wish the graduates farewell, view their accomplishments and speeches, participate in graduate trivia, and see the daily virtual graduation ceremonies that occurred throughout a week-long celebration of the neurosurgery graduates.
Daily ceremonies included guest speakers from around the world, including William Copeland, M.D., from Tenwek Hospital in Kenya, Africa; Selby Chen, M.D., from Mayo's neurosurgery department in Florida; and Grant Mallory, M.D., from Waco, Texas.
The 2020 graduating residents were Avital Perry, M.D., and Ross Puffer, M.D.
The graduating fellows were Salomon Cohen Cohen, M.D., Skull Base Oncology Fellow; Michael Opoku-Darko, M.D., Oncology Fellow; Courtney Pendleton, M.D., Peripheral Nerve Surgery Fellow.
These awards were presented throughout the graduation ceremonies:
Scholarly Activity Award Winner: Christopher Graffeo, M.D.
Paper of the Year Award Winner: Desmond Brown, M.D., Ph.D.
David G. Piepgras Award Winner: Ross Puffer, M.D.
Lifetime Achievement Award Winner: Georgia Nothdurft
Resident Teacher of the Year Award Winner: Ross Puffer, M.D.
This story originally appeared in Mayo Clinic's News Center.