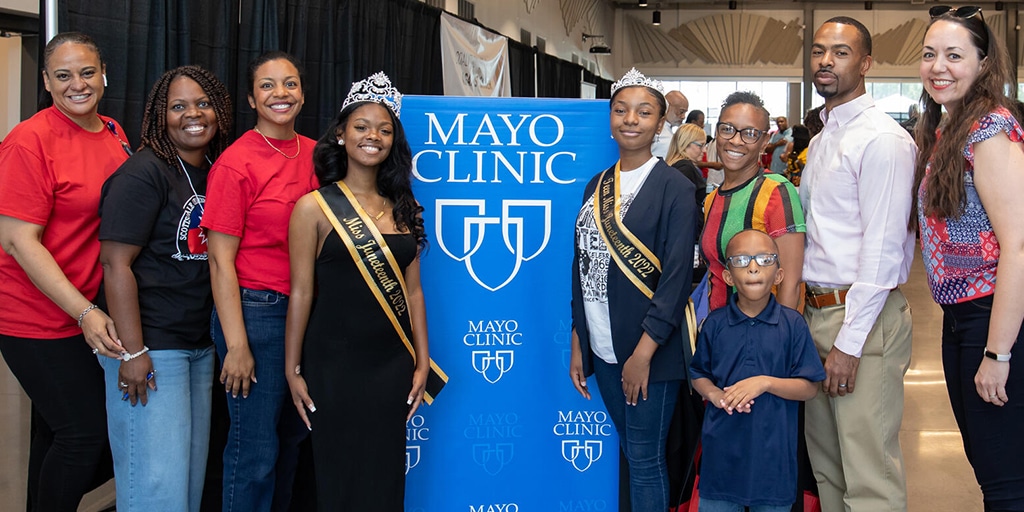 ---
June 28, 2022
---
In the month of June, Mayo Clinic College of Medicine and Science had several ways to celebrate two significant milestones: Juneteenth and PRIDE Month.
Every Mayo campus had an opportunity to celebrate Juneteenth. Juneteenth is celebrated on June 19 to commemorate the end of slavery in the U.S.
In Rochester, Mayo Clinic sponsored a family-focused community Juneteenth Celebration with the Rochester branch of the NAACP.
In Arizona, Mayo Clinic sponsored a Community Juneteenth Celebration, organized by the City of Scottsdale and the local nonprofit, Change The Lead.
In Florida, the Florida African Descendant MERG sponsored a visit to the Kingsley Plantation, part of the National Park Service. Mayo Employee Resource Groups, or MERGs, are employee-organized groups that form around a common dimension of diversity.
Across the Mayo Clinic Health System, La Crosse, Eau Claire, and Mankato held community Juneteenth celebrations sponsored by Mayo Clinic.
The Office of Equity, Inclusion and Diversity organized a special EverybodyIN Conversation on June 17 with keynote speaker John Graham, Jr., author of the book "Plantation Theory." The session titled "Whitewashing Juneteenth" discussed the link between the history of Juneteenth and today's story.
Previous EverybodyIN Conversation topics included:
"Demystifying HIV"
"Breaking the Gender Binary"
"How George Floyd Changed the World"
"Addressing Hate Crimes"
"The Benefits of Native Languages on Health"
Some campuses had a chance to celebrate PRIDE events in June, too, through events like the Twin Cities PRIDE Festival & Parade, sponsored by Mayo Clinic. This fall, there will be a
PRIDE in the Park in La Crosse on Sept. 10, with PRIDE events in Mankato and Florida in the works.
Additionally, the Office of Equity, Inclusion and Diversity is encouraging current trainees, faculty, and staff to take two short courses on My Learning to increase their knowledge around LGBTQIA+ issues: Gender Diversity and Transgender and Intersex (TISCC) Communication.
To stay informed on the latest news from The Office of Equity, Inclusion and Diversity, subscribe to Equity & Inclusion newsletter by sending an email with your name and LAN ID to officeofequity@mayo.edu.