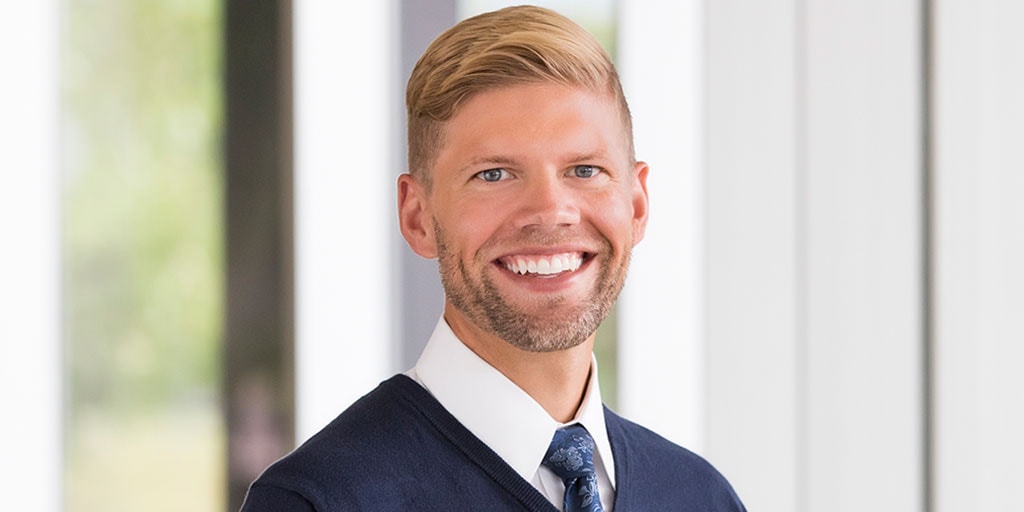 ---
March 30, 2020
---
Grant Collins, D.D.S., M.S., started his practice six years ago and it's going great.
Seventeen employees, a roomy office, and an impressive social media presence.
Overnight success, right?
Not exactly.
As he was graduating from Mayo Clinic College of Medicine and Science's Orthodontics Residency program, Dr. Collins had no aspirations of becoming a business owner.
"We knew we wanted to be in Rochester but we sent out a lot of letters to existing practices and there was nothing available, so we had to start our own practice," he recalled.
"We googled 'how to start a business,'" he said. "We worked hard because we didn't know what we were doing; there was no one in our families who had a business or a practice."
It was slow at first. "The first day, no one called," he recalled. "The second day, we got one call. It was my mother."
Then after another long day, Dr. Collins had what he calls his "aha moment."
"I had made it about me, but I realized we needed to make it about our patients, and our staff," he said. "We wrote a mission statement – service to others – that reflected it."
Then he acted on that mission statement, and the philosophy that produced it.
"It's mainly how we hire people, and we take customer service seriously," he said.
His unique part of that customer service is providing the top-level expertise to his patients, using what he learned in his Mayo Clinic College of Medicine and Science three-year residency.
"At Mayo you get to see more patients," he said of his residency. "It's more like a practice and you get to see what that's like."
Dr. Collins was particularly impressed with the cranio-facial team approach that Mayo Clinic employs, and in which he participated.
"The team gathers specialists from several different areas, including speech pathology and social workers," he said. "It's an amazing experience. It helped me be a better orthodontist. I understand the different perspectives."
Patients see the various specialists, then attend a meeting that brings patient and providers together to discuss the patient's situation and make coordinated decisions.
Dr. Collins has made a strong social media presence an important part of his practice. He has a huge following on TikTok, more than 50 videos on his YouTube page, and a mixed tape of more than 500 tunes on Spotify.
His patients – and others – can find help for topics like "What if you break your retainer?" or "Braces-friendly eats: PB & J smoothie."
But while it helps him and his practice gain name recognition, he says it still comes down to providing great patient care.
"We have 1.7 million followers on TikTok but if you took that away, it wouldn't make as much difference as you'd think," he said. "It's supplementary. It's an opportunity to be an authority in the field.
"If you go straight to a social media strategy, that can have success at first but it might not last."
Dr. Collins and his wife Kimberly – who helped support them in his residency by giving vocal music lessons, and now is office manager for the practice – have come a long way. He gives his Mayo residency a lot of credit for preparing him.
"Being with an establishment as consistently ranked as high as Mayo is an honor," he said.