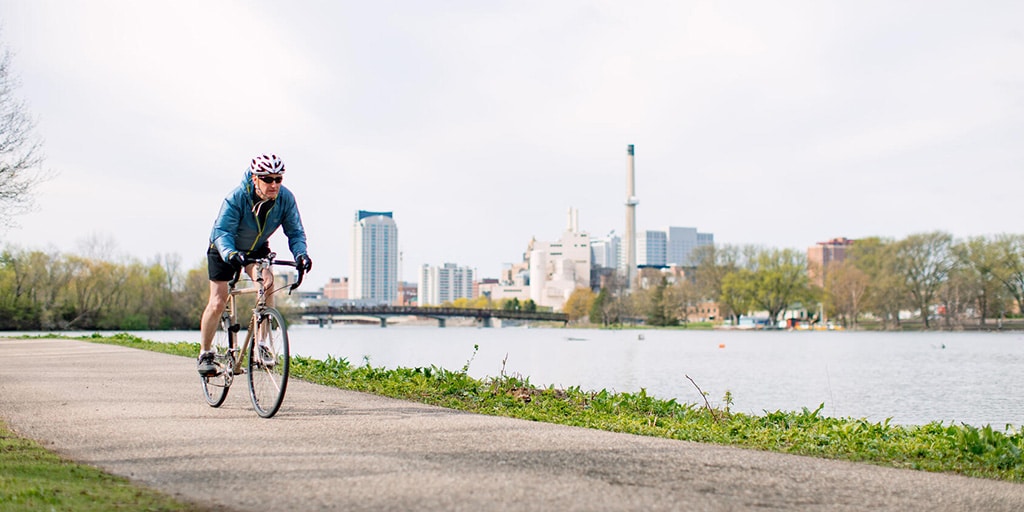 ---
December 15, 2022
---
Burnout is real and increasing in health care. A group of residents at Mayo Clinic School of Graduate Medical Education is one of several teams across Mayo Clinic working to address burnout by prioritizing exercise and wellness.
Training for an Iron Man triathlon — which involves swimming 2.4 miles, biking 112 miles, and running yet another 26.2 miles — isn't most people's idea of a relaxing activity. But for Mayo Clinic resident Logan Briggs, M.D., it's been key to maintaining his physical and emotional wellness.
An athlete for most of his life, Dr. Briggs got involved with bike races when he was a medical student in Boston. He saw how exercise made him feel — happy, thanks to the endorphins, but also like he was making time for himself even with a busy schedule of studying and training. He says that working out with other students helped him feel more grounded and connected with a community. And that had bonus benefits. Studies show that feeling connected can prevent feelings of depression and boost health and wellness.
It's rare that people in the medical community get together outside of the hospital, but it's so beneficial.
Logan Briggs, M.D.
Resident, Mayo Clinic School of Graduate Medicine Education in Arizona
He wanted others to experience the benefits of exercising as a group. So in 2017, he and several other medical students founded Medicine in Motion, a nonprofit dedicated to addressing burnout through fitness, philanthropy, and community building. Medicine in Motion now has 40 chapters around the world, including at Mayo Clinic.
The most active Mayo chapter, at Mayo Clinic School of Graduate Medicine Education in Arizona, where Dr. Briggs is a resident, has hosted several social events and is planning a triathlon in April.
Medicine in Motion is just one effort underway at Mayo working to address burnout and promote well-being.
Facing high burnout rates
Programs like Medicine in Motion are increasingly important as studies point to the increasing rates of burnout in health care.
Colin West, M.D., Ph.D., assistant dean of Graduate Medical Education Scholarship and an expert on burnout, co-authored a study published in Mayo Clinic Proceedings that explored burnout in health care workers.
When asked to report on feelings of emotional exhaustion and depersonalization during 2021, 63 percent of physicians reported at least one symptom of burnout. That number was 45 percent a decade earlier.
A 2014 study co-authored by Dr. West found that being a resident or fellow was associated with increased odds of burnout, and being a medical student increased the odds of depressive symptoms when compared with early career physicians and the general population.
Addressing burnout as a shared responsibility
When it comes to helping people address issues of burnout and depression, it takes a village, says Sandra Rackley, M.D., assistant professor of psychiatry and assistant dean of well-being at Mayo Clinic School of Graduate Medical Education.
Dr. Rackley says workplace wellness is a shared responsibility. Residents can learn tactics to manage stress, but medical institutions also must design clinical learning environments that help trainees flourish.
Burnout in medical professionals is not a skill deficit, research would show. These are bright people who work hard and know how to manage their stress and how to be incredibly successful in the face of many challenges.
Sandra Rackley, M.D.

Dr. Rackley says the school's leaders are working to create learning environments that allow residents to pursue their passions, find mentorship from faculty, and find meaningful careers.
"That involves giving residents the appropriate balance of supervision and independence, making sure they have enough time for rest and life stuff, and making the work environment more open and inviting," she says.
Focus on increasing connection, community
This fall and winter, residents and fellows are leading a quality improvement project across Mayo that focuses on improving connection and community among faculty and trainees.
The genesis for the effort was the 2019 and 2020 learner climate surveys, as well as a recent site visit from the American College of Graduate Medical Education Clinical Learning Environment Review team.
Results from the surveys showed burnout was an issue, and trainees who experienced social isolation were at higher risk of emotional exhaustion and depression. Those who had more emotional and social support at work were less likely to experience burnout and significantly more likely to enjoy work and view their program and Mayo Clinic positively.
The quality improvement effort will address ways to optimize faculty and trainee relationships. Improvements should benefit trainees, patients, and staff alike, says Elaine Griffeth, M.D., a surgical fellow and president of the Mayo Clinic Fellows Association.
Faculty frequently cite relationships with trainees as a fulfilling aspect of their work. It's nice to build that community, to connect to people, especially across departments.
Elaine Griffeth, M.D.
Surgical fellow; President of the Mayo Clinic Fellows Association
Dr. Griffeth notes that the Mayo Clinic Fellows Association already works to build community among residents and fellows. In addition to events like yoga classes, financial wellness seminars, and grab-and-go lunch stations for trainees, the association hosts social events, from happy hours to sporting events.
While long hours are par for the course for residents, the training experience doesn't have to be a brutal test of will. There's no evidence that such training methods produce better doctors, she says.
Dr. Rackley encourages creating a learning environment that acknowledges people's humanity.
"How do we help human beings connect to what drives them, show up as whole people at work, and feel like they can grow and thrive?" she asks.
That's a question programs like Medicine in Motion and others across Mayo are aiming to answer.