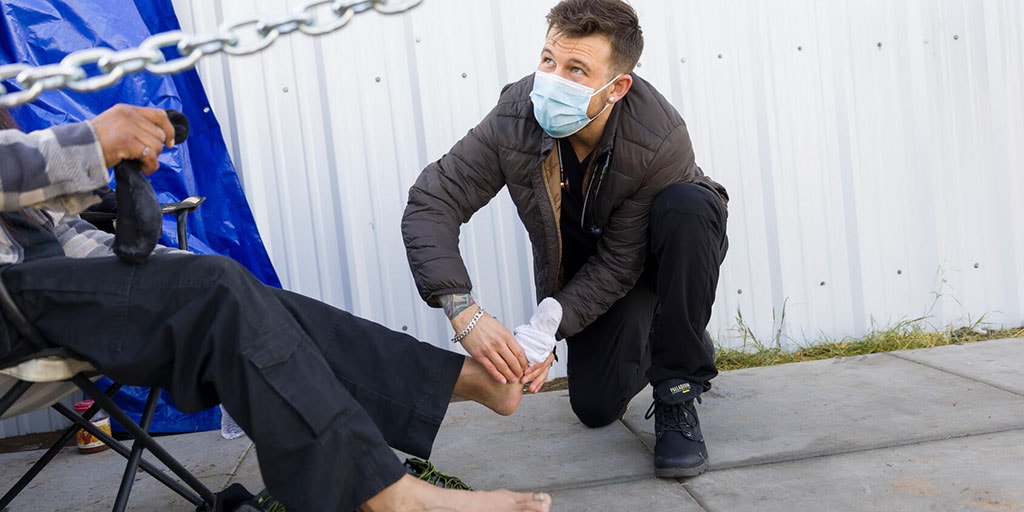 ---
June 21, 2022
---
Mayo Clinic Alix School of Medicine students moved to help people experiencing homelessness are expanding their medical school experiences and their world views by bringing street medicine to homeless populations. Take an in-depth look at this volunteer opportunity and learn about street medicine and what inspires these students.
When Julianna Smith moved from Kingman, Arizona, to Phoenix to attend Arizona State University, she immediately noticed the homeless population. She wasn't used to seeing encampments in her hometown of 30,000 people. Instead of looking away, Smith wondered how she could help.
"My family is service-oriented. My mom's a teacher and my dad's a lawyer," she says. "When I worked as a nursing assistant at a hospital, I had conversations with patients who were in pain or bad situations and became comfortable talking to strangers about their life experiences."
While at Arizona State University, Smith got involved with an organization called Street Medicine Phoenix. She wanted to continue that volunteer work at Mayo Clinic Alix School of Medicine.
She found a kindred soul in fellow medical student Christopher Poyorena. The pair facilitated the school offering student volunteer opportunities with Street Medicine Phoenix, whose mission is to ensure quality health care for the city's homeless population.
Street Medicine Phoenix organizes students and faculty from the University of Arizona, Arizona State University and Northern Arizona University to bring services to people who are homeless. Student volunteers walk side by side with a physician on street runs, doing blood pressure checks, blood glucose screenings, wound care and general health checks, and dispensing supplies, including hygiene kits.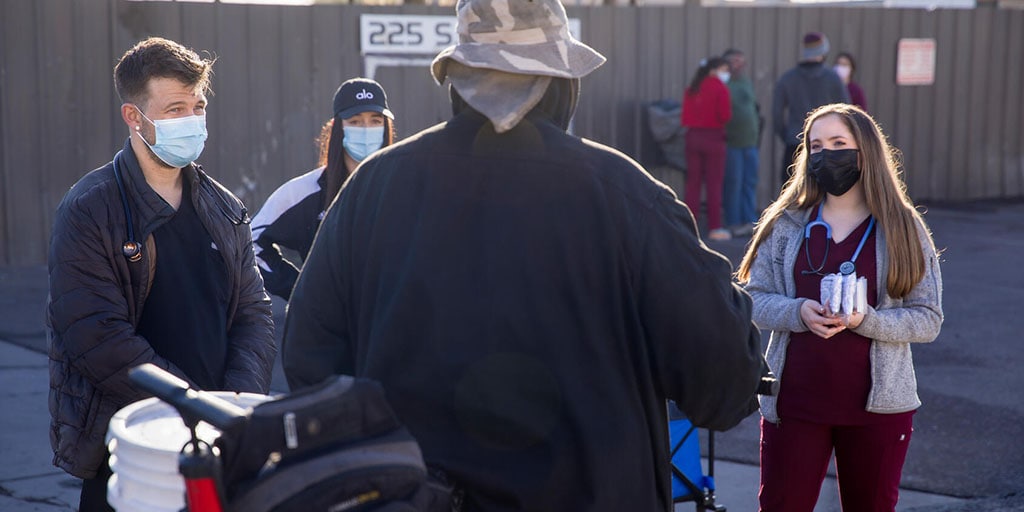 Smith and Poyorena didn't start from scratch. They built on the contacts fellow medical student Terence Meyerhoefer made when he tried to start street medicine volunteerism at the medical school a few years earlier.
Since the volunteer opportunity was introduced to medical students on the Arizona campus in fall 2021, more than 25 students have participated in street runs, and twice as many have signed up to participate in training.
Our medical school class started during the pandemic and has had largely virtual education, so being able to interact with and help people in the community has been especially fulfilling for many of us. The homeless population has been hurt badly by the pandemic and is too often overlooked. They can benefit from the knowledge and skills we're learning as medical students. This is why I went to medical school — to serve people.
Julianna Smith
Student, Mayo Clinic Alix School of Medicine
Poyorena, a native of Los Angeles, can relate. He was a college student one semester shy of graduating when his life took unexpected turns. When he heard a man speak about his similar experiences, turning his life around and becoming a trauma surgeon, Poyorena felt encouraged to find his passion, engage in service, and turn his life around.
Poyorena returned to school, became an EMT, and had a series of jobs in the emergency department at Keck Hospital at the University of Southern California. He got involved in a friend's nonprofit organization to distribute Narcan to homeless people, among others. And he volunteered to help University of Southern California physicians at outreach free clinics.
"About a third of the patients in the emergency department were homeless. Many people pretended not to see them, but I love them," says Poyorena. "You can't solve many of their problems, but you can listen to them. They just want to share their stories. I now have an opportunity to be a force to help them."
We're at a privileged institution. It's good to get exposure to people who aren't the standard Mayo Clinic patients. We can show empathy and demonstrate to people who lack shelter that they have value and matter. Every student who has participated has said it's the best experience they've had in medical school so far.
Christopher Poyorena
Student, Mayo Clinic Alix School of Medicine
As a force behind the street medicine volunteer opportunity at Mayo Clinic Alix School of Medicine — Arizona campus, Poyorena says he would like the program to evolve into an official selective — something that will continue after he and Smith have completed medical school.
Smith is considering a focus on critical care or cardiology for her career. Poyorena is set on emergency medicine and possibly an addiction medicine or critical care fellowship.
"My experiences have given me perspective and transformed me, no matter where or how I practice," says Poyorena. "I hope that by sharing these parts of myself and advocating for street medicine service, I'm helping my classmates and future medical students experience that same gift."
A version of this story originally appeared In the Loop, Mayo Clinic's blog offering news and views across Mayo Clinic.