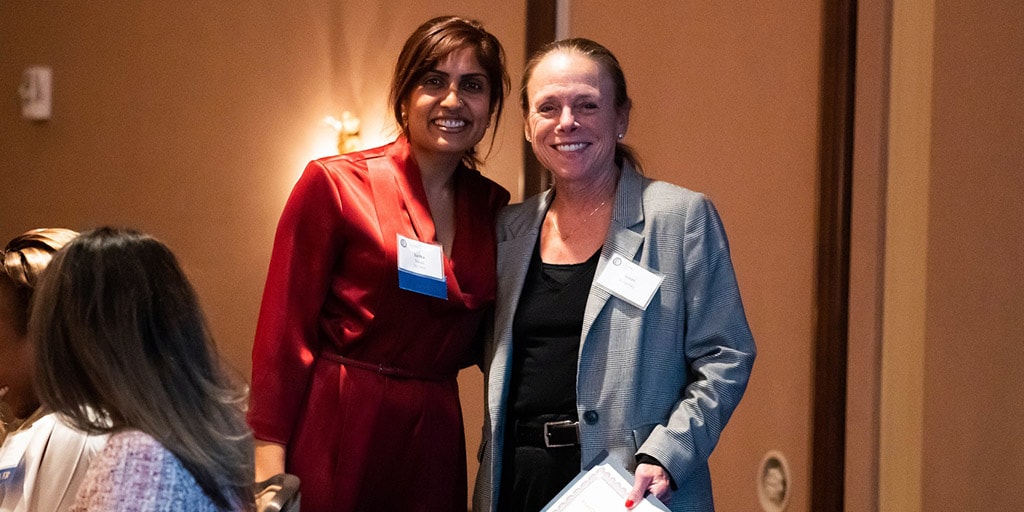 ---
February 14, 2020
---
Residents and fellows across all specialties typically find an educator or two at their program who resonates or leaves a lasting impression more than others. It's someone who not only teaches, but inspires with patience, kindness, and radiates passion for their work.
Susan Wilansky, M.D., senior associate dean at Mayo Clinic School of Graduate Medical Education on the Arizona campus, has been that person for a lifetime of Mayo cardiology residents and fellows, especially for women in her field. Dr. Wilansky was recently honored by the Arizona Chapter of Women in Cardiology (WIC) with its Lifetime Achievement Award. She's the first to be given the award in the seven-year history of the chapter.
"You are such a proponent of education, equality, and integrity for female cardiologists here in Arizona," said Arizona WIC Section Chair, Sarika Desai, D.O., in an email to Dr. Wilansky encouraging her to accept the award. The Arizona WIC is a nonprofit that aims to encourage women to pursue cardiology. According to Dr. Desai, women make up less than 12% of the specialty.
Dr. Wilansky has worked in cardiology across Mayo Clinic sites since 2003. She completed her medical education in Hamilton, Ontario, at McMaster University, and her residency and fellowship with the University of Toronto at Toronto Western Hospital and Toronto General Hospital. Throughout her professional life, Dr. Wilansky has mentored others.
Her clinical interests include echocardiography, heart disease in women and pregnancy, hypertrophic cardiomyopathy, and valvular heart disease. This work has led Dr. Wilansky to take a number of residents, especially female residents, under her wing over the years.
"There are a lot of work-life issues being in a field like cardiology," she says, citing the lifestyle of working nights and being on call when emergencies arise. She delayed having a child until her training was complete. Increasingly, women in cardiology today are starting families during their training. They need support during this added stressful time of life.
Dr. Wilansky says her maternal instinct has driven her approach to being an educator and program director. "I've been a mentor to both male and female trainees for as long as I've worked. I try to be a sounding board, and helpful whenever I can," she said.
That mentality helped many residents and fellows navigate through the waters of family life while getting through their studies. And when Dr. Wilansky's daughter grew up, she realized the gravity of her mother's work.
"There is a long-term view you have to take, getting through that difficult part of your studies while raising a family," she says. "My daughter says she's extremely proud of me. It makes it all worth it."
Would she have done things differently if given a second chance? Her answer reveals the passion she has for her work: "If I had to do it all over again, I would still have picked cardiology. When choosing your career path, you have to love what you're doing every single day."
"Susan, you make the physicians, fellows, and students around you feel honored and respected," Dr. Desai said when introducing the Lifetime Achievement honoree at the Arizona WIC chapter event.
"Dr. Wilansky is an impressive leader, mentor, and educator and this is great recognition of her ongoing contributions to Mayo Clinic," says Steven Rose, M.D., dean of Mayo Clinic School of Graduate Medical Education (MSGME) and chair of the Graduate Medical Education Committee.
"She has been committed to medical education and equality of women in medicine for over 25 years," Dr. Desai told the audience of Dr. Wilansky's contributions. "She has touched so many lives. I am personally humbled by her — I was never her fellow, but I spent some time at Mayo, and once I left and was on my own, there were challenging cases that came up. I was initially scared to reach out to her because of her stature, but she always made herself available, she answered all my questions, and she never made me feel like I was less than her for asking."
When tasked with describing her impact in a speech introducing Dr. Wilansky, Dr. Desai highlighted a Maya Angelou quote. She said, "I've learned that people will forget what you said, people will forget what you did, but people will never forget how you made them feel."