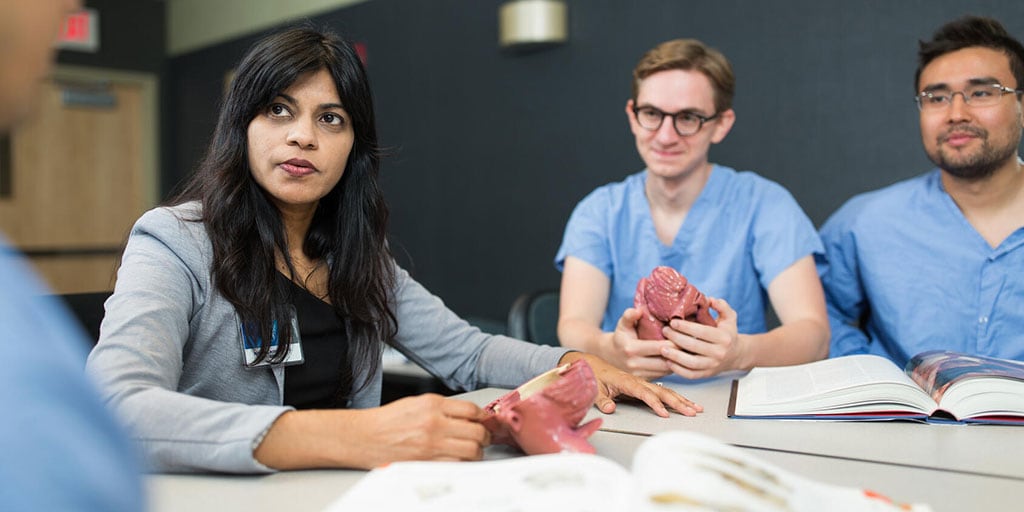 ---
October 6, 2021
---
Anatomical Sciences Education is a relative newcomer in the field of medical education journals, but it's gaining influence as a must-read for anatomy faculty and students. With two Mayo Clinic College of Medicine and Science faculty members in top editorial roles, the journal is rooted in Mayo Clinic College of Medicine and Science Department of Clinical Anatomy.
Wojciech Pawlina, M.D., professor and former chair of the Mayo Department of Anatomy, is editor-in-chief of the journal, published by the American Association for Anatomy, and Nirusha Lachman, Ph.D., current Department of Clinical Anatomy (DCA) chair, is an associate editor. With an international team of associate editors and the work of hundreds of national and international authors, they've put the publication on a path of growing influence.
One measure of that is a metric called the impact factor, which calculates an academic journal's relative importance within its field, based on the average number of citations of articles. The journal's impact factor for 2020 was 5.958, compared with 3.759 in 2018, and it now ranks third out of 44 among medical education journals due to the contributions of this editorial team.
"There is growing recognition for the journal and the importance of education research in anatomical sciences," says Dr. Pawlina, who was co-founder and co-editor of the journal with Dr. Richard Drake from Cleveland Clinic when it was launched in 2008. He became editor-in-chief in 2018. "It's now a venue to publish important education research about anatomy, about practices and approaches that are having the best and most effective impact on learning. This benefits students in the long run."
Wojciech Pawlina, M.D.
Professor and former chair of the department of anatomy
Published six times a year, the journal's mission is to provide an international forum for ideas, innovation, and research on education in the anatomical sciences of gross anatomy, embryology, histology, and neurosciences. It's the only anatomy journal dedicated entirely to education, and it provides international authority for anatomical sciences education across all fields of health professions training.
"The field of anatomy education is changing rapidly, people are doing a lot of interesting things in pedagogy, innovations, and ethics, and we try to reflect that in the journal," says Dr. Lachman, who became department chair in 2019 and came to Mayo in 2007 from the Durban University of Technology in South Africa. "We put the emphasis on quality papers that can help anatomy education improve and will have a more immediate impact on clinical practice and patient outcomes."
Nirusha Lachman, Ph.D.
Professor and department chair of clinical anatomy
The journal has devoted great attention to education issues raised by the COVID-19 pandemic, especially regarding the challenges of teaching anatomical sciences in a virtual setting.
"There's a paradigm shift underway in how anatomical sciences education is being conceived and delivered, and the journal is in the forefront of this international transformation," Dr. Pawlina says.
Dr. Pawlina, who chaired the Department of Anatomy at Mayo Clinic from 2005 to 2019 and has been on staff since 1999, says the collaboration with Dr. Lachman has been instrumental in the journal's success. "Dr. Lachman has been very helpful, with her extensive expertise, in helping me review the hundreds of articles we receive and subsequently publish." The journal received nearly 450 submissions last year and published 114 articles.
Their work on the journal is an after-hours project and involves a tremendous amount of planning, editing, working with authors, and oversight of production and publication. Dr. Pawlina and Dr. Lachman are among a number of Mayo Clinic staff who contribute time and energy to edit or provide oversight to medical and academic journals.
The reward, Dr. Pawlina says, "is knowing that we are providing leadership for anatomy education all over the world — what's working and what are the best options for maintaining student engagement with anatomy."