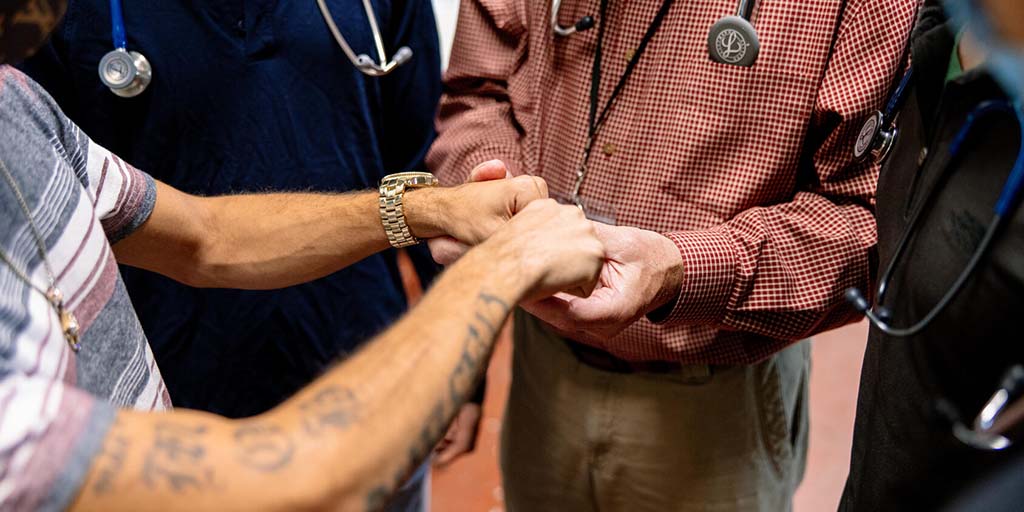 ---
April 29, 2022
---
Mayo Clinic selectives are student-selected electives that offer broad opportunities for innovation and leadership. Options include training that emphasizes humanities in medicine, personal reflections, global health, artificial intelligence in health care, and more.
It's not every day you get to train like an astronaut, traverse the wilderness with a professional mountaineer, or give back to those in need — all while completing your medical education. These are just a few of the many experiences medical students at Mayo Clinic Alix School of Medicine can choose for their selectives.
Selectives are student-selected, 1-2 week elective curriculum blocks that offer broad opportunities for innovation and leadership. Students can choose up to 16 weeks of selectives offered through Mayo Clinic or other organizations.
Mayo Clinic Alix School of Medicine offers its own options that emphasize humanities in medicine, personal reflections, opportunities to learn global health in Puerto Rico, and artificial intelligence and its impact on health care. Three selectives unique to Mayo are Wilderness and Austere Medicine, Aerospace Medicine, and Street Medicine.
Many students have found mentors in medical fields of their interest through their selectives, Some choose to shadow in their fields of interest like neurosurgery, orthopedic surgery, ENT, family medicine, or internal medicine. But they can also pursue any number of interests, such as substance use disorders at the Hazelden Clinic, humanities, bioethics, computer programming with an emphasis on health care, wilderness medicine, and many others.
Janet Vittone, M.D.
Director of Selectives for Mayo Clinic Alix School of Medicine
Medical care in the wild
Selectives can help hone a student's ability to study medicine, says Jan Stepanek, M.D., program director for the Wilderness and Austere Medicine selective. Dr. Stepanek served in the mountain infantry in Switzerland many years ago and has been involved in wilderness-style selectives for Mayo Clinic since the 1990s.
"Many aspects of medicine are typically specialty-focused," Dr. Stepanek says. "While environments such as altitude or spaceflight seem abstract to many, working in those settings really hones your skills to understand the basics."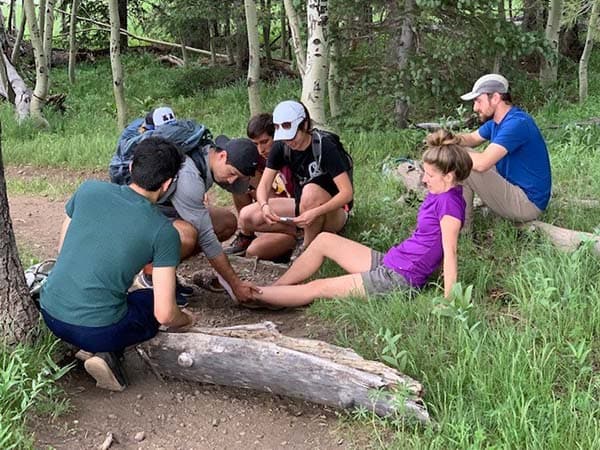 While COVID-19 canceled many in-person activities in 2020 and 2021, Mayo Clinic was able to host 20 students for the Wilderness and Austere Medicine selective in Arizona in June and September 2021. The diverse topography and microclimates of Arizona provide an optimal environment for in-depth learning of skills and practical experience in conditions ranging from high-altitude mountain ranges to the Sonoran desert environment.
During the three-day selective, students were taught to deliver medical expertise in rugged environments. Students focus on patient assessment, practice applying a tourniquet, assess blood volume and pressure, and deal with real-world scenarios where students act out an injury. There's even theatrical blood to make the situation appear real.
About a dozen of us spent three nights at a campground in Flagstaff for the selective, where we learned about topics like starting a fire without a match to initial medical assessment of injuries in austere environments. The great thing about the selective is that it exposes you to an array of useful medical scenarios in locations where those types of scenarios are likely to occur. And for those with less wilderness exposure, it teaches basic outdoors etiquette and survival skills.
Beau Idler
Second-year student, Mayo Clinic Alix School of Medicine
An aerospace tutorial
Mayo Clinic cultivates local partnerships for selective experiences, such as the Aerospace Medicine selective in Florida. Three internal medicine residents and two medical students participated in the inaugural offering in October 2021.
Mayo Clinic faculty and aerospace experts contributed to the course, where students and residents learned about different aspects of clinical aerospace medicine, altitude physiology, spacial disorientation, and aeromedical evacuations. The selective also included a field trip to Jacksonville Air National Guard Base to learn about the high gravitational force environment F-15 aircrafts fly through and a trip to Kennedy Space Center to learn about space medicine.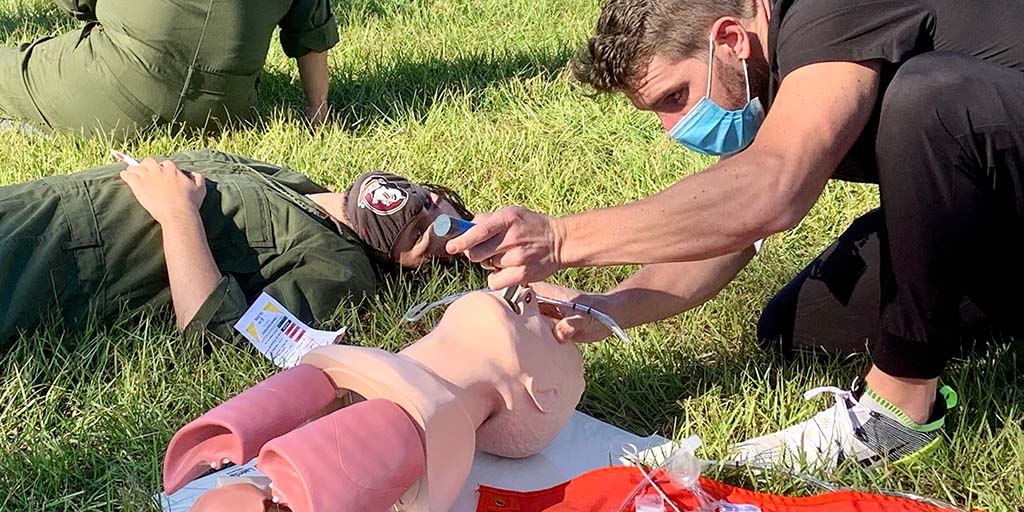 "Aerospace medicine is a unique opportunity for students to take a deep dive into human physiology in extreme environments," says Dana Herrigel, M.D., a faculty member for the Aerospace Medicine selective in Florida. "Beyond physiology, seminars given by experts in the field expand student understanding of how human factors contribute to systems failures by examining prior mishaps. Students also practice crew resource management skills during immersive simulations, honing their teamwork and communication skills in any challenging environment."
Dr. Stepanek also works on the Aerospace Medicine selective, and he likens it to wilderness medicine, sharing that, "While many things happening in space are pretty high tech, it's really wilderness medicine in spaceflight. If you know how to treat anything and know how to do this well in an environment without resources, you'd probably do well in spaceflight."
Plans are underway to bring the Aerospace Medicine selective to Mayo Clinic in Arizona this year.
Caring for neighbors in need
Selectives benefit students, and they also can positively affect the communities Mayo Clinic serves.
Mayo Clinic Alix School of Medicine in Rochester partnered with Zumbro Valley Health Center to offer a Street Medicine selective. During the selective, 28 first- and second-year medical students get firsthand experience working for nine months with people without housing. The students first volunteer and perform nonmedical tasks, such as serving and delivering food. When they are ready to provide clinical care, they work at The Landing — a nonprofit organization that cares for people without housing. The students receive hands-on practical training in critical skills for first responders.
Jeffrey Woods, a second-year student at Mayo Clinic Alix School of Medicine, was among the many students who helped create the Street Medicine selective.
I became inspired to start to the Street Medicine selective when I attended a lecture given by Dr. Jim Withers, the physician who founded Street Medicine. I felt deeply moved, and I remembered the kind of doctor I'd dreamed of becoming, which — to quote my application to medical school — is a doctor who 'enables others to feel safe, understood, and whole in times of illness, trauma, and loss.'
Jeffrey Woods
Second-year student, Mayo Clinic Alix School of Medicine
Although it's not offered as a Mayo Clinic selective, students at Mayo Clinic Alix School of Medicine in Arizona can volunteer with Street Medicine Phoenix.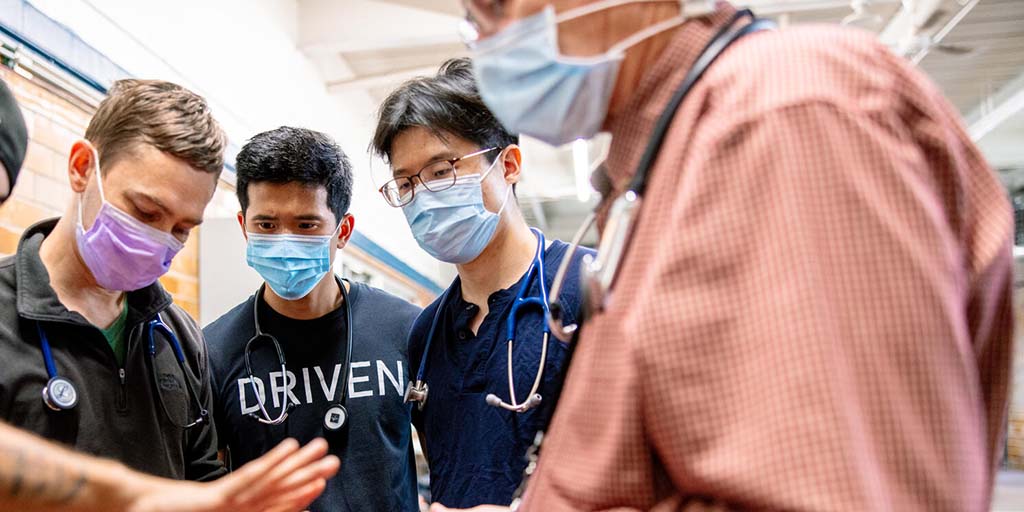 Inspire, explore, expand
The goal of Mayo Clinic's selectives is to get students thinking about what they want out of their medical career. The hope is students will be inspired by something they see or experience outside the clinical setting. It may even influence their career path.