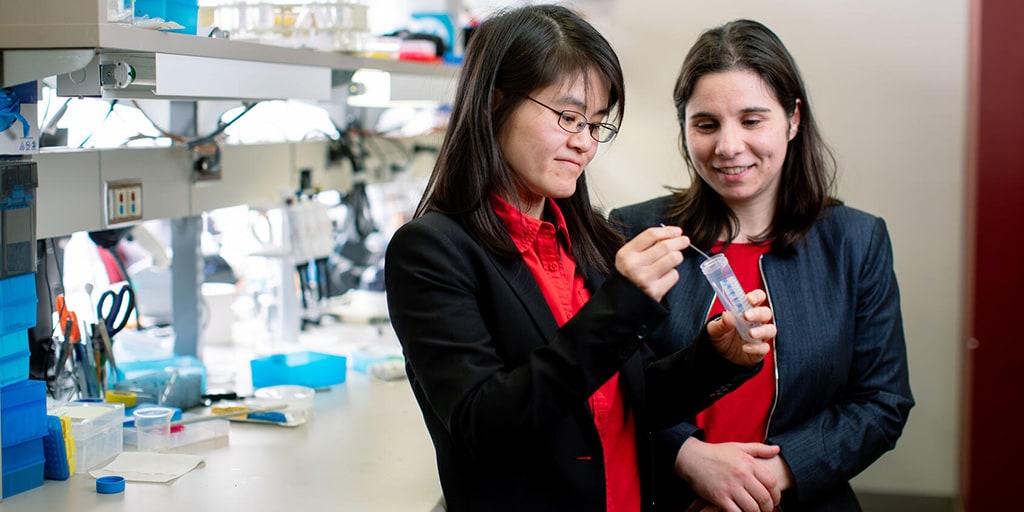 ---
March 31, 2023
---
Women pioneers of medicine helped shape Mayo Clinic in its early years and today, women leaders across departments and specialties are shaping Mayo Clinic's future and the future of medicine. Learn more about these amazing women as we end Women's History Month this March.
Marina Walther-Antonio, Ph.D.
Dr. Walther-Antonio is an associate consultant for Mayo Clinic Graduate School of Biomedical Sciences, where she focuses her research on the role of the human microbiome in women's health, particularly in relation to gynecologic cancers. Dr. Walther-Antonio aims to use microbiome signatures to predict the development of malignancy and eventually intervene before it materializes.
Dr. Walther-Antonio thinks back on her proudest achievement, sharing "Working alongside NASA scientists and engineers and Mayo Clinic scientists and physicians. It is an opportunity and privilege I cherish every day," she says. "And having the chance to support the next generation of great minds is a responsibility and level of trust I am very thankful for."
Robin Patel, M.D.
Dr. Patel is a distinguished professor at Mayo Clinic. She holds positions as a Professor of Medicine and a Professor of Microbiology and is the Elizabeth P. and Robert E. Allen Professor of Individualized Medicine. She is also the Director of the Infectious Diseases Research Laboratory, Co-Director of the Clinical Bacteriology Laboratory, Vice Chair of Education in the Department of Laboratory Medicine and Pathology, Director of the Laboratory Center of the Antibacterial Resistance Leadership Group, and Director of the Mayo Clinic Alix School of Medicine microbiology course. As the first female chair of the Division of Clinical Microbiology, she has made significant contributions to her field.
Additionally, one of her most significant experiences has been as president of the American Society for Microbiology. In this role, she focused on antimicrobial resistance, diversity, equity, and inclusion, and member engagement. In the second half of her presidency, she also added COVID-19 advocacy to her priorities.
Caroline Sussman, Ph.D.
Dr. Sussman is an assistant professor of nephrology and hypertension who conducts research on kidney disease at the Polycystic Kidney Disease Center. She also holds multiple leadership roles, including associate director of the Office of Postdoctoral Affairs and Research Training, director of the summer undergraduate research fellowship for the Regenerative Sciences track of Mayo Clinic Graduate School of Biomedical Sciences, and membership in the Institutional Animal Care and Use Committee (IACUC).
When asked what she is proud of in her career, she shares, "I am proud of my ability to synthesize insights from my disparate research areas to develop novel hypotheses. For example, our findings from zebrafish hearing studies have led us to identify markers that may allow earlier detection of kidney disease. With further study, these markers could be valuable for drug development and helping patients manage their disease and preserve kidney function. Additionally, I am grateful to have been able to continue my research while juggling family responsibilities, as this can be a challenge for many in academia."
Lilach Lerman, M.D. Ph.D.
Dr. Lerman is The Arthur M. and Gladys D. Gray Professor in Honor of Dr. Howard A. Andersen and a professor of medicine and physiology. She is also a director of the Reno-Vascular Research Laboratory in the Division of Nephrology and Hypertension at Mayo Clinic.

"I have always been tremendously proud and gratified when my trainees and students received awards for their work," she says. "One of the proudest achievements in my professional career was when my first full-time post-doctoral fellow achieved an academic appointment as a full professor. Last but not least, I am overjoyed when a student introduces a novel idea or interpretation that is their own brainchild."
These are just a few of the women leaders, researchers, trainees, alumni, and faculty who diagnose, teach, heal, and influence the future of medicine across Mayo Clinic. Learn more on the Office for Diversity, Equity, and Inclusion's social media channels — Facebook, Instagram, and LinkedIn.