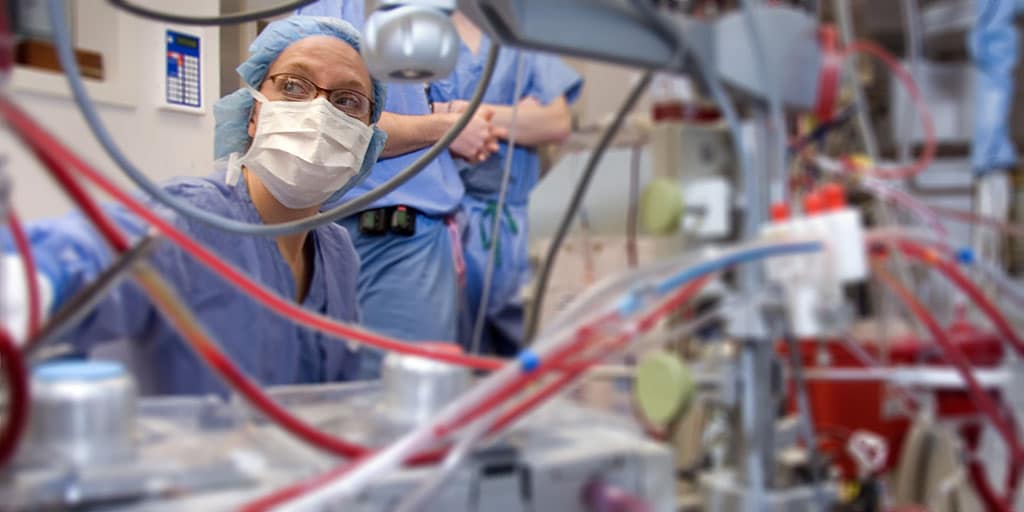 Program overview
Program length: 2 years
Class size: 3 students
Location: Phoenix, Arizona
This clinical rotation program prepares students for a career as a certified clinical perfusionist (CCP). You'll receive hands-on learning in the operating room and attend lectures on an assortment of perfusion-related topics.
Upon successful completion of the rotation, you will receive a certificate of completion from Mayo Clinic School of Health Sciences. After completing your perfusion rotations, you receive a master's degree from Midwestern University.
Graduation and certification
Graduates of accredited perfusion programs are eligible to sit for the first part of the national certification examination given by the American Board of Cardiovascular Perfusion (ABCP).
Application process
Once you are enrolled in the Cardiovascular Science Program at Midwestern University, you are eligible to participate in the perfusion rotations at Mayo Clinic by making arrangements through your college program director. You must successfully complete the required program course work before you are eligible to complete the rotations.
Prerequisites
The Cardiovascular Science Program prerequisites are determined by Midwestern University.
In addition to having a bachelor's or higher level degree from a regionally accredited college or university, you must:
Achieve a minimum cumulative grade point average of 2.75 on a scale of 4.0
Complete an application for admission and meet the technical standards
Complete the program's interview process (by invitation only)
How to apply
Our affiliate school, Midwestern University, processes applications for its Cardiovascular Science Program.
Tuition and financial aid
Tuition rates are determined by and paid to Midwestern University. Mayo Clinic School of Health Sciences participates in a clinical rotation tuition sharing process, which is billed directly to Midwestern University.
Mayo Clinic provides your scrub attire during your rotations.
You are responsible for your living accommodations and transportation.
Curriculum
For the majority of the rotation, your learning schedule includes eight-hour days, five days per week. You will take call every other weekend.
The curriculum consists of courses in perfusion technology, perfusion devices, anatomy, physiology, physiological management of bypass, ethics, pathology, cardiology, and research.
The curriculum is a full-time professional program of seven continuous quarters. The program begins with three quarters of didactic and laboratory education. During this time, you receive exposure to clinical medicine by clinical observation at affiliated hospitals in the Phoenix area.
Summer quarter of the student's second year begins the four-quarter clinical rotation segment that is held at affiliated hospitals throughout the region. The didactic and clinical faculty consists of perfusionists, anesthesiologists, cardiac surgeons, and professional educators.
Your study includes:
Extracorporeal circulation and cardiopulmonary support
Counterpulsation
Circulatory support and ventricular assistance
Extracorporeal membrane oxygenation
Blood conservation techniques and autotransfusion
Myocardial preservation
Anticoagulation and hematologic monitoring and analysis
Physiological monitoring and analysis
Blood gas and blood chemistry monitoring and analysis
Induction of hypothermia or hyperthermia with reversal
Hemodilution
Hemofiltration
Administration of medications, blood components and anesthetic agents via the extracorporeal circuit
Documentation associated with described duties
Other areas of study may include:
Isolated limb and organ perfusion
Electrophysiological analysis
Surgical assistance
Organ preservation
Dialysis
Several area hospitals and clinics serve as the practice and observation sites for Midwestern University's perfusion program. Students may request a practice site, but the program adviser makes the final assignments. Relocation during clinical rotation may be necessary. Annually, Mayo Clinic's campus in Scottsdale, Arizona, can accommodate two to three perfusion students.
Through Mayo Clinic's well-planned and supervised rotations, you will gain perfusion experience in cardiac surgery at Mayo Clinic Hospital, where specialty surgical teams provide care to patients requiring heart repair surgery. Annually, Mayo Clinic Hospital performs approximately 250 open-heart procedures.
Accreditation information
The Commission on Accreditation of Allied Health Education Programs certified the Cardiovascular Science Program at Midwestern University to be in full compliance with the nationally established standards. Students are eligible to take the first of two national certifying examinations upon graduation.
See accreditation information for Mayo Clinic College of Medicine and Science.