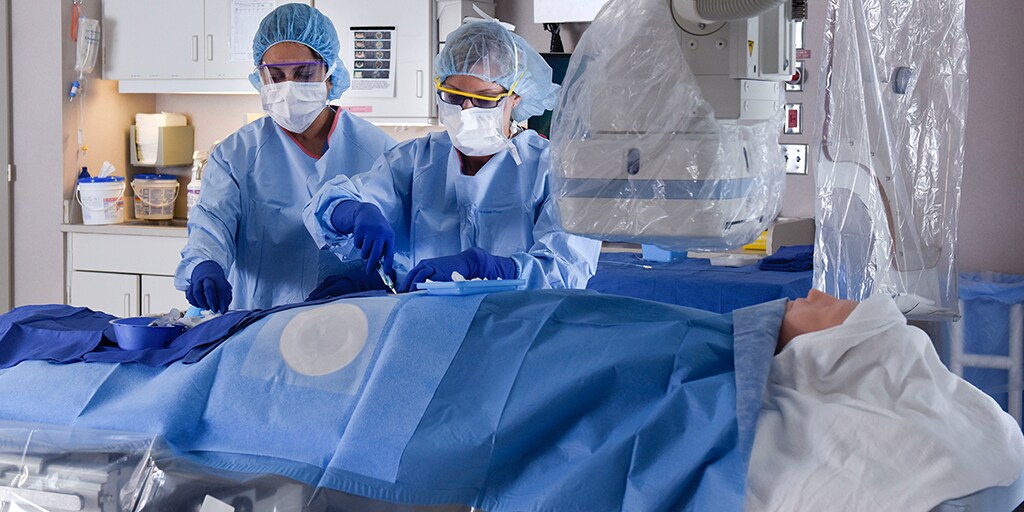 Program overview
Program length: 6 weeks
Class size: 2 students
Location: Jacksonville, Florida
Cardiovascular technology is a medical specialty that focuses on providing the skill and knowledge to assist physicians with the diagnosis and treatment of heart and blood vessel ailments. This internship provides intensive training in two subspecialty areas: cardiac ultrasound and invasive cardiology.
Graduation and certification
Upon successful completion of the internship and Cardiovascular Technology program, you will receive an Associate of Science degree from Florida State College at Jacksonville.
Program graduates will be eligible to sit for the Registered Cardiovascular Invasive Specialist (RCIS) exam offered by Cardiovascular Credentialing International (CCI).
Application process
Prerequisites
For this internship, you must be enrolled in the Cardiovascular Technology program at our affiliated academic institution, Florida State College at Jacksonville.
You must successfully complete the required pre-professional and professional college coursework before you are eligible to begin.
Non-U.S. citizen applicants
Admission to Mayo Clinic School of Health Sciences is open to U.S. workers in the four categories below. Therefore, visa sponsorship is not available.
U.S. citizens
U.S. nationals
Lawful permanent residents
Asylees and refugees
Applicants whose primary language is not English must submit results from the Test of English as a Foreign Language Internet-based test (TOEFL iBT). Scores from the speaking portion of the exam are given particular consideration in admission decisions. Learn more about the exam and register online at the Educational Testing Service.
The Mayo Clinic School of Health Sciences code for the TOEFL iBT is 5784.
Educational transcripts from schools outside the U.S. must be translated (if they are not already in English) and evaluated for U.S. equivalence by an accredited credential evaluation service company prior to submission. Please refer to the National Association of Credential Evaluation Services for a list of qualified companies. The applicant pays for the examination and credential-evaluation services.
How to apply
Florida State College at Jacksonville processes the admissions and applications for the Cardiovascular Technology program and helps students plan their cardiovascular technology rotations at Mayo Clinic.
Tuition and financial aid
Tuition rates are determined by and paid to Florida State College at Jacksonville. There are no additional fees for the Cardiovascular Technology Internship at Mayo Clinic.
You are responsible for your own living accommodations and transportation.
Curriculum
This internship prepares individuals for professional practice in a hospital, clinic, physician's office or mobile diagnostic unit.
Learning experiences
During the internship, learning experiences allow the intern to:
Gain exposure to cardiac catheterization procedures and interventions, with hands-on training and didactic instruction
Understand the dynamics and workflow of a Cardiac Catheterization Laboratory
Demonstrate knowledge of procedures performed in the Cardiac Catheterization Laboratory, including left and right heart catheterizations, heart biopsies, and interventional procedures
Become familiar with equipment used in the Cardiac Catheterization Laboratory, including Hemochron unit for activated clotting times (ACT), Avoximeter unit for O2 saturations, Medrad contrast injector, intra-aortic balloon pump unit, AngioJet thrombectomy system, Radi pressure wire system, intravascular or intra-coronary ultrasound, biphasic defibrillation units, and additional equipment needed to perform a procedure
Develop the confidence and knowledge needed to take the Registered Cardiovascular Invasive Specialist (RCIS) exam offered by Cardiovascular Credentialing International (CCI)
Observe and understand the pre- and post-procedure care given to the cardiovascular patient
Understand and have respect for the patient's needs and rights before, during, and after a cardiac catheterization procedure
Demonstrate the skills necessary to function as a circulator, recorder and scrub assistant
Gain further understanding of the skills necessary to work as a competent cardiovascular technologist
Schedule
For the majority of the internship, the schedule is Monday through Friday. Hours vary with rotation and program requirements.