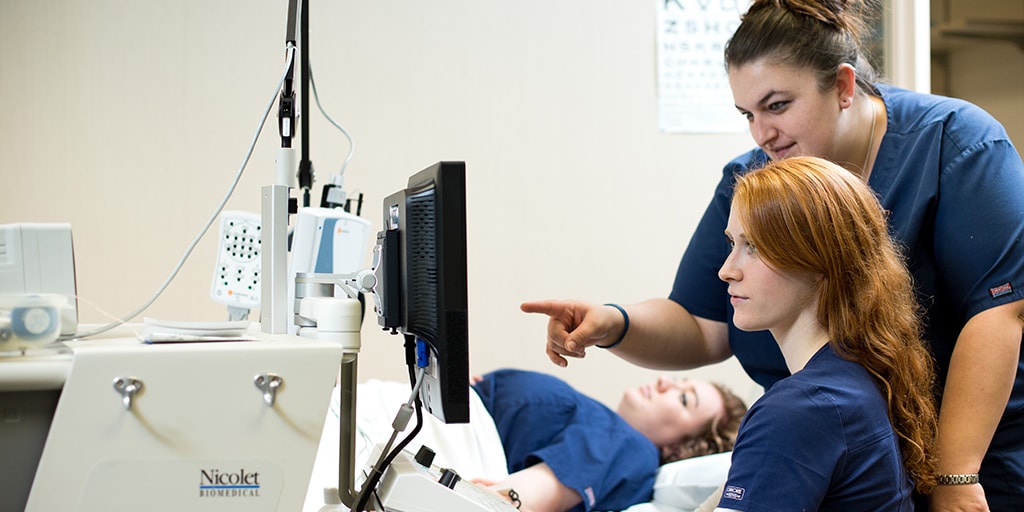 Program overview
Program length: 6-8 weeks
Class size: 6 students a year
Location: Phoenix, Arizona
Electroneurodiagnostic technology involves recording and studying the electrical activity of the brain and nervous system. Through this clinical rotation, you will use sophisticated electronic testing equipment and gain exposure to the technical aspects of surgical monitoring in the operating room.
Graduation and certification
Upon successful completion of the clinical rotation, you will receive a certificate of completion from Mayo Clinic School of Health Sciences and an Associate in Applied Science degree from GateWay Community College.
Graduates of the Electroneurodiagnostic Technology program are eligible to take the American Board of Registered Electroneurodiagnostic Technologists (ABRET) examination to become a Registered Electroneurodiagnostic Technologist (R. EEG T.).
Application process
Prerequisites
To participate in this clinical rotation, you must be enrolled in the Electroneurodiagnostic Technology Program at GateWay Community College.
How to apply
Apply to GateWay. You first must apply to the GateWay Community College Electroneurodiagnostic Technology Program.
Clinical rotation planning. Once you have been accepted into the program, your program director will assist you in planning your clinical rotations at Mayo Clinic or another institution.
Tuition and financial aid
Tuition rates are determined by and paid to GateWay Community College. There are no additional fees for the clinical rotation at Mayo Clinic, though you are responsible for purchasing required scrub attire.
You are responsible for your living accommodations and transportation.
Curriculum
The Electroneurodiagnostic Technology Program is offered by GateWay Community College in Phoenix, Arizona. The curriculum follows that required by American Society of Electroneurodiagnostic Technologists (ASET).
This program requires five to seven semesters (approximately 22 to 30 months) to complete and includes classroom instruction as well as clinical experiences. Review GateWay's Electroneurodiagnostic Technology Program information packet for details on classroom courses.
During the core day hours of your program, you participate in clinical rotations at Mayo Clinic Hospital, part of Mayo Clinic's campus in Phoenix, Arizona.
Through Mayo Clinic's well-planned and supervised rotations, you gain electroneurodiagnostic experience in:
Electroencephalogram (EEG neurofeedback)
Intraoperative monitoring
Somatosensory evoked potentials (SEPs)
Brainstem auditory evoked responses (BAERs)
Visual evoked potentials (VEPs)
Neurophysiological diagnostics
Schedule
For the majority of the rotation, your learning schedule includes eight-hour days, two days a week.
Accreditation information
The Electroneurodiagnostic Technology Program at GateWay Community College is accredited by the Commission on Accreditation of Allied Health Education Programs.
See accreditation information for Mayo Clinic College of Medicine and Science.