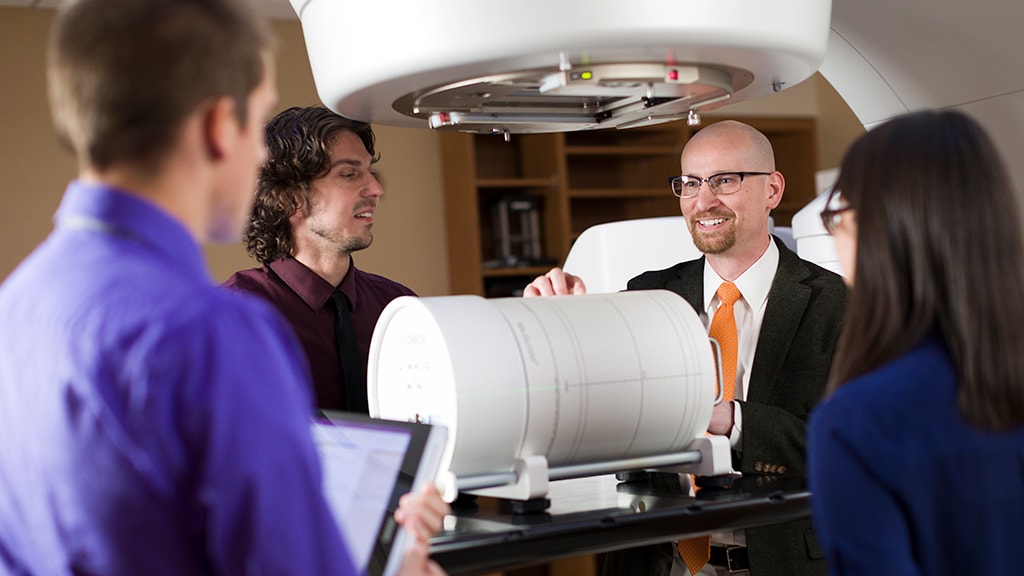 Program overview
Program length: 10 weeks
Class size: 1 student
Location: Phoenix/Scottsdale, Arizona
The Mayo Clinic School of Health Sciences Medical Physics Summer Undergraduate Research Fellowship is a 10-week program at the Mayo Clinic campus in Phoenix, Arizona, intended to introduce highly motivated undergraduate students to medical physics research. As a student, you will participate in a medical physics research project and gain introductory exposure to the clinical medical physics environment.
You'll select from a list of available projects provided by physics faculty in the Department of Radiation Oncology. Active research areas include detector development, radiation treatment plan optimization, treatment outcomes modeling, medical imaging, and proton therapy.
The Medical Physics Summer Undergraduate Research Fellowship aims to:
Introduce undergraduate students to the field of medical physics
Make a significant contribution to a medical physics research project
Provide introductory exposure to the role of a clinical medical physicist
Graduation and certification
After successfully completing this program, you will receive a certificate of completion from Mayo Clinic School of Health Sciences.
Application process
The fellowship accepts undergraduate junior- or senior-level students majoring in physics, chemistry, mathematics, computer science, or engineering.
The application cycle will open Jan. 11, 2021, and will close Feb. 28, 2021. Your application and all supporting documentation must be received by Feb. 28 at 5 p.m. (MST). Offers are extended in March. The program begins in May or June, according to the availability of the selected student.
Prerequisites
To be eligible for the Medical Physics Summer Undergraduate Research Fellowship, you must:
Have completed your sophomore or junior year of an undergraduate degree in physics, chemistry, mathematics, computer science or engineering, before the start of the fellowship
Have current undergraduate status, with at least one undergraduate semester remaining after completion of the fellowship
Candidates are selected based on grades, research, and work experiences, as well as the candidates' interests and personal qualities as described in a personal statement and a letter of recommendation.
How to apply
1. Create an account. Prior to submission of an application, you must create an account. Note the following as you create an account and begin completing an application.
On the Create an Account page:

For School of Study → select School of Health Sciences
For Location → select Phoenix, AZ
For Area of Interest → select Medical Physics Summer Undergraduate Research Fellowship
For Start Date → Choose date
For Entry Term → Select term available

On the My Account page:

Scroll down to Next Steps → select Start an Application

On the Online Application page:

Verify that the program listed is what you want
Click "Continue with Application Selected Above"

On the Application Listing page:

Select "Start a New Full Application"
2. Complete the online application. Once you have created an account, you will be able to continue with the online application. The sections below are located in the application. You may complete them in order or click on the section you want on the left.
Program of interest:

Review populated data for accuracy
Complete "Reapplying and Education Completed" questions

Personal information:

Review populated data
Complete any other fields
If you didn't enter an address or phone number before, you will be required to enter it now

Demographic data:
Education:
Employment:
Standardized testing:
Professional licensing and registration:

Enter any professional licenses you hold

Essay:

Please describe your background and your interest in this fellowship. The essay should be less than 500 words

Signature and submit:

Certify and sign your application
Submit your application
3. Complete the recommendations and supplemental items. After submitting the application, click "Click here to upload program-specific supplemental item(s)."
CV/Resume. Please upload your CV/Resume
Recommendations. Enter email addresses for recommendations under the "Recommendation Requests".

One letter of recommendation is required.

This should be someone who is/was an authoritative figure in your life, i.e. professor, advisor, supervisor or someone similar.
**If you do not complete these at the time of submission, please visit your "My Account" page and navigate to your application for a link to complete.
Acceptance
Candidates selected for the fellowship will be contacted by phone, followed by an acceptance letter, by mid-June. If you receive an acceptance letter, your reply is expected within 10 days.
Admission policies
See further Mayo Clinic School of Health Sciences admissions policy information.
See the Mayo Clinic School of Health Sciences non-U.S. citizen applicant's policy.
Stipend and benefits
A stipend of $5,000 for the Medical Physics Summer Undergraduate Research Fellowship is paid to you in biweekly installments over the course of the 10 weeks. There are no tuition fees.
This position is not eligible for Mayo Clinic's benefits package. You're expected to maintain your own medical insurance during the course of the fellowship.
Living expenses such as transportation, housing and meals are your responsibility. Assistance with locating temporary housing can be provided if needed.
Curriculum
The Medical Physics Summer Undergraduate Research Fellowship is a research experience in the Department of Radiation Oncology, where the selected undergraduate student works closely with a faculty mentor on an individual project. The goal of the program is to introduce promising undergraduate students to the field of medical physics and to contribute meaningfully to a research project.
As a fellow, you will select your specific project from a list of available projects provided by the medical physics faculty. This process typically occurs in the months between the selection of the fellow and the summer start date.
Examples of past projects include:
| Year | Project title | Faculty mentor |
| --- | --- | --- |
| 2018 | Proton patient log file analysis for machine performance evaluation | Daniel Robertson, Ph.D. |
| 2017 | Novel 3-D dosimeter and biosensor development | Aman Anand, Ph.D. |
| 2016 | Application of operational research techniques to intensity-modulated proton therapy | Wei Liu, Ph.D. |
| 2015 | Biological effectiveness of intensity-modulated proton therapy | Wei Liu, Ph.D. |
Over the course of the 10-week program, you will meet regularly with your faculty mentor who will guide your project to completion. At the culmination of the program, you will present your work to the department staff. Exceptional work may be submitted to local or national meetings or for publication.
In addition to your research, you will have significant opportunities to observe all aspects of the clinical radiation oncology environment at Mayo Clinic and, specifically, the role of the medical physicist in facilitating safe and effective radiation treatments. The department hosts medical and physics residency programs, and you're invited to attend regular meetings and seminars associated with these programs to facilitate your education.
Mayo Clinic School of Health Sciences is committed to developing and maintaining the best education programs. The curriculum and other aspects of this program are routinely assessed and changed as necessary to ensure the highest quality training.
Schedule
For the majority of the fellowship, your learning schedule includes eight-hour days during normal business hours, with occasional deviations as needed to acquire data on clinical equipment outside of treatment hours.
Facilities
Mayo Clinic has two campuses in Arizona. The Phoenix campus includes the state-of-the-art Mayo Clinic Hospital, the first hospital entirely designed and built by Mayo Clinic. It has been recognized several times by Phoenix magazine as the "Best Hospital in Phoenix."
The campus also includes a state-of-the-art education and conference center, which has a 330-seat auditorium and adjacent meeting rooms. The facility serves all types of learners engaging in lifelong learning.
The Mayo Clinic campus in Scottsdale is centered around a beautiful, five-story outpatient clinic. This modern facility contains extensive exam rooms, an outpatient surgery center equipped for general anesthesia, a full-service laboratory, pharmacy, patient education library, endoscopy suite, and a 188-seat auditorium for patient, staff, and student education programs. Services in numerous medical and surgical disciplines are provided, including outstanding programs in cancer treatment and organ transplantation.
Faculty
The Medical Physics Summer Undergraduate Research Fellowship in Arizona is coordinated and taught by the clinical, scientific and technical staffs of Mayo Clinic. Faculty members are chosen for their commitment to teaching, as well as their clinical practice and research. Many have published and lectured extensively and are highly regarded in their fields.
You have direct access to these individuals throughout your training, giving you the opportunity to learn from experienced practitioners in medical physics.