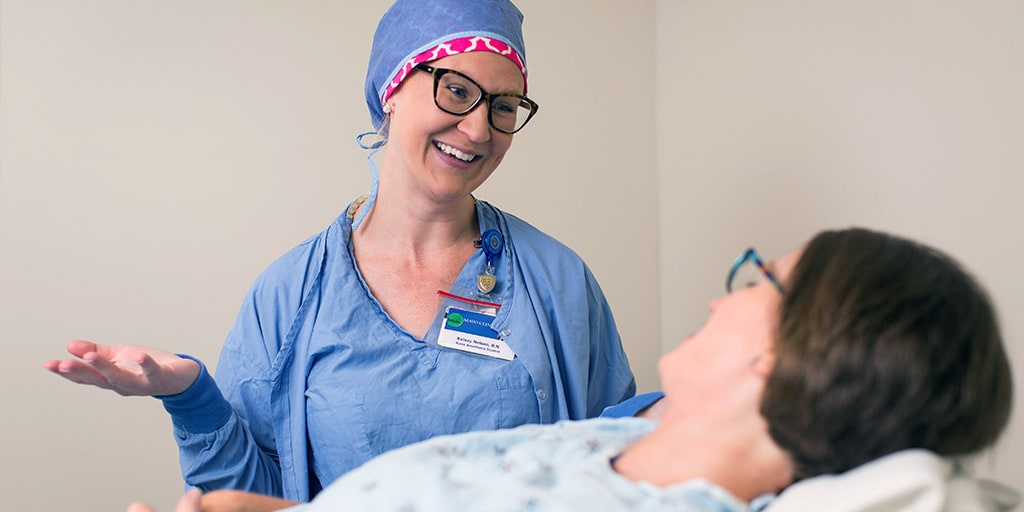 Program overview
Program length: 4-16 weeks
Class size: 6 students a year
Location: Jacksonville, Florida
This rotation gives nurse anesthesia students from the University of North Florida a challenging and diverse clinical experience. Students will observe and experience the delivery of patient care in a comprehensive health care center that offers:
A caring, collaborative environment
State-of-the-art diagnostic, therapeutic and research facilities
A large, diverse patient population
An environment based on a team approach and a commitment to mutual respect
The clinical rotations are led by Mayo Clinic professional nurse anesthesia staff and will provide you with opportunities to work alongside other professionals in a multidisciplinary health care environment.
Graduation and certification
When you successfully complete the criteria for master's degree in nursing and the nurse anesthesia coursework at your affiliate school, you are eligible to apply for certification exam through the American Association of Nurse Anesthetists.
Application process
Applications are due eight weeks prior to start of rotation.
Prerequisites
For admission to the rotation, you must:
Have graduated from an accredited school of nursing
Be enrolled in the master's-level nurse anesthesia program at our affiliated academic institution, University of North Florida
Be in good academic standing
How to apply
The program coordinator/advisor at the University of North Florida should contact the Mayo Clinic School of Health Sciences education coordinator to submit a request. Requests from students will not be accepted.
Complete the Mayo Clinic School of Health Sciences online application (Click 'Create Account" to start your application).
Tuition and financial aid
Tuition rates are determined by and paid to the University of North Florida. Mayo Clinic charges no additional fees for the clinical rotation.
You are responsible for your living accommodations and transportation. You may hold outside employment during the rotation if it does not conflict with your program responsibilities.
Curriculum
This rotation prepares you to work both independently and collaboratively as a member of a health care team.
Intensive clinical practicums, under the supervision of qualified nurse anesthetists and physician preceptors, focus on providing care to patients.
Schedule
For the majority of the clinical rotation, your learning schedule will include eight-hour days, five days a week.
Accreditation information
The University of North Florida maintains accreditation for its nurse anesthesia program and can provide more information.
See accreditation information for Mayo Clinic College of Medicine and Science.