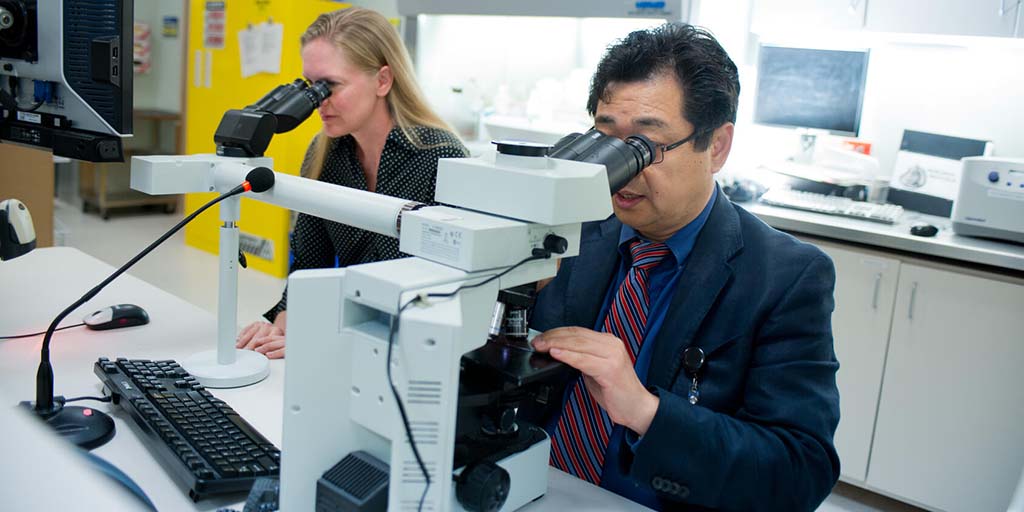 Program overview
Program length: 6 months
Class size: 1 student per cohort, 2 cohorts per year
Location: Jacksonville, Florida
The Pathologists' Assistant Clinical Rotation on the Jacksonville, Florida campus emphasizes dissection of complex surgical resections along with explanted liver, lung, and heart transplant specimens. Students will participate in the comprehensive macroscopic examination, evaluation, and dissection of surgical pathology specimens ranging from simple to complex in our frozen section lab. PA students will perform special procedures such as frozen sectioning on cryostats for intraoperative consultations to the OR, triaging surgical tissue for ancillary studies, tumor banking, and gross specimen photography.
Admissions
The clinical affiliate's Pathologists' Assistant program director selects the students who will rotate in the MCSHS Pathologists' Assistant Clinical Rotation in Jacksonville, Florida. Students are then required to complete the Mayo Clinic application process.
Prerequisites
Students must be enrolled and have completed the first year of Quinnipiac University's Master of Health Science Pathologists' Assistant Program and have a bachelor's degree in biological sciences.
Qualified candidates typically possess these general characteristics:
Aptitude for the basic sciences, computers, and instrumentation
Ability to work quickly and carefully
Self-sufficiency, precision, and thoroughness
Ability to maintain emotional stability under pressure
Critical-thinking and problem-solving skills
Excellent written and oral communication skills
Non-U.S. citizen applicants
Admission to Mayo Clinic School of Health Sciences is open to U.S. workers in the four categories below. Therefore, visa sponsorship is not available.
U.S. citizens
U.S. nationals
Lawful permanent residents
Asylees and refugees
Applicants whose primary language is not English must submit results from the Test of English as a Foreign Language Internet-based test (TOEFL iBT). Scores from the speaking portion of the exam are given particular consideration in admission decisions. Learn more about the exam and register online at the Educational Testing Service.
The Mayo Clinic School of Health Sciences code for the TOEFL iBT is 5784.
Educational transcripts from schools outside the U.S. must be translated (if they are not already in English) and evaluated for U.S. equivalence by an accredited credential evaluation service company prior to submission. Please refer to the National Association of Credential Evaluation Services for a list of qualified companies. The applicant pays for the examination and credential-evaluation services.
Application instructions
Complete the following steps to apply:
Create an account to begin the online Application for Admission
Select – Mayo Clinic School of Health Sciences
Select – Pathologists' Assistant Internship
Complete each section of the application and submit
After submission, view the required Supplemental Items and Documents
Upload each required item in the Supplemental Items section
Complete the Recommendation Request section
Acceptance
Upon acceptance, students will receive additional MCSHS forms by email. Fill out and return the forms to Employee Occupational Health Service and Mayo Clinic School of Health Sciences in the envelopes provided.
Tuition and financial aid
Tuition rates for the Pathologists' Assistant Internship are determined by and paid to Quinnipiac University. Mayo Clinic charges no additional fees. Students are responsible for housing accommodations and transportation.
Curriculum
The Pathologists' Assistant Clinical Rotation at Mayo Clinic School of Health Sciences prepares students to work in an anatomic pathology laboratory. We provide hands-on instruction in our state-of-the-art laboratory with a 1:1 student to clinical instructor ratio. By the end of the PA clinical rotation, students will have acquired the professional knowledge and technical skills defined in the program competencies. Students have opportunities to participate in additional educational activities such as our departmental conferences, including the Autopsy Conference.
Facilities
The Anatomic Pathology Laboratory at Mayo Clinic in Florida consists of our Frozen Section Lab, Biopsy Grossing Lab, and the Morgue.
Accreditation information
See accreditation information for Mayo Clinic College of Medicine and Science.