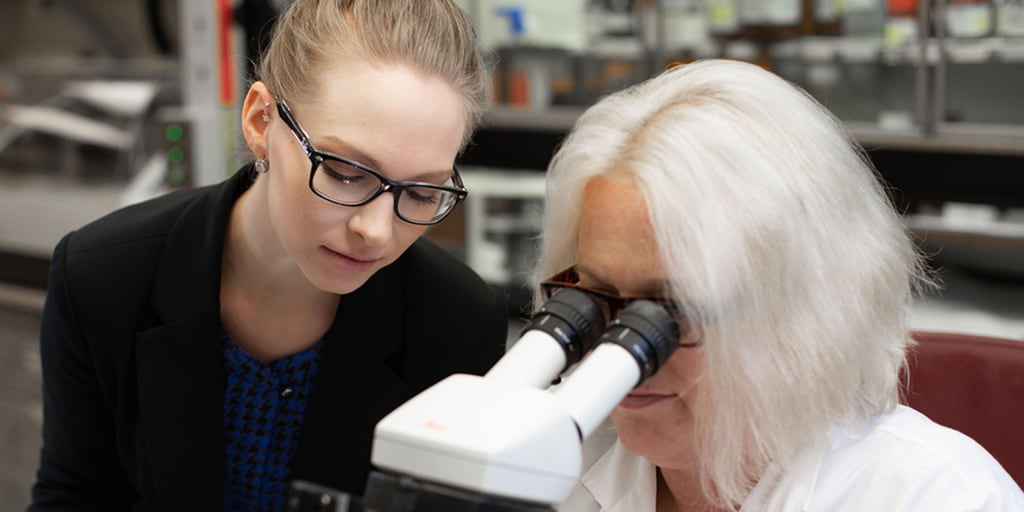 Program overview
Program length: 2 months
Class size: 12 students (2 at a time, 6 times a year)
Location: Rochester, Minnesota
This internship provides students a clinical rotation site with primary emphasis on autopsy. While national autopsy rates have declined, Mayo Clinic averages more than 500 forensic and hospital autopsy cases each year at its Rochester campus. You will participate in evisceration, prosection, slide review, and written documentation of autopsy findings.
Interns also rotate through Mayo Clinic's unique frozen section labs at the Saint Marys campus and Methodist campus of Mayo Clinic Hospital — Rochester. You are exposed to the gross and microscopic examination of complex surgical specimens. You also spend time in the Hilton Gross Cutting Laboratory, where you will handle cardiovascular and liver explant specimens.
Graduation and certification
Upon successful completion of the internship, you receive a certificate of completion from Mayo Clinic School of Health Sciences.
Admission requirements
Each year, Mayo Clinic School of Health Sciences admits up to 12 students to its Pathologists' Assistant Internship. Two students participate in the internship at a time, and new students begin every two months.
Prerequisites
To be eligible for the internship, you must have completed the first year of Quinnipiac University's Master of Health Science Pathologists' Assistant Program and have a bachelor's degree in biological sciences.
Qualified candidates typically possess these general characteristics:
Aptitude for the basic sciences, computers, and instrumentation
Ability to work quickly and carefully
Self-sufficiency, precision, and thoroughness
Ability to maintain emotional stability under pressure
Critical-thinking and problem-solving skills
Excellent written and oral communication skills
Application process
Positions in the internship are assigned by your program director at Quinnipiac University. You will then be required to complete Mayo's application.
Application instructions
Complete the following steps to apply:
Create an account to begin the online Application for Admission

Select – Mayo Clinic School of Health Sciences
Select – Pathologists' Assistant Internship

Complete each section of the application and submit
After submission, view the required Supplemental Items and Documents

Upload each required item in the Supplemental Items section
Complete the Recommendation Request section
Acceptance
If accepted, you will receive some additional forms by mail. Fill out and return forms to Employee Occupational Health Service and Mayo Clinic School of Health Sciences in the envelopes provided.
Tuition and financial aid
Tuition rates for the Pathologists' Assistant Internship are determined by and paid to Quinnipiac University. Mayo Clinic charges no additional fees.
You are responsible for your living accommodations and transportation.
Curriculum
The internship prepares students to work in an anatomic pathology lab. Instruction is hands-on in our state-of-the-art labs.
Additional educational opportunities include:
Heart cutting conference
Lung cutting conference
Brain cutting conference
Resident conferences
Mayo Clinic School of Health Sciences events
Schedule
For the majority of the internship, your schedule is Monday through Friday with occasional weekends. Hours may vary by rotation.
Accreditation information
See accreditation information for Mayo Clinic College of Medicine and Science.