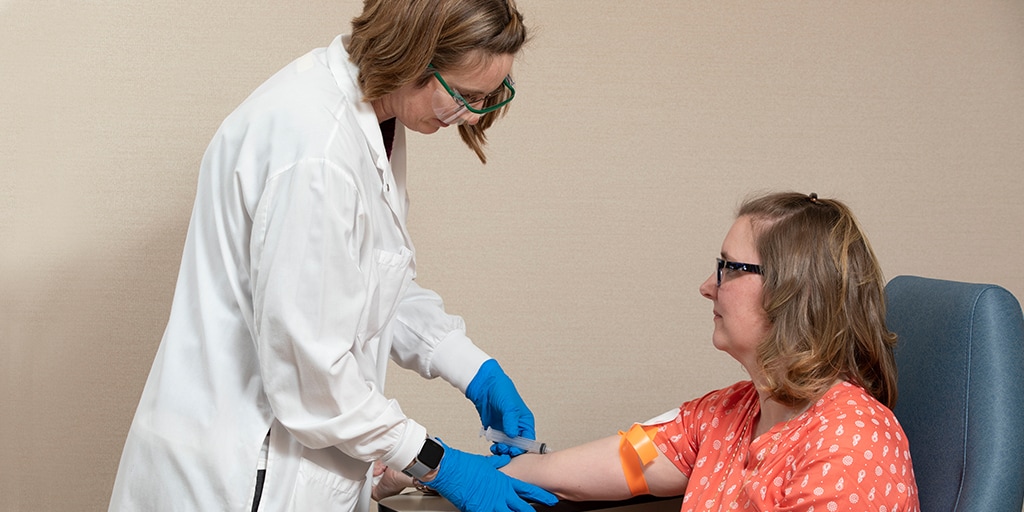 Program overview
Program length: 3-4 weeks
Class size: Varies
Location: Phoenix, Arizona
This clinical rotation prepares students to become well-rounded, fully competent phlebotomy technicians. It is designed to provide you with the knowledge and skills necessary for a career working in an outpatient clinic or inpatient hospital setting.
Phlebotomy technicians work with other professionals in hospital and outpatient environments to collect and prepare blood samples for laboratory testing as part of a patient's total care team.
Clinical rotations occur at various times throughout the year at the end of an affiliated institution's scheduled program classes.
Graduation and certification
Upon successfully completing your clinical rotations and the other requirements of your phlebotomy technician certificate program, you will receive a certificate of completion from your home program. This certificate is a course certificate and is not part of qualification as a nationally certified phlebotomist. A separate examination is taken to achieve that status.
Immediately upon completion of your phlebotomy technician certificate program at our affiliated institution, you will be eligible to take a national certifying examination for phlebotomy technicians.
Application process
Your application and all supporting documentation must be received three weeks prior to the start date of the scheduled clinical rotation.
Prerequisites
You must be enrolled and in good standing at an affiliated Phlebotomy Technician Certificate program through Phoenix College to be eligible to begin the Phlebotomy Technician Clinical Rotation.
You must successfully complete the required coursework before you are eligible to complete a clinical rotation at Mayo Clinic.
Non-U.S. citizen applicants
Admission to Mayo Clinic School of Health Sciences is open to U.S. workers in the four categories below. Therefore, visa sponsorship is not available.
U.S. citizens
U.S. nationals
Lawful permanent residents
Asylees and refugees
Applicants whose primary language is not English must submit results from the Test of English as a Foreign Language Internet-based test (TOEFL iBT). Scores from the speaking portion of the exam are given particular consideration in admission decisions. Learn more about the exam and register online at the Educational Testing Service.
The Mayo Clinic School of Health Sciences code for the TOEFL iBT is 5784.
Educational transcripts from schools outside the U.S. must be translated (if they are not already in English) and evaluated for U.S. equivalence by an accredited credential evaluation service company prior to submission. Please refer to the National Association of Credential Evaluation Services for a list of qualified companies. The applicant pays for the examination and credential-evaluation services.
How to apply
Mayo Clinic's affiliated school, Phoenix College, processes the admissions and applications for its Phlebotomy Program.
Mayo Clinic works with Phoenix College to place a select number of students.
Tuition and financial aid
Tuition rates are determined by and paid to the affiliated college or educational institution at which you are enrolled. Mayo Clinic does not charge additional fees.
Students are responsible for their own living accommodations and transportation.
You may hold outside employment during the training program if it does not conflict your program responsibilities.
Curriculum
During your phlebotomy technician certificate program, you may participate in the Phlebotomy Technician Clinical Rotation at Mayo Clinic's campus in Arizona.
You learn customer service skills, safety procedures, capillary collections, arterial, and venous collections using various collection devices, a high-level overview of laboratory processing, computer skills, and more.
Schedule
A typical clinical rotation schedule includes eight-hour days, five days a week for three or four weeks. Hours may vary to accommodate the needs of the laboratory and student.