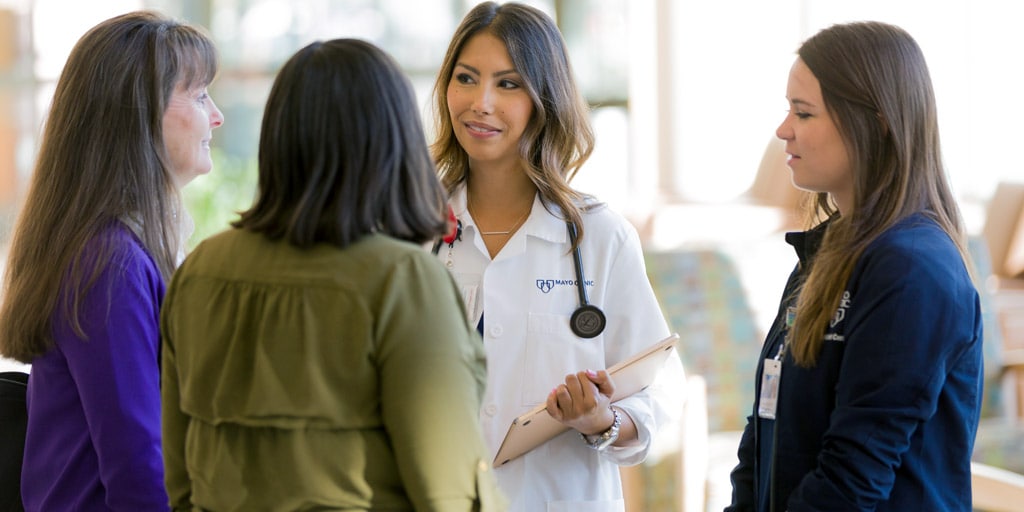 Program overview
Program length: 4-8 weeks
Class size: Varies
Location: Wisconsin, Minnesota, and/or Iowa
This clinical rotation gives physician assistant students the hands-on clinical experience they need in a health care setting with a diverse patient population. The rotation prepares students to work both independently and collaboratively as a member of a health care team.
Application process
Prerequisites
Mayo Clinic provides clinical rotation experiences for PA programs across the country. Students must be enrolled in a PA program at an affiliated institution to be eligible for this program. Students should check with their clinical coordinator to determine if their clinical experience may be completed at Mayo Clinic.
Mayo Clinic employees seeking to qualify for an educational leave of absence while in a PA program must be enrolled at one of these affiliated institutions:
How to apply
Students who wish to participate in clinical training at Mayo Clinic must have their program's clinical coordinator contact Mayo Clinic School of Health Sciences to request a rotation.
Once the rotation has been confirmed by all parties, a link to the Mayo Clinic School of Health Sciences application will be sent to the student.
A completed and signed affiliation agreement must be in place before the rotation begins.
Students must supply a biosketch that includes their hometown, undergraduate school and degree, health care experience, and hobbies.
Tuition and financial aid
Tuition is determined by and paid to the college or university at which you are enrolled. Mayo Clinic charges no additional fees.
Students are responsible for their own living accommodations, expenses, and transportation.
Outside employment during the Physician Assistant Clinical Rotation is not recommended.
Curriculum
The physician assistant program is offered by the affiliated college or university providing the degree program. The program director of each college or university's physician assistant program determines and develops the coursework and laboratory experiences for the program and makes arrangements for clinical rotations.
Rotations at Mayo Clinic sites are available in specialty areas only.
Schedule
For the majority of the clinical rotation, your learning schedule includes eight-hour days, five days a week.
Accreditation information
See accreditation information for Mayo Clinic College of Medicine and Science.