Curriculum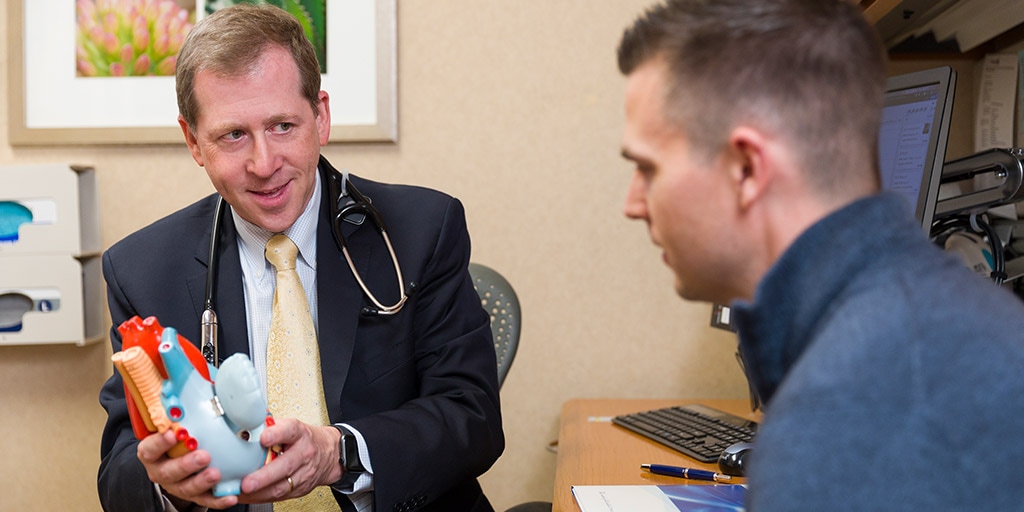 Medical
Surgical
Medical and surgical
The Heart Failure/Heart Transplant and Cardiothoracic Surgery Physician Assistant Fellowship prepares you for professional practice in cardiology and transplant cardiology in hospitals and a clinical environment. The fellowship curriculum includes knowledge, skills, and understanding of health care areas.
By the end of the fellowship year, you will:
Exhibit a working knowledge of the following disease entities:

Acute coronary syndrome
Cardiac arrhythmia
Care of the critically ill
Heart failure
Perioperative medicine
Shock due to various etiologies
Care of the chronically ill
Amyloidosis
Sarcoidosis
Myocarditis
Adult congenital heart disease
Pulmonary hypertension
The Heart Failure/Heart Transplant and Cardiothoracic Surgery Physician Assistant Fellowship prepares you for professional practice in cardiothoracic and heart transplant surgery. The fellowship curriculum includes knowledge, skills, and understanding of health care areas.
The fellowship provides in-depth exposure and experiential training on all aspects of:
Cardiac surgeries to include coronary artery bypass grafting, valvular surgeries, epicardial lead placement, and other cardiac-specific surgical intervention
Heart transplantation
Cardiac-assist device implantation
Extracorporeal membrane oxygenation
Lung diseases such as empyema, carcinomas, biopsies, and video-assisted thoracoscopic surgery
Esophageal diseases that require surgical intervention
Training in endovascular vein harvesting
The program also provides exposure and training in the following related areas:
Pre-transplant patient selection
Intra-operative patient management and techniques
Post-surgical management
Organ procurement
Pre and post clinical management of the surgical patient
Gain core competency in pathophysiology, prevention, diagnostics, and treatment of heart failure spanning American College of Cardiology (ACC) and American Heart Association (AHA) stages A-D
Understand the initial inpatient and outpatient work-up, management, and long-term follow-up of patients with heart failure, including:

Right heart failure due to pulmonary hypertension of various etiologies
Left heart failure, with reduced or preserved ejection fraction of various etiologies and severities
Biventricular failure, usually from advanced heart failure

Understand and implement disease management strategies, including pharmacologic, electrical device, and mechanical circulatory support, as well as cardiac transplant options for this patient population
Understand the indications and interpretation of right heart catheterization, various imaging modalities, including echocardiography, computerized tomography (CT) scan, magnetic resonance imaging (MRI), positron emission tomography (PET), and heart biopsy
Understand arrhythmia mechanisms and management (pharmacologic, interventional, and device based)
Learn donor management skills and donor procurement procedure and processes, as well as understand the intraoperative procedures for heart transplantation and mechanical circulatory devices
Learn how to evaluate and treat patients requiring heart transplant and mechanical circulatory support in a multidisciplinary team setting
Perform post-procedure and long-term follow-up
Understand the immunology of cellular and antibody-mediated rejection, as well as screening and monitoring protocols, pharmacologic interventions, plasmapheresis, and photopheresis, including:

Allosensitization screening, monitoring, and possible interventions
Adjusting medications, including immunosuppression therapy with attending supervision
Participating in the evaluation of patients having implantable cardioverter defibrillators, implantable hemodynamic monitors, and cardiac resynchronization therapy

Outcomes research related to organ failure and transplantation
Clinical training and rotations
The Heart Failure/Heart Transplant and Cardiothoracic Surgery Physician Assistant Fellowship is composed of rotations in various specialty areas. Subspecialty rotations may vary from two to four weeks in length.
Advanced heart failure and cardiac transplant
Cardiology
Cardiothoracic surgery
Congenital heart disease
Palliative medicine
Pharmacology
Left ventricular assist device (LVAD) clinic and perfusion
Advanced heart failure and cardiac transplant
Cardiothoracic surgery
Esophageal and lung surgery
Pharmacology
Left ventricular assist device (LVAD) clinic and perfusion
Endovascular vein harvesting
Schedule and hours
For the majority of the fellowship, your learning schedule includes 10- or 12-hour days, four to six days a week. These times will vary to include nights and weekends. The average workweek is 40 to 50 hours. There will be supervised call expectations once adequate training has been demonstrated.
Department and faculty
The Heart Failure/Heart Transplant and Cardiothoracic Physician Assistant Fellowship is coordinated and taught by the clinical, scientific, and technical staff of Mayo Clinic. Faculty members are chosen for their commitment to teaching, as well as their clinical practice and research. Many have published and lectured extensively and are highly regarded in their fields.
You have direct access to these individuals throughout your training, giving you the opportunity to learn from experienced practitioners in many areas of medicine.
Visiting professors and lecturers
A hallmark of higher education excellence is the breadth and depth of information and experience provided to you by faculty and visiting experts. Each year, many prominent professors visit Mayo Clinic to lecture in their areas of medical and scientific expertise.
As a student at Mayo Clinic School of Health Sciences, you are encouraged to learn from these valuable resources by attending all relevant conferences, lectures, and seminars prepared for students, interns, residents, fellows, and consulting staff.
Facilities
Mayo Clinic has two campuses in Arizona. The Mayo Clinic campus in Phoenix, Arizona includes the state-of-the-art Mayo Clinic Hospital, the first hospital entirely designed and built by Mayo Clinic. Services in numerous medical and surgical disciplines are provided, including outstanding programs in cancer treatment and organ transplantation. It has been recognized several times by Phoenix magazine as the Best Hospital in Phoenix.
Mayo Clinic's campus in Scottsdale, Arizona, is centered around a beautiful, five-story outpatient clinic. This modern facility contains extensive exam rooms, an outpatient surgery center equipped for general anesthesia, a full-service laboratory, a pharmacy, a patient education library, an endoscopy suite, and a 188-seat auditorium for patient, staff, and student education programs.
During the fellowship, a majority of your time is spent at the Phoenix campus.
Evaluation
Mayo Clinic School of Health Sciences uses these evaluative tools:
Written examination
Demonstration of skills
Self-assessment exercises
Faculty reviews
Mayo Clinic's system of evaluation provides students and faculty with a comprehensive look at individual performance. This allows faculty and administrative staff to direct students who are experiencing academic difficulty to the appropriate support resources, including tutoring programs and counseling opportunities.
Curriculum enhancements
Mayo Clinic School of Health Sciences is committed to developing and maintaining the best education programs. The curriculum and other aspects of this program are routinely assessed and changed as necessary to ensure the highest quality training.