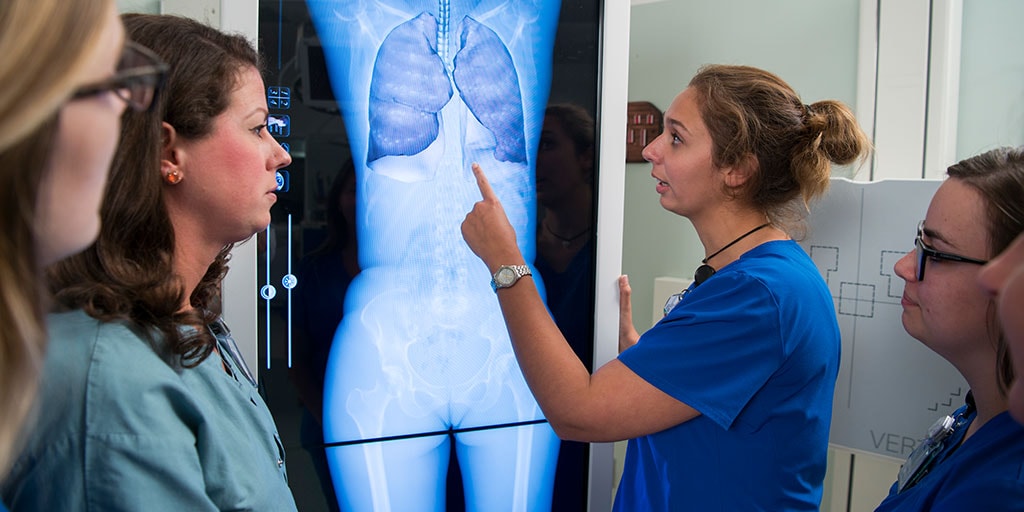 Program overview
Program length: 21.5 months
Class size: Varies
Location: Phoenix, Arizona
The internship is a clinical partnership with the Radiologic Technology Program at GateWay Community College in Phoenix, Arizona. Radiography is an exciting and challenging career involving the use of highly sophisticated equipment to create X-rays. Radiographers have direct patient contact in clinic and hospital settings and are valuable members of the health care team.
The curriculum for the internship is developed and offered by GateWay Community College. The program requires full-time attendance.
Graduation and certification
When you successfully complete the internship, you will receive a Certificate of Completion from Mayo Clinic School of Health Sciences and an Associate in Applied Science degree in medical radiography from GateWay Community College.
Graduates are eligible to take professional certification examinations given by the American Registry of Radiologic Technologists. This certification gives you nationally recognized credentials to practice radiography. In addition, several states require a licensure examination.
Application process
Prerequisites
For the prerequisites required by GateWay, see the Radiologic Technology Program application information packet. Admission is subject to availability and placement policies.
Non-U.S. citizen applicants
Admission to Mayo Clinic School of Health Sciences is open to U.S. workers in the four categories below. Therefore, visa sponsorship is not available.
U.S. citizens
U.S. nationals
Lawful permanent residents
Asylees and refugees
Applicants whose primary language is not English must submit results from the Test of English as a Foreign Language Internet-based test (TOEFL iBT). Scores from the speaking portion of the exam are given particular consideration in admission decisions. Learn more about the exam and register online at the Educational Testing Service.
The Mayo Clinic School of Health Sciences code for the TOEFL iBT is 5784.
Educational transcripts from schools outside the U.S. must be translated (if they are not already in English) and evaluated for U.S. equivalence by an accredited credential evaluation service company prior to submission. Please refer to the National Association of Credential Evaluation Services for a list of qualified companies. The applicant pays for the examination and credential-evaluation services.
How to apply
To participate in the internship, you must be enrolled in the Radiologic Technology Program at GateWay Community College and request Mayo Clinic's campus in Phoenix/Scottsdale, Arizona, as your clinical site. GateWay coordinates program admissions, applications and all classroom instruction.
Tuition and financial aid
You pay all tuition and book fees to GateWay Community College. You must purchase the required uniforms worn on the Mayo Clinic campuses.
Curriculum
The Medical Radiography Program, including the internship at Mayo Clinic's campus in Phoenix/Scottsdale, Arizona, is 21.5 months, based on 40 hours a week. The GateWay Community College Medical Radiography Program has been training radiographers since 1968.
During the program, approximately 1,800 hours of clinical experience are obtained in addition to classroom hours accumulated at the GateWay campus. A minimum grade of C must be received in all courses. All diagnostic medical imaging courses in a given semester, which are identified with the prefix "DMI" on the schedule in the program information packet, must be satisfactorily completed before the student is allowed to enroll in the following semester.
Students are expected to attend all clinical courses between semesters, during spring break and during the summer.
Schedule
For the majority of the classroom instruction and clinical rotations, your learning schedule includes eight-hour days, five days a week.
Accreditation information
The Radiologic Technology Program at GateWay Community College is accredited by the Joint Review Committee on Education in Radiologic Technology.
See accreditation information for Mayo Clinic College of Medicine and Science.