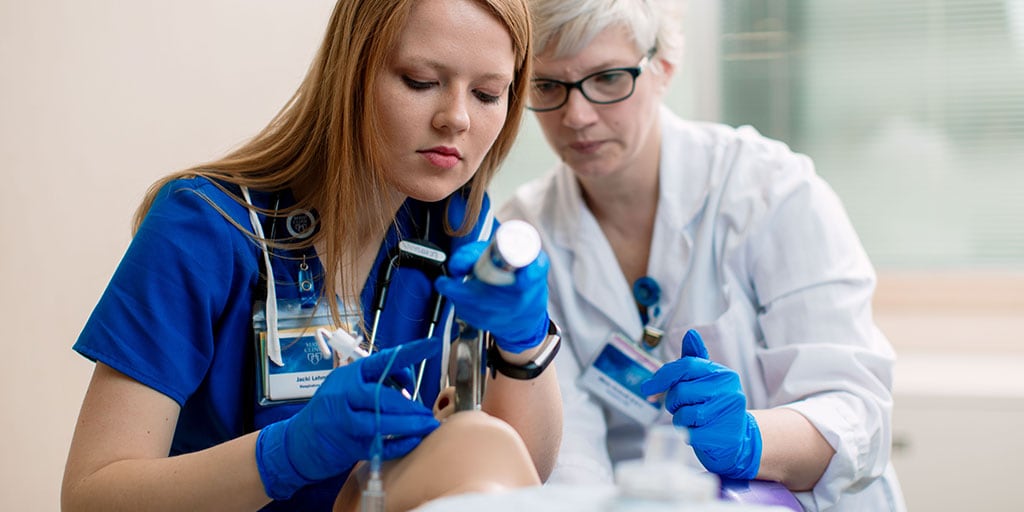 Program overview
Program length: 2 weeks
Class size: 12 students a year
Location: Phoenix, Arizona
This rotation trains students to give professional respiratory care in health care settings ranging from the emergency room to a patient's home.
Three primary factors make Mayo Clinic an ideal educational setting for you to receive your respiratory care training:
The breadth of respiratory conditions and care procedures you'll experience
The large volume of patients requiring respiratory testing and therapy
A diverse and highly educated faculty committed to your success
Graduation and certification
When you successfully complete the Respiratory Care Program, you will receive an Associate of Science degree from GateWay Community College and a certificate of completion from Mayo Clinic School of Health Sciences. Graduates of the GateWay respiratory care program are eligible to take the National Board for Respiratory Care (NBRC) certification and registry examinations. State licensure information is available from the Arizona Board of Examiners for Respiratory Care.
Application process
Prerequisites
To participate in the rotation, you must be enrolled in the Respiratory Care Program at GateWay Community College. The Associate of Science in Respiratory Care at GateWay Community College is a two-year academic program designed to prepare students to become entry-level respiratory care therapists.
You must successfully complete the required preprofessional and professional college course work before you are eligible to begin the respiratory care rotation.
Non-U.S. citizen applicants
Admission to Mayo Clinic School of Health Sciences is open to U.S. workers in the four categories below. Therefore, visa sponsorship is not available.
U.S. citizens
U.S. nationals
Lawful permanent residents
Asylees and refugees
Applicants whose primary language is not English must submit results from the Test of English as a Foreign Language Internet-based test (TOEFL iBT). Scores from the speaking portion of the exam are given particular consideration in admission decisions. Learn more about the exam and register online at the Educational Testing Service.
The Mayo Clinic School of Health Sciences code for the TOEFL iBT is 5784.
Educational transcripts from schools outside the U.S. must be translated (if they are not already in English) and evaluated for U.S. equivalence by an accredited credential evaluation service company prior to submission. Please refer to the National Association of Credential Evaluation Services for a list of qualified companies. The applicant pays for the examination and credential-evaluation services.
How to apply
You first must apply to the GateWay Community College Respiratory Care Program. As a student in the Respiratory Care Program, you will work with your program director to plan your clinical training experience.
The Mayo Clinic School of Health Sciences Education Committee reviews and approves the applications and works directly with GateWay Community College to place students accepted.
Tuition and financial aid
Tuition rates are determined by and paid to Gateway Community College. Mayo Clinic charges no additional fees.
You will need to purchase hunter green scrubs and white or black shoes, the required attire for all respiratory care rotations at Mayo Clinic. You also are responsible for providing your living accommodations and transportation.
Curriculum
As part of your final year of study in the Respiratory Care Program, you may participate in clinical rotations at Mayo Clinic Hospital.
These rotations may include:
General floor patient care
Critical care
Respiratory consult services
Emergency care
Advanced hemodynamic monitoring services
Arterial blood analysis
Advanced hemodynamic monitoring services
Diagnostic bronchoscopy assisting
During the rotations, you will observe and assist with:
Administering bronchodilator therapy for patients with chronic obstructive pulmonary disorder (COPD) and asthma
Performing percussive therapy and administering positive experatory pressure (PEP) therapy to patients with pneumonia
Providing mechanical ventilation to postsurgical patients (including those who have had coronary artery bypass graft and liver transplants), patients resuscitated by emergency medical staff, and long-term ventilator patients
Providing supplemental oxygen to patients
Assisting physicians with diagnostic procedures, such as bronchoscopy and metabolic stress testing
Providing advanced hemodynamic monitoring services, including insertion of peripherally inserted central catheters
Performing EKGs on cardiac patients in both the Emergency Department and other patient care areas
Harvesting and analyzing arterial blood to provide laboratory feedback to physician
Participating on the resuscitation team and attending patient emergencies
Providing respiratory care utilizing the respiratory consult services
As part of these procedures, respiratory therapists educate the patient and their families regarding therapy.
Schedule
For the majority of the clinical rotations, your learning schedule will include eight-hour days, two days a week.
Accreditation information
GateWay Community College's Respiratory Care Program is accredited by the Commission on Accreditation of Allied Health Education Programs (CAAHEP) in conjunction with the Commission on Accreditation for Respiratory Care (CoARC).
See accreditation information for Mayo Clinic College of Medicine and Science.