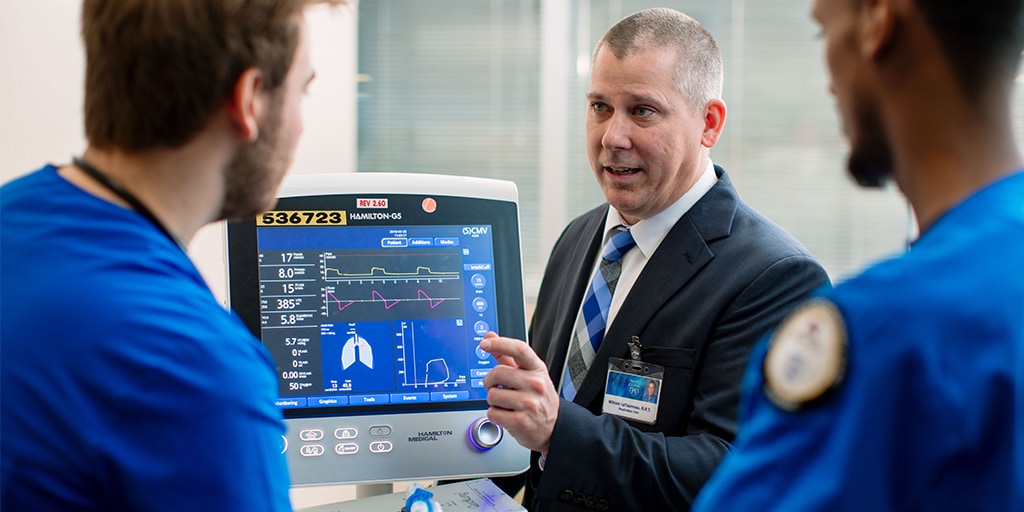 Program overview
Program length: 6 weeks
Class size: Varies
Location: Jacksonville, Florida
Students enrolled in the respiratory care program at Florida State College at Jacksonville, Concorde Career Institute, or St. Johns River State College may complete their clinical rotations at Mayo Clinic.
Training at Mayo Clinic provides:
A wide variety of respiratory conditions and care procedures
Large volumes of patients requiring respiratory testing and therapy
Diverse and highly educated faculty committed to your success
This rotation may be available to students at other colleges or universities. Contact Mayo Clinic School of Health Sciences for more information.
Application process
You must successfully complete the required pre-professional and professional college coursework before you are eligible to begin.
Non-U.S. citizen applicants
Admission to Mayo Clinic School of Health Sciences is open to U.S. workers in the four categories below. Therefore, visa sponsorship is not available.
U.S. citizens
U.S. nationals
Lawful permanent residents
Asylees and refugees
Applicants whose primary language is not English must submit results from the Test of English as a Foreign Language Internet-based test (TOEFL iBT). Scores from the speaking portion of the exam are given particular consideration in admission decisions. Learn more about the exam and register online at the Educational Testing Service.
The Mayo Clinic School of Health Sciences code for the TOEFL iBT is 5784.
Educational transcripts from schools outside the U.S. must be translated (if they are not already in English) and evaluated for U.S. equivalence by an accredited credential evaluation service company prior to submission. Please refer to the National Association of Credential Evaluation Services for a list of qualified companies. The applicant pays for the examination and credential-evaluation services.
How to apply
This rotation is organized as part of your curriculum with your home college. Plan your rotation experience with your program director.

Tuition and financial aid
Tuition rates are determined by and paid to the college or university at which you are enrolled. Mayo Clinic charges no additional fees.
You are responsible for your living accommodations and transportation.
Curriculum
As part of your final year of study, you participate in clinical rotations at Mayo Clinic, possibly including:
General floor patient care
Critical care
Emergency care
Pulmonary diagnostics (pulmonary function testing and interventional bronchoscopy)
Arterial blood analysis
Cardiopulmonary rehabilitation
During the rotations, you observe and assist with:
Administering therapy for patients with chronic and acute disease processes
Performing hyperinflation therapy
Providing mechanical ventilation to postsurgical patients (including those who have had coronary artery bypass graft, as well as heart, lung, and liver transplants), patients resuscitated by emergency medical staff and long-term ventilator patients
Providing supplemental oxygen to patients
Assisting physicians with diagnostic procedures
Analyzing arterial blood to provide laboratory feedback to physicians
Participating or observing on the rapid response and code teams
As part of these procedures, respiratory therapists educate the patients and their families regarding therapy.
Schedule
Student schedule is in collaboration with the individual learner and clinical instructors for Mayo Clinic and the respective education program designee.