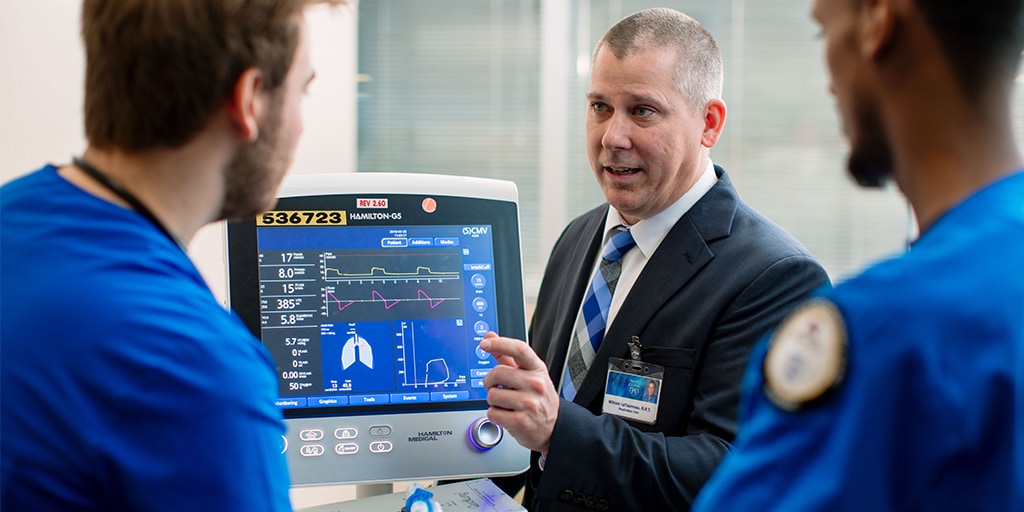 Program overview
Program length: 6 weeks
Class size: Varies
Location: Jacksonville, Florida
Students enrolled in the respiratory care program at Florida State College at Jacksonville and Concorde Career Institute complete their clinical rotations at Mayo Clinic.
Training at Mayo Clinic provides:
A wide variety of respiratory conditions and care procedures
Large volumes of patients requiring respiratory testing and therapy
Diverse and highly educated faculty committed to your success
This rotation may be available to students at other colleges or universities. Contact Mayo Clinic School of Health Sciences for more information.
Application process
You must successfully complete the required pre-professional and professional college coursework before you are eligible to begin.
How to apply
This rotation is organized as part of your curriculum with your home college. Plan your rotation experience with your program director.

Tuition and financial aid
Tuition rates are determined by and paid to the college or university at which you are enrolled. Mayo Clinic charges no additional fees.
You are responsible for your living accommodations and transportation.
Curriculum
As part of your final year of study, you participate in clinical rotations at Mayo Clinic, possibly including:
General floor patient care
Critical care
Level II neonatal intensive care unit (NICU)
Emergency care
Pulmonary diagnostics (pulmonary function testing and bronchoscopy assisting)
Arterial blood analysis
Electrocardiograms (ECGs) and exercise stress testing
Cardiopulmonary rehabilitation
During the rotations, you observe and assist with:
Administering bronchodilator therapy for patients with chronic obstructive pulmonary disorder (COPD) and asthma
Performing percussive therapy and administering positive expiratory pressure (PEP) therapy to patients with pneumonia
Providing mechanical ventilation to postsurgical patients (including those who have had coronary artery bypass graft, as well as heart, lung, and liver transplants), patients resuscitated by emergency medical staff and long-term ventilator patients
Providing supplemental oxygen to patients
Assisting physicians with diagnostic procedures, such as bronchoscopy and pulmonary exercise stress testing
Providing pulmonary function testing to diagnose respiratory-related disease processes
Performing ECGs on cardiac patients in both the emergency department and other patient care areas
Harvesting and analyzing arterial blood to provide laboratory feedback to physicians
Participating on the resuscitation team and attending patient emergencies
As part of these procedures, respiratory therapists educate the patients and their families regarding therapy.
Schedule
Students spend one day a week at Mayo Clinic Hospital during the introductory clinical phase. Second-year students rotate three days a week (eight-hour days) at Mayo Clinic Hospital.
Students also rotate to other medical facilities in the Jacksonville area.