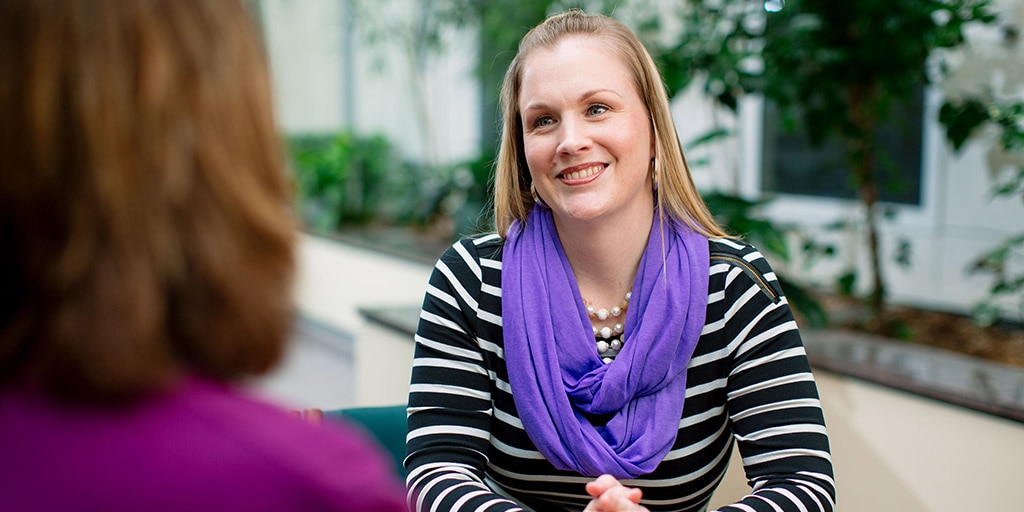 Program overview
Program length: 1 academic year or 2 consecutive semesters
Class size: 1-2 students
Location: Phoenix, Arizona
This internship provides the in-depth clinical knowledge and skills that students need to deliver comprehensive social services as well-rounded medical social workers. You will work with physicians, nurses, administrators, social workers, and other allied health professionals as a respected member of the patient care team.
You will learn at an internationally renowned medical center that includes a large designated cancer center and organ transplantation program and serve a large, diverse patient population with common and uncommon medical conditions.
As a social work intern, you help patients and their families cope with chronic, acute, or terminal illnesses, addressing problems that impede recovery or rehabilitation. You may organize support groups for families of people undergoing organ transplants or who have cancer, AIDS, Alzheimer's disease, or other illnesses.
You also advise family caregivers, counsel patients and help plan for patients' needs after discharge by arranging at-home services, from meals-on-wheels to oxygen equipment.
Graduation and certification
Upon successful completion of the internship, you will receive a certificate of completion from Mayo Clinic School of Health Sciences. If this internship completes your program requirements at Arizona State University, you will receive your master's degree from Arizona State University.
Application process
Your application and all supporting documentation must be received by May 15 for the fall semester. The program starts in August or beginning of academic year.
Prerequisites
Applicants for the Social Work Internship must be enrolled in the master's degree social work program at Arizona State University. Applicants are not selected based on grades alone, but your university cumulative GPA should be at least 3.0 on a 4.0 scale.It is suggested that all thesis and coursework be completed prior to the internship.
You are expected to know the biopsychosocial aspects of human behavior and social work practice principles. You must also have effective communication skills and the motivation to contribute in an interdisciplinary medical setting.
How to apply
Online application. Complete the Mayo Clinic School of Health Sciences online application.
Supporting documentation. Submit these materials:

Official transcripts of all college and university credits
Three letters of recommendation (letters may be submitted as part of the online application; letters completed offline must be received in a signed, sealed envelope)
A representative sample of your written work
A statement of your professional goals (one-page maximum)

Send these required materials in one envelope to:

Judy A. Cimochowski
Education Coordinator
Mayo Clinic
13400 E. Shea Blvd.
Scottsdale, AZ 85259
Interview process
Applicants considered for an appointment will be invited for a personal interview with the internship instructor. An interview can be arranged only when you have completed steps 1 and 2 and your application file is complete.
Acceptance
When acceptance letters are mailed, your reply is requested within one week. Your acceptance to the internship depends upon successful completion of the health review and background check.
Tuition and financial aid
There is no tuition for the internship.
You are responsible for providing your living accommodations and transportation.
You may hold outside employment during the internship if it does not conflict with your educational responsibilities.
Curriculum
During the internship, you participate in:
Patient care rounds
Multidisciplinary patient care team conferences
Staff and committee meetings
Program and policy development and implementation
Weekly seminars with the senior social work staff
As a social work intern, you:
Conduct psychosocial assessments and clinical interventions that include psychosocial diagnosis, treatment, and follow-up
Participate in patient care management and discharge planning
Make referrals to community resources
Provide patient and family education
Coordinate support groups
You are assigned a field instructor who is a staff member with two or more years of clinical experience. Your field instructor supervises your clinical assignments. A master's-level social worker coordinates the internship and supervises the field instructors and students. The coordinator also is the liaison to Arizona State University.
Schedule
For the majority of the internship, your learning schedule is determined by the requirements of your university program, but usually includes eight-hour days, two days a week.
Accreditation information
See accreditation information for Mayo Clinic College of Medicine and Science.