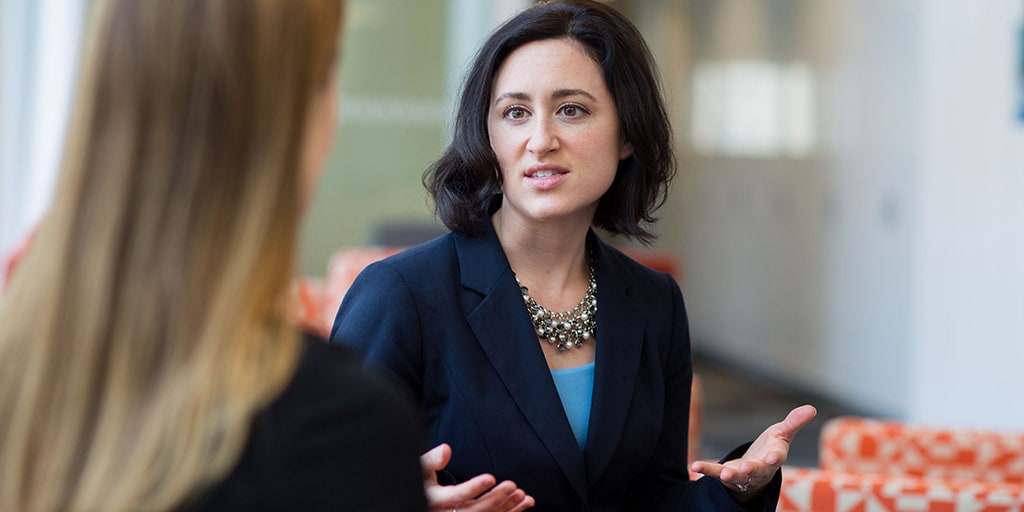 Program overview
Program length: 12, 18, or 32 weeks
Class size: 28 students a year
Location: Rochester, Minnesota
This internship provides the in-depth clinical knowledge and skills that students need to deliver comprehensive social services as well-rounded medical social workers. You will work with physicians, nurses, administrators, social workers, and other allied health professionals as a respected member of the patient care team.
During this internship, graduate, and undergraduate social work students work at Mayo Clinic facilities throughout the Midwest. You will learn at an internationally renowned medical center that includes a large designated cancer center and organ transplantation program and serve a large, diverse patient population with common and uncommon medical conditions.
As a social work intern, you evaluate and intervene with patients and their families who are experiencing chronic, acute, and terminal illnesses. Social workers are part of the interdisciplinary teams covering medical, surgical, and psychiatric settings.
Through individual and group work, you may provide services related to organ transplantation, cancer, HIV/AIDS, Alzheimer's disease, and mental health, as well as advise family caregivers and assist with patient discharges.
Graduation and certification
Upon successful completion of the internship, you receive a certificate of completion from Mayo Clinic School of Health Sciences.
Application process
The internship is offered on two academic tracks:
This internship provides in-depth clinical knowledge and skills that enable practitioners to deliver comprehensive services in both clinic and hospital settings. Master's-level social work students work with multidisciplinary teams to assess, diagnose, and intervene with patients and families experiencing complex medical and psychosocial challenges.
Students in the MSW track may learn under field instructors at Mayo Clinic facilities that include:
To be considered for the MSW track, you must be enrolled in a master's-degree social work program accredited by the Council on Social Work Education. You must be completing the internship in conjunction with a field seminar course required for graduation. Preferred candidates are participating in their clinical or final internship prior to graduation, with interest in working in the medical field.
This internship provides opportunities to develop social work practice skills and professional competency in the medical setting. Bachelor-level social work interns will work with multidisciplinary teams to assess patients and families in the medical setting, and provide relevant counseling, resources, and support.
Students in the BSW track may practice under field instructors at several Mayo Clinic Health System locations, including:
To be considered for the BSW track, you must be enrolled in a bachelor of social work degree program accredited by the Council on Social Work Education. You must be completing the internship in conjunction with a field seminar course required for graduation.
Application timeline
Your application should be received by Jan. 15 for summer semester, March 31 for fall semester and Sept. 15 for spring semester.
Prerequisites
Applicants are not selected based on grades alone, but your college or university cumulative GPA should be at least 3.0 on a 4.0 scale.
You are expected to know the biopsychosocial aspects of human behavior and social work practice principles. You must also have effective communication skills and the motivation to contribute in an interdisciplinary medical setting.
Non-U.S. citizen applicants
Admission to Mayo Clinic School of Health Sciences is open to U.S. workers in the four categories below. Therefore, visa sponsorship is not available.
U.S. citizens
U.S. nationals
Lawful permanent residents
Asylees and refugees
Applicants whose primary language is not English must submit results from the Test of English as a Foreign Language Internet-based test (TOEFL iBT). Scores from the speaking portion of the exam are given particular consideration in admission decisions. Learn more about the exam and register online at the Educational Testing Service.
The Mayo Clinic School of Health Sciences code for the TOEFL iBT is 5784.
Educational transcripts from schools outside the U.S. must be translated (if they are not already in English) and evaluated for U.S. equivalence by an accredited credential evaluation service company prior to submission. Please refer to the National Association of Credential Evaluation Services for a list of qualified companies. The applicant pays for the examination and credential-evaluation services.
How to apply
Contact the program director for information before initiating the application process to ensure your application is considered for the appropriate program track and practice location.
Application and supporting documentation. Submit these materials:

Current resume or CV with a cover letter including a statement of your professional goals
A letter from the faculty member of your school of social work that is responsible for field placements indicating the school's approval and support of this placement for you

Send the required materials listed above by email, or by mail in one envelope to:

Benjamin Mohr, L.I.C.S.W., M.S.W.
Mayo Clinic
Mayo Building, Lobby Level 64W
200 First St. SW
Rochester, MN 55905

Email: mohr.benjamin@mayo.edu
Interview process
The selection committee carefully reviews each application. Individuals considered for acceptance may be invited to interview with the program director and selected faculty. An interview can be arranged only when your application file is complete.
Acceptance
When acceptance notifications are sent, your reply is requested within one week. Your acceptance to the program depends upon successful completion of the health review and background check.
Tuition and financial aid
There is no tuition for the internship. You are responsible for providing your living accommodations and transportation.
You may hold outside employment during the internship if it does not conflict with your educational responsibilities.
Curriculum
The internship is offered as a 12-week practicum in the summer, for 18 weeks in the fall or spring, and for 32 weeks beginning in September. Your training may take place at Mayo Clinic and the two campuses of Mayo Clinic Hospital (Methodist Campus and Saint Marys Campus), or one of the Mayo Clinic Health System locations throughout the Midwest region.
During the internship, you participate in:
Patient care rounds
Multidisciplinary patient care team conferences
Staff and committee meetings
Program and policy development and implementation
As a social work intern, you:
Conduct psychosocial assessments and clinical interventions that include psychosocial diagnosis, treatment, and follow-up
Participate in patient case management and discharge planning
Make referrals to community resources
Provide patient and family education
Coordinate support groups
You are assigned a field instructor who is a staff member with two or more years of clinical experience. Your field instructor supervises your clinical assignments. A master's-level social worker coordinates the internship and supervises the field instructors and students. The coordinator is also the liaison to each intern's academic institution.
Schedule
Hours may vary and are based on program length. Student internship hours are coordinated with program faculty and are generally completed on weekdays between 8 a.m. and 5 p.m.
Accreditation information
See accreditation information for Mayo Clinic College of Medicine and Science.