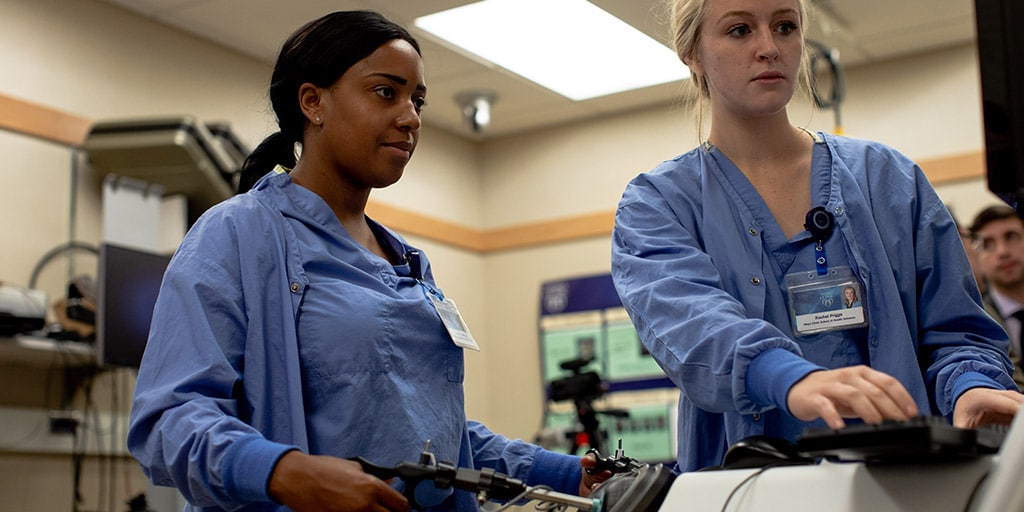 Program overview
Program length: 4-8 weeks
Class size: 2 students at a time
Location: Jacksonville, Florida
This clinical rotation prepares students for careers as members of the surgical team in the operating room under the direct supervision of experienced nurses and surgeons. The length of the rotation is flexible and depends on the home institution's requirements.
Application process
To complete the clinical rotation at Mayo Clinic, you must be enrolled in the surgical technology program at either Florida State College, Fortis College, or Concorde Career Institute. Students enrolled in these programs complete surgical rotations in general surgery and outpatient surgery at Mayo Clinic during the final phase of their education.
Non-U.S. citizen applicants
Admission to Mayo Clinic School of Health Sciences is open to U.S. workers in the four categories below. Therefore, visa sponsorship is not available.
U.S. citizens
U.S. nationals
Lawful permanent residents
Asylees and refugees
Applicants whose primary language is not English must submit results from the Test of English as a Foreign Language Internet-based test (TOEFL iBT). Scores from the speaking portion of the exam are given particular consideration in admission decisions. Learn more about the exam and register online at the Educational Testing Service.
The Mayo Clinic School of Health Sciences code for the TOEFL iBT is 5784.
Educational transcripts from schools outside the U.S. must be translated (if they are not already in English) and evaluated for U.S. equivalence by an accredited credential evaluation service company prior to submission. Please refer to the National Association of Credential Evaluation Services for a list of qualified companies. The applicant pays for the examination and credential-evaluation services.
How to apply
Affiliated institutions process the admissions and applications for their surgical technology programs and help students plan their rotation at Mayo Clinic.
Tuition and financial aid
Tuition rates are determined by and paid to the college or university at which you are enrolled. Mayo Clinic does not charge additional fees.
Mayo Clinic provides your scrub attire during your clinical rotations. You are responsible for providing your living accommodations and transportation.
You may hold outside employment if it does not conflict with your educational responsibilities.
Curriculum
During the last phase of your surgical technology program, you can participate in a clinical rotation at Mayo Clinic.
Through Mayo Clinic's well-planned and supervised clinical rotation, you gain surgical technology experience in two key areas of surgery:
General surgery. The perioperative teams in general surgery provide care to patients requiring procedures of the neck, breast, stomach, small bowel, liver, pancreas, and spleen. In the general surgery area, gallbladder surgery, appendectomies, and many bowel resections are performed using laparoscopic technology. Other laparoscopic procedures include inguinal hernia repair, cholecystectomy, splenectomy, adrenalectomy, and lymph node biopsy prior to liver resection.
Outpatient surgery. The outpatient clinic rotation includes common surgeries with low-risk patients who do not require hospitalization. Examples of procedures you assist with on this rotation include simple plastic surgery, low-level orthopedic procedures (for example, bunion removal), cataract surgery, and gastrointestinal (GI) procedures.
Schedule
For the majority of the rotation, your learning schedule includes eight-hour days, five days a week.
Accreditation information
See accreditation information for Mayo Clinic College of Medicine and Science.