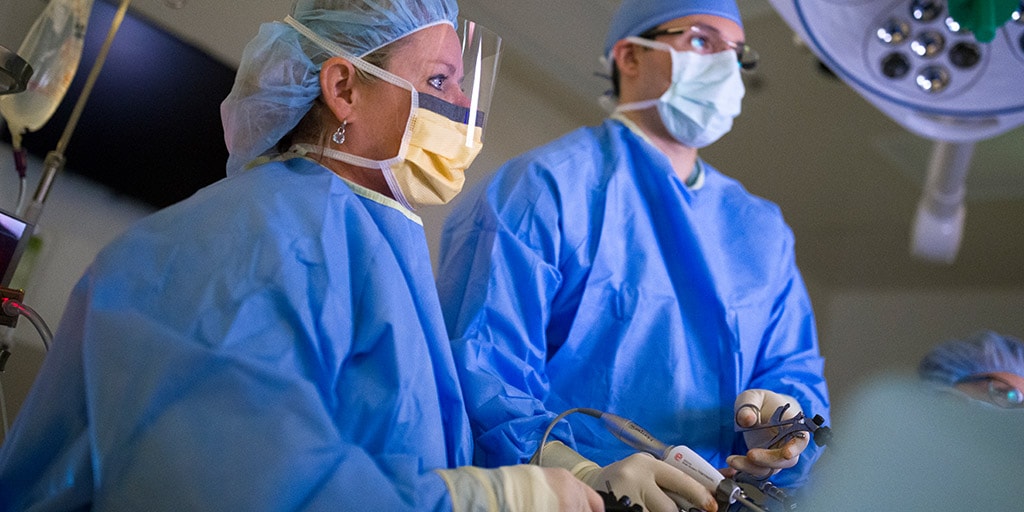 Program overview
Program length: 6 months
Class size: 25 students a year
Location: Rochester, Minnesota
Students enrolled in the Surgical Technology Program at Rochester Community and Technical College complete six months of surgical rotations in general and specialty areas at Mayo Clinic during the final year of their education. Arrangements are made through your program director.
Graduation and certification
You will obtain voluntary professional certification from the National Board of Surgical Technology and Surgical Assisting by graduating from a CAAHEP-accredited program and passing a national certification examination. You then may use the designation Certified Surgical Technologist, or C.S.T. Continuing education or re-examination is required to maintain certification, which must be renewed every four years.
Upon successful completion of your surgical technology program, you will graduate from your college, receiving your Associate of Applied Science (AAS) degree.
Application process
Prerequisites
You must successfully complete the required pre-professional and professional college course work before you are eligible to begin the surgical technology rotation.
How to apply
Rochester Community and Technical College processes the applications for its Surgical Technology Program and works with students to plan their training rotations.
Tuition and financial aid
Tuition rates are determined by and paid to Rochester Community and Technical College. Mayo Clinic School of Health Sciences charges a tuition sharing fee for each student that begins clinical to be collected by Rochester Community Technical College.
Curriculum
The Surgical Technology Program at Rochester Community and Technical College incorporates a combination of classroom studies, labs, and clinical experiences to prepare you to assist members of the surgical team, such as surgeons, anesthesiologists, nurses, and surgical technologists.
Schedule
Rotations take place on weekdays, with specific hours determined by the affiliated institution.
Accreditation information
Programs affiliated with Mayo Clinic School of Health Sciences are accredited by the Commission on Accreditation of Allied Health Education Programs (CAAHEP) on recommendation of the Association of Surgical Technologists and sponsored by the American College of Surgeons and the American Hospital Association.
See accreditation information for Mayo Clinic College of Medicine and Science.