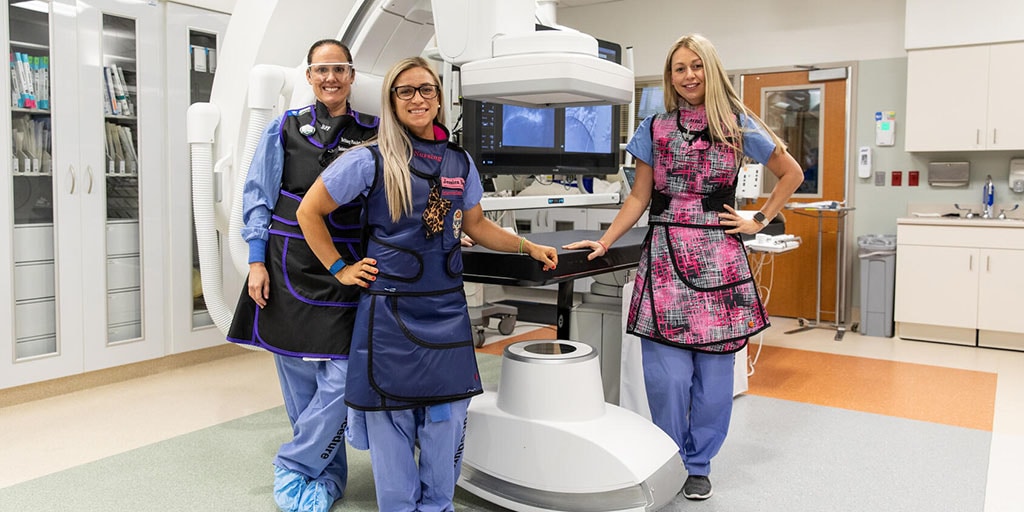 Program overview
Program length: 8 months
Class size: 2 students each year
Location: Jacksonville, Florida
The Vascular Interventional Radiology Technology Internship is designed to enhance the knowledge and skills of postgraduate radiography students. You receive technological training in an expansive variety of vascular and non-vascular interventional radiography procedures exceeding the criteria required by the American Registry of Radiologic Technologists (ARRT).
The internship prepares you for a career in Vascular Interventional (IR) radiography by providing a high-quality curriculum, state-of-the-art facilities, a diverse patient population, and a favorable faculty-to-student ratio, all in an environment supporting the service values of Mayo Clinic.
What makes training at Mayo Clinic unique is the multidisciplinary approach that is valued among physicians, nurses, technologists, and other health professionals. Mayo Clinic in Jacksonville is a Destination Medical Center with national certifications as a comprehensive stroke center and a designated comprehensive cancer center. The Interventional Radiology practice specializes in interventional oncology, treatment of complex vascular disease, and neuroendovascular interventions. This level of expertise with a shared approach to education is what gives students a learning experience you won't find anywhere else.
Graduation and certification
Graduates are eligible to sit for the ARRT vascular-interventional (VI) registry, which provides graduates with nationally recognized credentials to practice vascular interventional radiology. Individual states may have other requirements.
Admissions requirements
To apply to the internship, you must have completed an accredited radiology program, be a certified radiographer through ARRT and Florida Department of Health, and be Basic Life Support (BLS) certified or expect to be prior to the beginning of the internship.
Applicants are not selected based on grades alone. Letters of reference and interviews also are required.
Non-U.S. citizen applicants
Admission to Mayo Clinic School of Health Sciences is open to U.S. workers in the four categories below. Therefore, visa sponsorship is not available.
U.S. citizens
U.S. nationals
Lawful permanent residents
Asylees and refugees
Applicants whose primary language is not English must submit results from the Test of English as a Foreign Language Internet-based test (TOEFL iBT). Scores from the speaking portion of the exam are given particular consideration in admission decisions. Learn more about the exam and register online at the Educational Testing Service.
The Mayo Clinic School of Health Sciences code for the TOEFL iBT is 5784.
Educational transcripts from schools outside the U.S. must be translated (if they are not already in English) and evaluated for U.S. equivalence by an accredited credential evaluation service company prior to submission. Please refer to the National Association of Credential Evaluation Services for a list of qualified companies. The applicant pays for the examination and credential-evaluation services.
Application process
Your application and all supporting documentation must be received between the deadline outlined below.
Complete the following steps to apply:
Create an account to begin the online Application for Admission

Select – Mayo Clinic School of Health Sciences
Select – Vascular Interventional Radiologic Technology Internship

Complete each section of the application and submit
After submission, view the required Supplemental Items and Documents

Upload each required item in the Supplemental Items section
Complete the Recommendation Request section
Additional required items
CV/resume
Essay/personal statement

How did you become interested in the field you have chosen to study?
Describe any observational or training experience(s) you have had and what you learned about the career from the experience(s).
What are your career objectives within the field?
How has your previous education or training prepared you for your career choice?
What awards, academic honors, or scholarships have you received that might apply to your chosen field?
What school or community activities have you participated in?
Describe any personal qualities or experiences that make you a competitive candidate for this program.

Three letters of recommendation, one from each of the categories listed below, are required and must be completed in the Recommendation Request section. Each recommender will receive an email with a link to complete a rating form and upload a letter.

Academic: Choose a person familiar with your educational qualifications and your potential for success in the field of radiography. References may include former teachers or professors.
Professional: Choose a person familiar with your professional qualifications and your potential for success in the field of radiography. References may include employers, teachers, or supervisors.
Personal: Choose a person familiar with your personal qualifications and your potential for success in the field of radiography. References may include former or present teachers, employers, club and society leaders, or members of the clergy.

Unofficial college transcripts, including credits and grades from your most recent quarter or semester, may be uploaded in the Supplemental Items area for application purposes. High school transcripts are not required.
If admitted, official transcripts must be sent directly from the school to Mayo Clinic School of Health Sciences and must include an embossed seal. If they are sent to you first, they must be in their original, unopened envelopes, and sent to:
Mayo Clinic School of Health Sciences
Jessica Scott, R.T. (R)(VI)
4500 San Pablo Road
Interventional Radiology, Mayo Bldg 2-314S
Jacksonville, FL 32224
Note: Incomplete applications, or applications postmarked or electronically submitted outside of the application time frame, may not be processed. Program information and application materials are updated each year and therefore are not valid for subsequent applications.
Interview process
Applicants considered for an acceptance will be invited to Mayo Clinic's campus in Jacksonville, Florida, for a personal interview with the program director and selected faculty. Interviews can be conducted via webcam depending on your state of permanent residence or personal choice. Interviews are held in August each year.
Acceptance
Acceptance letters will be sent in the mail. If you receive an acceptance letter, your reply is expected within two weeks. Your acceptance to the program is dependent upon successful completion of the physical examination and background check.
Tuition and financial aid
There is no tuition or fees for the Vascular Interventional Radiologic Technology Internship.
Surgical scrubs are provided, though you must abide by the Department of Radiology dress and decorum policy for entering the building. The purchase of department-specific colored uniforms may be required.
You are responsible for providing your own living accommodations and transportation.
You may hold outside employment during the internship if it does not conflict with educational time.
Stipend
Interns will receive a $30,844.80 stipend, paid in bi-weekly installments. Our pay weeks are from Wednesday-Tuesday.
Benefits
The internship will include a full package of benefits, which includes medical insurance coverage.
Curriculum
The curriculum for the Vascular Interventional Radiologic Technology Internship consists of clinical and didactic experiences.
The clinical experience makes up 90% of the program and fulfills ARRT clinical requirements needed for VI board. You will rotate between three clinical areas: neuroradiology, body intervention, and vascular surgery. Clinical rotations are scheduled in several areas at Mayo Clinic and Mayo Clinic hospital. No off-site rotations are required as part of the program curriculum.
The didactic experience satisfies the structured education requirements required by the ARRT. Lectures are taught face-to-face. You are encouraged, but not expected, to review interventional radiology cases with the medical adviser or department attending (or both) to gain a more complete introduction to the science.
As a Vascular Interventional Radiologic Technology Intern (VIRTI), you:
Scrub and circulate interventional cases, perform radiologic technologist responsibilities, and practice proper aseptic and sterile technique
Experience a progressive and independent clinical education guided by the program's faculty
Experience a diverse amount of procedural opportunities including Neuro Interventional (NIR) cases as well as vascular surgery cases- Earn the 16 hours of structured education requirements by the ARRT to sit for the Vascular Interventional (VI) exam
Meet the ARRT's clinical experience requirements needed to sit for the Vascular Interventional (VI) examination
Upon completion, you will have obtained comprehensive exposure, under direct program faculty supervision, in the management of various diseases.
Schedule
Your learning schedule will be from 6:45 a.m. to 5:15 p.m., Tuesday through Friday, plus a maximum of five on-call training weekends.
Accreditation information
The Vascular Interventional Radiologic Technology Internship is a nonaccredited program.
See accreditation information for Mayo Clinic College of Medicine and Science.
One of the most interesting and motivating aspects of my work is that I have received great trust from other technologists and physicians. This field includes hundreds of different types of cases. When you keep pushing through, no matter what the situation is or how painful the setbacks are, incredible things begin to happen. My work in this field fills me with happiness and satisfaction.
Leslie Fisette, R.T.(R)(VI)
2018 graduate
It was an honor to be the first student accepted into the program in 2011. Not only did the program prepare me for a career in the Department of Interventional Radiology, but I had an opportunity to provide valuable feedback to help shape the program into what it is today. This internship provided me with great experiences, and has led me to a career with Philips in clinical education. I am forever grateful to have worked with such great staff and physicians.
John Lane
2011 graduate who now works as a Clinical Applications Specialist at Philips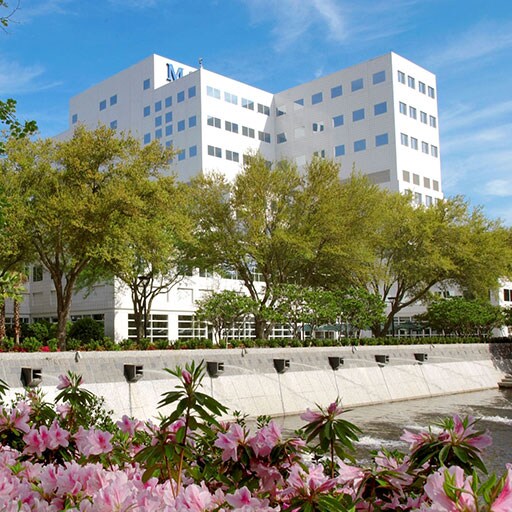 Campus and community
Jacksonville, FL