Honorary Degree Recipients
Mayo Clinic College of Medicine and Science recognizes outstanding individuals in their fields with an honorary degree. The following are recent recipients chosen to receive an honorary degree.
2022 recipients
Ursula Burns: Arizona commencement speaker and honorary degree recipient
Ursula Burns has extensive international experience leading large companies facing technology sea changes within their industries.
She rose from an intern at Xerox Corporation to Chief Executive Officer from 2009 to 2016 and Chairman of the Board from 2010 to 2017. During her tenure as CEO, Burns helped the company transform from a global leader in document technology to the world's most diversified business services company serving enterprises and governments of all sizes. After her retirement from Xerox, Burns was appointed CEO and Chairman of VEON, Ltd. from 2018-2020. During her tenure at VEON, Ltd., Burns successfully steered the company through various compliance and restructuring changes.
Burns is a member of the Exxon Mobil, Uber Technologies, Inc., Endeavor Group Holdings, Inc., and IHS Holdings Boards of Directors. She is also a founding partner of Integrum Holdings, Non-Executive Chairman of Teneo Holdings LLC, and the Executive Chairman of Plum Acquisition Corp I. In addition, she is on several private company boards, including Mayo Clinic, Waystar, and Hear.com, while also providing leadership counsel to non-profits including the Ford Foundation, the Massachusetts Institute of Technology Corporation, and the Metropolitan Museum of Art.
U.S. President Barack Obama appointed Burns to lead the White House national program on Science, Technology, Engineering, and Math from 2009-2016, and Burns served as Chair of the President's Export Council from 2015-2016. In February 2022, Burns joined the U.S. Department of Commerce's Advisory Council on Supply Chain Competitiveness.
Burns holds a master's degree in mechanical engineering from Columbia University and a bachelor's degree in mechanical engineering from Polytechnic Institute of New York University. She is a member of the National Academy of Engineering, American Academy of Arts and Sciences, Royal Academy of Engineering, and the G7 Gender Equity Advisory Council.
Samuel A. Di Piazza, Jr.: Minnesota commencement speaker and honorary degree recipient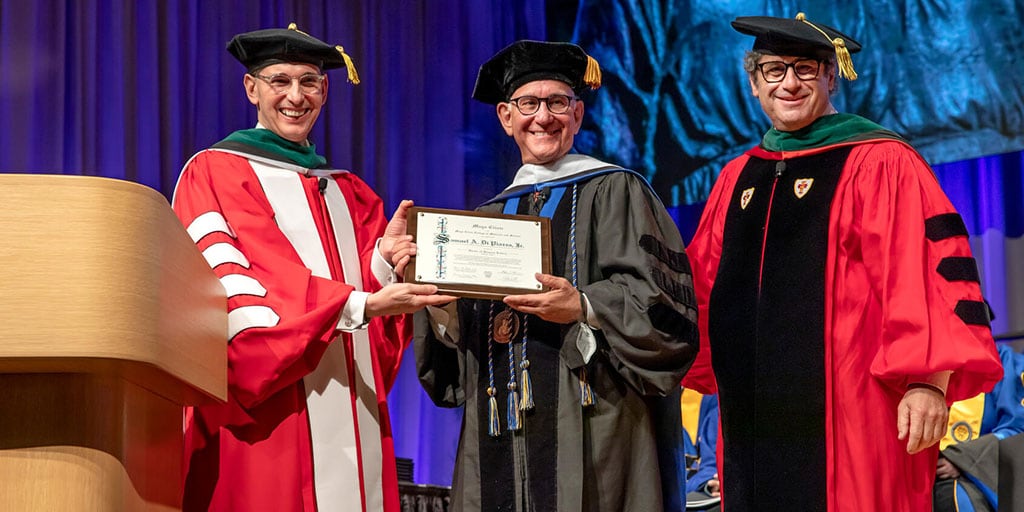 Sam Di Piazza is the retired global CEO of PwC. He held multiple leadership positions during his 36-year career at the company, including chairman and senior partner and member, Global Leadership Team. He also served as vice chairman, Global Corporate and Investment Bank for Citigroup, Inc. He is currently the Chairman of Warner Bros. Discovery, Inc.
Mr. Di Piazza is a recipient of the Ellis Island Medal of Honor and the INROADS Leadership Award. He is an internationally recognized author and commentator in fields such as corporate reporting, transparency, anti- corruption, and sustainable development.
He served as chair of the Mayo Clinic Board of Trustees from 2014 through February 2021. He currently serves as a member of the board of directors of Warner Bros. Discovery, Jones Lang LaSalle, Inc., ProAssurance, Inc., and Regions Financial Corporation. Mr. Di Piazza is a member of the board of trustees of St. Patrick's Cathedral, the Inner-City Scholarship Fund of New York, Mother Cabrini Health Foundation and Seton Education Partners. He serves as a global counselor to The Conference Board.
Past recipients
John Noseworthy, M.D., is president and CEO emeritus of Mayo Clinic. Dr. Noseworthy served as president and CEO from 2009 to 2018, leading one of the largest not-for-profit, academic health systems in the U.S., with $13 billion in annual revenues and 65,000 employees. With a focus on caring for patients with serious, complex illnesses, Mayo Clinic operates in five states and cares for more than one million people a year, from all 50 states and nearly 140 countries. Mayo Clinic is currently ranked #1 in the nation by U.S. News and World Report.
Under his leadership as president and CEO, Mayo Clinic transitioned from a holding company to a single operating company, strengthening Mayo's ability to consistently achieve top decile performance in quality, safety, education, research, fundraising, finance, and reputation measures. Mayo Clinic entered a strategic partnership with the state of Minnesota and local and regional government to form Destination Medical Center, an innovative economic development initiative designed to maintain and grow Mayo Clinic, Rochester, and the state of Minnesota as a global destination for medicine and health science innovation. Dr. Noseworthy and his leadership team also led efforts to help Mayo Clinic become a leading model for diversity, where all patients and staff feel welcome and included.
Prior to his appointment as CEO in 2009, Dr. Noseworthy was chair of Mayo Clinic's Department of Neurology, medical director of the Department of Development, and vice chair of the Mayo Clinic Rochester Executive Board.
Dr. Noseworthy served as professor in the Department of Neurology. He specialized in multiple sclerosis and spent more than two decades designing and conducting controlled clinical trials. Dr. Noseworthy is the author of more than 150 research papers, chapters, editorials, and several books, including the three-volume textbook Neurological Therapeutics: Principles and Practice now in its second edition. He also served as editor-in-chief for Neurology, the official journal of the American Academy of Neurology.
Born in Melrose, Mass., Dr. Noseworthy received his M.D. degree from Dalhousie University in Halifax, Nova Scotia, Canada. He completed his neurology training at Dalhousie University and the University of Western Ontario, and a research fellowship at Harvard Medical School. He joined Mayo Clinic in 1990. He has received the Alumnus of the Year award from Dalhousie University (2005), an honorary doctorate of science degree from the University of Western Ontario (2012), and an honorary doctorate of law from Dalhousie University (2015). Dr. Noseworthy was named an Officer of the Order of the Orange-Nassau (2015) and received the Research!America, Geoffrey Beene Builders of Science Award (2016). Dr. Noseworthy was a Health Governor of the World Economic Forum from 2011 until 2018. Dr. Noseworthy served as a member of the Board of Directors of Merck & Co., Inc. and serves as a member of the Board of Directors of United Health Group, Alix Partners, and the MITRE Corporation. Dr. Noseworthy and his wife, Patricia, have two sons, Peter and Mark.
Mr. Powell is the president and CEO of NCTA - The Internet & Television Association and is the former chairman of the Federal Communications Commission (FCC). He was appointed to the FCC by President Bill Clinton in 1997 and appointed chairman by President George W. Bush in 2001, serving until 2005. During his time as FCC chair, Chairman Powell oversaw the rapid transformation of communications markets into the Digital Age. During his tenure, the Internet came into widespread commercial use, as did smart phones, Wi-Fi networks, and satellite radio. In his current role as president and CEO of NCTA, Mr. Powell leads one of the largest trade associations in Washington, D.C., representing the communications and content industries.
His prior public service roles include chief of staff of the Antitrust Division of the Department of Justice, policy advisor to the Secretary of Defense and service as an armored cavalry officer in the U.S. Army. In the private sector, he practiced law and was a senior advisor in a private equity firm. Chairman Powell also served on the public boards of Cisco and AOL. Chairman Powell currently serves on several nonprofit boards in addition to Mayo Clinic. He is the Chairman of the William & Mary Foundation and Vice Chairman of America's Promise Alliance.
Dr. Fauci was appointed director of National Institute of Allergy & Infections Diseases in 1984. He oversees an extensive portfolio of basic and applied research to prevent, diagnose, and treat established infectious diseases such as HIV/AIDS, respiratory infections, diarrheal diseases, tuberculosis, and malaria as well as emerging diseases such as Ebola and Zika. NIAID also supports research on transplantation and immune-related illnesses, including autoimmune disorders, asthma, and allergies. The NIAID budget for fiscal year 2021 is an estimated $6.1 billion.
Dr. Fauci has advised seven presidents on HIV/AIDS and many other domestic and global health issues. He was one of the principal architects of the President's Emergency Plan for AIDS Relief (PEPFAR), a program that has saved millions of lives throughout the developing world.
Dr. Fauci also is the longtime chief of the Laboratory of Immunoregulation. He has made many contributions to basic and clinical research on the pathogenesis and treatment of immune-mediated and infectious diseases. He helped pioneer the field of human immunoregulation by making important basic scientific observations that underpin the current understanding of the regulation of the human immune response. In addition, Dr. Fauci is widely recognized for delineating the precise ways that immunosuppressive agents modulate the human immune response. He developed effective therapies for formerly fatal inflammatory and immunemediated diseases such as polyarteritis nodosa, granulomatosis with polyangiitis (formerly Wegener's granulomatosis), and lymphomatoid granulomatosis. A 1985 Stanford University Arthritis Center Survey of the American Rheumatism Association membership ranked Dr. Fauci's work on the treatment of polyarteritis nodosa and granulomatosis with polyangiitis among the most important advances in patient management in rheumatology over the previous 20 years.
Dr. Fauci has made seminal contributions to the understanding of how HIV destroys the body's defenses leading to its susceptibility to deadly infections. Further, he has been instrumental in developing treatments that enable people with HIV to live long and active lives. He continues to devote much of his research to the immunopathogenic mechanisms of HIV infection and the scope of the body's immune responses to HIV.
In a 2021 analysis of Google Scholar citations, Dr. Fauci ranked as the 35th most-cited living researcher. According to the Web of Science, Dr. Fauci ranked 9th out of 2.5 million authors in the field of immunology by total citation count between 1980 and January 2021. During the same period, he ranked 20th out of 2.4 million authors in the field of research & experimental medicine, and 132nd out of 992,000 authors in the field of general & internal medicine.
Dr. Fauci has delivered major lectures all over the world and is the recipient of numerous prestigious awards, including the Presidential Medal of Freedom (the highest honor given to a civilian by the President of the United States), the National Medal of Science, the George M. Kober Medal of the Association of American Physicians, the Mary Woodard Lasker Award for Public Service, the Albany Medical Center Prize in Medicine and Biomedical Research, the Robert Koch Gold Medal, the Prince Mahidol Award, and the Canada Gairdner Global Health Award. He also has received 50 honorary doctoral degrees from universities in the United States and abroad.
Dr. Fauci is a member of the National Academy of Sciences, the National Academy of Medicine, the American Academy of Arts and Sciences, and the American Philosophical Society, as well as other professional societies including the American College of Physicians, the American Society for Clinical Investigation, the Association of American Physicians, the Infectious Diseases Society of America, the American Association of Immunologists, and the American Academy of Allergy, Asthma & Immunology. He serves on the editorial boards of many scientific journals and as an author, coauthor, or editor of more than 1,300 scientific publications, including several textbooks.
Dr. Prendergast received his medical degree with honors from the University of West Indies in 1968. He was named best preclinical and best clinical student. After an internship he attended Lincoln College, University of Oxford, as a Rhodes Scholar where he obtained a B.A. with First Class Honors in 1971 and an M.A. in 1979. He began an Internal Medicine residency at Mayo Clinic in 1971 and subsequently obtained a Ph.D. in biochemistry from the joint Mayo Graduate School/University of Minnesota program in 1977.
Dr. Prendergast was appointed to the Faculty of the Department of Pharmacology at Mayo Graduate School immediately after completing his Ph.D. and rose through the ranks quickly to become a full professor in 1986, both in the Department of Pharmacology and in the Department of Biochemistry and Molecular Biology. That same year, he was named the Edmond and Marion and Guggenheim Professor as well as the Chair of the Department of Biochemistry and Molecular Biology. He was also named Mayo Distinguished Investigator.
Dr. Prendergast served extensively on several senior internal Mayo administrative committees in the interim between 1977 and 1986, most notably as a member of the Institutional Research Committee. In these capacities he played an integral role in establishing major research policies and facilities while simultaneously being very involved in the Mayo Graduate School and the Mayo Medical School as both mentor and administrator. In 1988 he was awarded Mayo Graduate School's Teacher of the Year award for his outstanding contribution to Graduate School education. For his research he was named as an Established Investigator of the American Heart Association in 1980.
Throughout his long research career Dr. Prendergast served extensively with the National Science Foundation and the National Institutes of Health in a wide variety of roles as a scientific reviewer and advisor. He was a charter member of the Council for the Division of Research Grants, a member of the National Advisory for General Medical Sciences, a member of the National Cancer Institute Board of Scientific Advisors, a Presidential appointee as a member of the National Cancer Advisory Board, and a charter council member for the National Center for Advancing Translational Services.
Dr. Prendergast was appointed as the Director for Research of Mayo Clinic in Rochester in 1989, serving for the subsequent four years in that capacity. In 1990 he was also appointed to Mayo's highest administrative committees: the Mayo Clinic Board of Governors and the Mayo Foundation's Board of Trustees. He served on these bodies continuously until 2009. In 1995 he was appointed as Director of the Mayo Clinic Comprehensive Cancer Center, a position he held until September 2006. He was responsible for leading the most substantive expansion, transformation and revivification of that enterprise in its history, which in turn helped to regain NCI Comprehensive Cancer Center Status. His last administrative role at Mayo was as the charter Director of the Mayo Center for Individualized Medicine. He retired from that position as well as from the Mayo Foundation in December 2014.
Throughout his academic career, Dr. Prendergast participated extensively in numerous NIH and NSF grant review groups, task forces and advisory committees. He served on the Board of Directors or the Scientific Advisory Board of several biotechnology startups. Additionally, he was appointed as a non-executive member of the Board of Directors of Eli Lilly and Co., a post he held from 1995 until 2017. He has been awarded several honors, including honorary doctorates from Purdue University and the University of the West Indies as well as Distinguished Alumni awards from the University of the West Indies, the University of Minnesota and—most recently in 2019—the Mayo Clinic.
Richard Axel, M.D., is a molecular biologist; Nobel Laureate; university professor; professor of biochemistry and molecular biophysics, neuroscience and pathology; investigator at the Howard Hughes Medical Institute, and co-director of the Mortimer B. Zuckerman Mind Brain Behavior Institute at Columbia University in New York City.
In earlier studies with his colleagues geneticist Michael Wigler, Ph.D., and microbiologist Saul Silverstein, Ph.D., Dr. Axel developed gene transfer techniques that permit the introduction of virtually any gene into any mammalian cell. These studies not only afforded a novel approach to isolate genes but also permitted a detailed analysis of how they worked. This approach led to the isolation and functional analysis of the gene for the lymphocyte surface protein, CD4, the cellular receptor for the AIDS virus, HIV.
Dr. Axel then began to apply molecular biology to problems in neuroscience, with the expectation that genetics could interface with neuroscience to approach the tenuous relationship between genes, behavior and perception. His studies on the logic of the sense of smell revealed more than a thousand genes involved in the recognition of odors and provided insight into how genes shape our perception of the sensory environment. This research earned him the 2004 Nobel Prize in Physiology or Medicine.
Dr. Axel's current work centers on how recognition of odors is translated into an internal representation of sensory quality in the brain and how this representation leads to meaningful thoughts and behavior.
Dr. Axel is a member of the U.S. National Academy of Science and the American Philosophical Society. He is a fellow in the American Academy of Arts and Sciences.
Dr. Axel obtained a bachelor's degree from Columbia College and a medical degree from Johns Hopkins University School of Medicine.
Robert J. Lefkowitz, M.D., is James B. Duke Professor of Medicine and Professor of Biochemistry and Chemistry at the Duke University Medical Center in Durham, North Carolina. He has been an investigator of the Howard Hughes Medical Institute since 1976.
Dr. Lefkowitz began his research career in the late 1960s and early 1970s, when there was no clear consensus that receptors even existed. His group spent 15 years developing techniques for radioligand binding, solubilization, purification and reconstitution of the four adrenergic receptors known at the time.
In 1986, Dr. Lefkowitz transformed the understanding of what had become known as G protein coupled receptors (GPCRs), when he and his colleagues cloned the gene and cDNA for the β2 adrenergic receptor, and recognized its sequence homology with rhodopsin, thus establishing them as the first members of a new family of proteins, the Seven Transmembrane Receptors (7TMRs). This superfamily is now known to be the largest, most diverse and most therapeutically accessible.
Dr. Lefkowitz's lab also discovered and cloned the G protein coupled receptor kinases (GRKs) and β-arrestins, which mediate receptor desensitization, and discovered "biased" signaling through β-arrestins or G proteins. Most recently, he has been applying the tools of structural biology to understand biased signaling at atomic level resolution.
Dr. Lefkowitz has received numerous awards and honors, including the National Medal of Science, the Shaw Prize, the Albany Prize and the 2012 Nobel Prize in Chemistry. He was elected to the USA National Academy of Sciences in 1988, the Institute of Medicine in 1994, and the American Academy of Arts and Sciences in 1988.
Michael S. Brown, M.D., was born in Brooklyn, New York, in 1941. In 1962, he graduated from the College of the University of Pennsylvania and in 1966, from its School of Medicine. During his residency in internal medicine at the Massachusetts General Hospital in Boston, he met fellow resident Joseph L. Goldstein, M.D. The two established the friendship and mutual respect that led to their long-term scientific collaboration.
From 1968 to 1971, Dr. Brown trained in biochemistry at the National Institutes of Health. In 1971, he joined the Department of Internal Medicine at the University of Texas Southwestern Medical School in Dallas where he succeeded in purifying the enzyme HMG-CoA reductase, which participates in cholesterol biosynthesis. Dr. Brown and Dr. Goldstein collaborated to elucidate the biochemical and genetic mechanisms that regulate the level of this enzyme.
In 1974, the two young scientists discovered that human cells possess on their surfaces a protein that they called the low-density lipoprotein (LDL) receptor. The receptor carries LDL into the cell by a process that they called receptor-mediated endocytosis. Within the cell, LDL turns off HMG-CoA reductase, stopping cholesterol synthesis. Subjects with familial hypercholesterolemia (one in 500 people) have defective LDL receptors and suffer early heart attacks.
The work of Drs. Brown and Goldstein established the first cause of heart attacks that could be traced to the molecular level, providing a strong scientific foundation for the theory that cholesterol-carrying LDL particles are a major cause of heart attacks. Building on their work, scientists in the pharmaceutical industry developed drugs called statins that inhibit HMG-CoA reductase, increase the activity of LDL receptors and lower LDL cholesterol.
In the early 1980s, Dr. Brown, Dr. Goldstein and their colleagues purified the LDL receptor, isolated its gene and traced the mutations to the molecular level. As a result, familial hypercholesterolemia is among the best understood of all human genetic diseases.
During the following decade, Dr. Brown and Dr. Goldstein turned their attention to the feedback process that regulates the genes for the LDL receptor and the enzymes of cholesterol synthesis. They discovered a family of proteins, designated sterol regulatory element-binding proteins (SREBPs) that control these genes. The SREBPs also control the process by which the body converts sugars to fats and thus they are important in obesity and diabetes mellitus.
Throughout the 1970s, when their scientific work was most intensive, Dr. Brown and Dr. Goldstein continued to function as academic physicians, each performing clinical attending rounds on the general medicine wards of Parkland Memorial Hospital.
Dr. Brown is married to the former Alice Lapin. They have two daughters, Elizabeth and Sara. He currently is Regental Professor at the University of Texas Southwestern Medical School where he holds the W.A. Moncrief Chair and directs the Jonsson Center for Molecular Genetics.
Dr. Brown has received honorary degrees from eight institutions. With Dr. Goldstein, he has shared 21 major awards, including the Nobel Prize in Physiology or Medicine in 1985, the National Medal of Science in 1988, and the Albany Medical Center Prize in 2003.