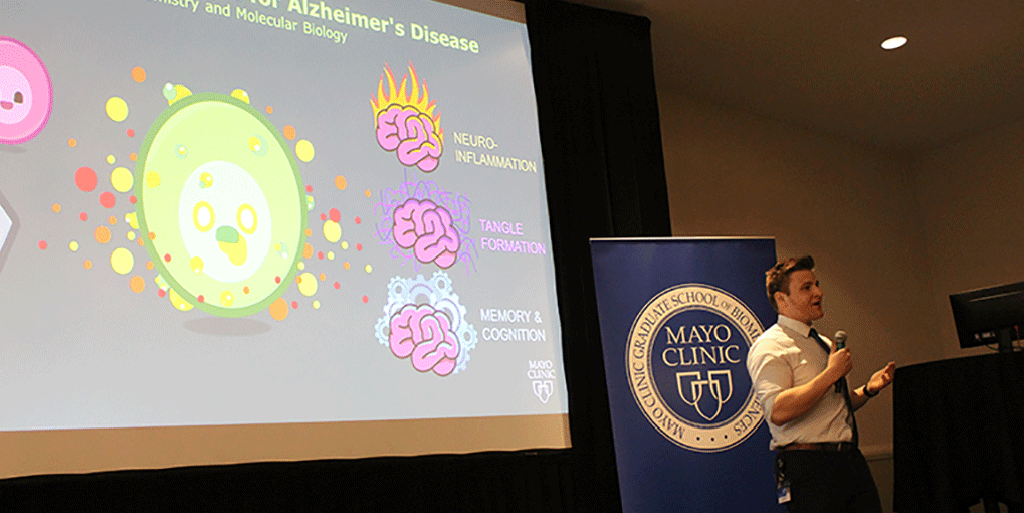 ---
November 12, 2019
---
It takes a lot of special skills to conduct the research for a Ph.D. thesis and then to write it. It takes yet another unique skill to be able to distill months or years of work into a three-minute presentation.
That's what Three Minute Thesis (3MT®) does.
This competition challenges Ph.D. students to describe their research within three minutes to a general audience. 3MT® celebrates the discoveries made by research students and encourages them to communicate the importance of their research to the broader community.
At Mayo Clinic's 3MT® event, the top five competitors vied for three travel awards.
The winners are:
Tyler Bussian: Grand Prize & People's Choice Award (total of $600 travel award and sponsorship to attend the Midwest 3MT competition)
Emma Goddery: Runner-up ($200 travel award)
Ana Diaz Espinosa: GREP/PREP Category Winner
The idea for the Three Minute Thesis competition came about at a time when the state of Queensland, Australia, was experiencing a severe drought. To conserve water, residents were encouraged to time their showers, and many people had a three-minute egg timer fixed to the wall in their bathroom. The then-dean of the UQ Graduate School, Emeritus Professor Alan Lawson, put two and two together and the idea for the 3MT competition was born.
3MT® is now held in over 600 universities across more than 65 countries worldwide.