---
July 30, 2019
---
With input from our learners across the college, we narrowed down the top five reasons to love the Phoenix/Scottsdale area of Arizona — home to one of our three campuses. This is the third in a series featuring our learners and what they love about the city in which they study.
#1 The perpetual sunshine and natural beauty
Phoenix and Scottsdale are located in the beautiful, rugged landscape of the Sonoran Desert. Gabriella Bulman, a first-year medical student from Seattle, gushes about the views. "What I personally love about the area is being constantly surrounded by hills and mountains, the brilliant sunsets, and the attention to landscaping in Scottsdale," she said.
You can catch some of these views right from our campuses, but our learners love to visit nearby South Mountain Park and Preserve, the nation's largest municipal park, or the McDowell Sonoran Preserve, a 27,800-acre protected desert habitat.
#2 The melting pot of cuisine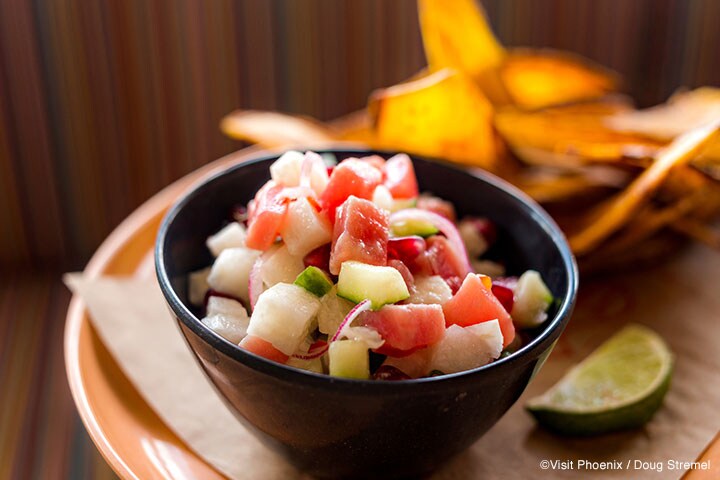 Phoenix's foodie scene is growing and diverse with countless bars, offbeat restaurants, breweries and distilleries, juice bars, and food trucks. One of the area's most famous dishes is the Sonoran hot dog. It's a must-try dish, says our learners. Or if you're craving something sweet, you must try a piñon pie, a favorite local dessert.
#3 The year-round outdoor activities
The Phoenix/Scottsdale area is a mecca for sports fans and outdoorsy people. The area is home to a huge park system, 200 golf courses, tennis courts, camping, skate parks, and miles of hiking, biking, and equestrian trails.
"If you're in Phoenix, you must hit the trails!" says Stefanie Velgos, a Clinical and Translational-track Ph.D. student. "Hiking, biking, or even walking a dog on the desert trails is so enjoyable. You may even run into some Arizona critters . . . watch out for scorpions and wolf spiders!"
And sports fans enjoy collegiate and professional football, basketball, baseball, and hockey games in the Phoenix area.
Fun fact: Phoenix is home to Major League Baseball spring training sessions.
#4 The arts and culture scene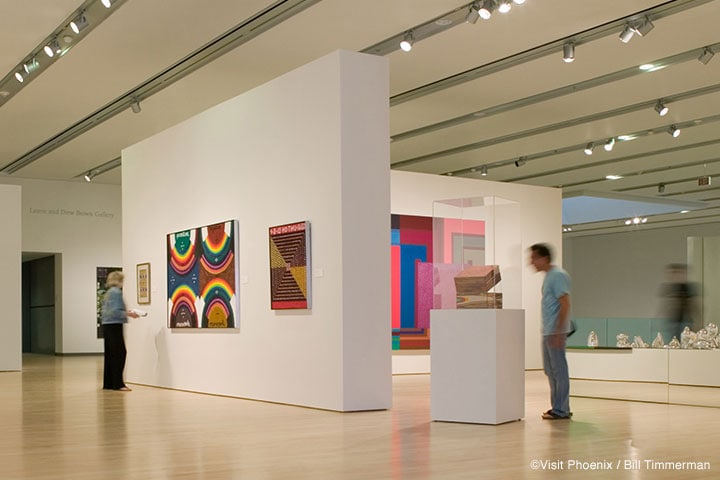 Whether you're in Phoenix or Scottsdale for work or school, the metro area offers so many cultural and entertainment options. You can choose from visits to art galleries and museums, musical and theater performances, and even a botanical garden.
In Scottsdale alone there are more than 100 art galleries, which you can explore through the city's ArtWalk. Over in Phoenix, the hub for arts and cultural events, is the Phoenix Center for the Arts.
Our learners like to beat the heat by visiting the Phoenix Art Museum or Arizona Science Center. They're great places to bring friends and family who are coming for a visit.
#5 The endless entertainment options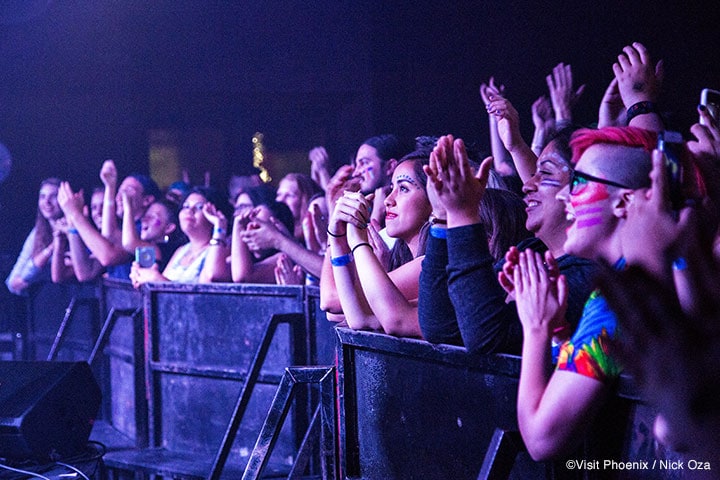 There's always something going on in Phoenix and Scottsdale, and the only challenge is finding time to do everything.
Downtown Phoenix is a student favorite with art, sports, concerts, and endless dining options, while Old Town Scottsdale's entertainment district is the nightlife destination of choice for many of our students.
Gabriella said,"Phoenix has a bustling, diverse nightlife, primarily in Old Town Scottsdale and Tempe (where ASU is). My classmates and I love going out to these places on the weekends, where we can dance, play games, sing karaoke, and even ride a mechanical bull! It's been a blast."
When you need a break from studying, you're not too far from regional attractions. Vacation hotspots include California, Nevada, Mexico, and the ski resorts of northern Arizona and the western Rocky Mountains.
Gabriella enjoys going to "the Grand Canyon, Antelope Canyon, or the Lost Dutchman State Park (which is only about 45 minutes from campus!)" She added, "These are some of the most beautiful places in the country." We agree!
This is not a sponsored post and Mayo Clinic does not support or endorse any of the companies above.