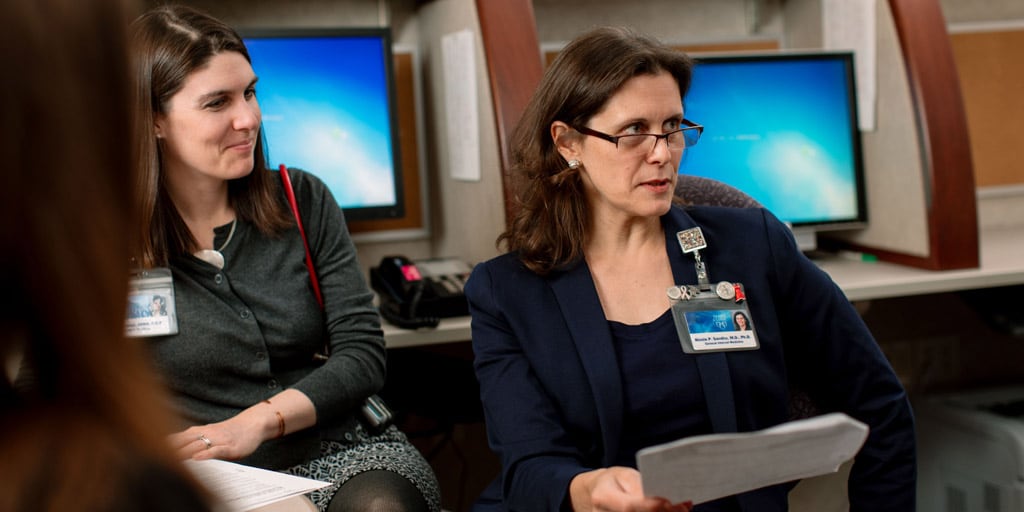 ---
June 24, 2019
---
Congratulations to alumna Nicole P. Sandhu, M.D., Ph.D., who was installed as president-elect of the American Medical Women's Association (AMWA).
Dr. Sandhu has been an active member of AMWA since 2009. She has served as co-chair and chair of the Membership Committee, co-chair of the Breast Cancer Task Force, and has been a member of the Governance Committee. Most recently, she has served on the Board of Directors, and in 2020 will become the president of AMWA.
Prior to medical school, Dr. Sandhu completed her Ph.D. at Mayo Clinic Graduate School of Biomedical Sciences under the mentorship of Thomas Spelsberg, Ph.D. After graduating from the University of Minnesota Medical School in 2001, Dr. Sandhu completed her residency in internal medicine at Mayo Clinic School of Graduate Medical Education in 2004.
She is a board-certified internist at Mayo Clinic where she has been in practice for nearly 15 years. The majority of her clinical time is spent in the Breast Diagnostic Clinic where she works with a team of multidisciplinary physicians and allied health professionals.
Dr. Sandhu's academic interests and research primarily focus on the cardiovascular impact of cancer-related therapy. She has coauthored 36 peer-reviewed publications and five medical textbook chapters, has served as course co-director for the Mayo Clinic Internal Medicine Board Review Course and associate editor of the Mayo Clinic Internal Medicine Board Review textbook, and has presented at numerous national and international conferences.
The AMWA is an organization that advances women in medicine and improves women's health. This is achieved by providing and developing leadership, advocacy, education, expertise, and mentoring, as well as building strategic alliances.
Founded in 1915, AMWA is the oldest multi-specialty organization of women physicians. AMWA empowers women to lead in improving health for all, within a model that reflects the unique perspective of women.